Project Report

| May 15, 2023
1,000 Women's Gardens - Progress Report May 2023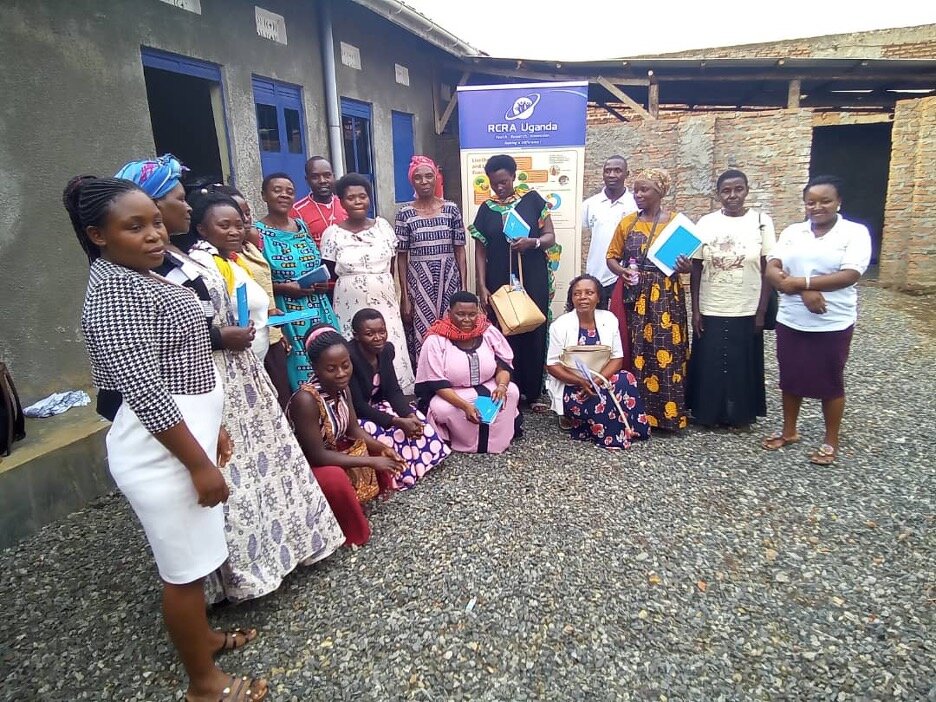 1,000 Women's Gardens for Health and Nutrition – Progress Report, May 2023
We will use this report to tell you about two significant events, and then briefly get you up-to-date on our regular activities.
First, we are very excited to announce the launch of our Model Gardener Volunteers (MGV) program. 1,000 Women's Gardens for Health and Nutrition has known for some time that it would not be possible to provide quality on-going technical assistance to gardeners from early phases with the small core team. So, we have launched a gardener-to-gardener technical assistance model with 15 MGVs from five sub-counties in Kasese District. They are responsible for visiting on a bi-weekly basis 310 household gardeners and 25 community gardens from Phases 1-4 - divided among the MGVs based on geographic proximity. In the future, we will expand to Phase 5 and beyond.
Selected gardeners meet various criteria, first and foremost excellent skills at organic gardening, and willingness and adequate time to support fellow women gardeners. See photos below of distributed t-shirts and backpacks. We will also distribute boots, umbrellas, and notebooks. MGVs will receive a monthly stipend to cover transportation, food and an acknowledgement of their effort. MGVs will be filling out monthly short surveys on garden production and concerns, with referrals back to the 1,000 Women's Gardens team when their help is needed. This essential activity for gardens to survive and thrive over time is funded through the GlobalGiving donations. So, a very big THANK YOU to those reading this progress report.
Secondly, we are very excited that our Quality Innovation Challenge award from the Packard Foundation has been confirmed and funds will be distributed in June 2023 for a two-year period. This was a global competition for innovations related to quality sexual and reproductive health. Our winning innovation: Adolescent and Sexual Reproductive Health (ASRH) Gatherings for Young Mother Gardeners by and for the Whole Adolescent, Western Uganda. With this funding, we will be able to hold two to three ASRH Gatherings monthly, reaching large numbers of adolescent mothers and their children with quality ASRH information and services, in addition to the continued livelihood, technical and social support from organic gardening. The funds will cover the costs of a new Community Development Officer, and up to 20 Young Mother Volunteers (YMV), who will follow-up with adolescent mothers for a year after each ASRH Gathering ensuring on-going support for accessing quality SRH in addition to other adolescent needs such as continuation with schooling.
We have two research projects planned as well, both of which will help us to spread the impacts of our innovative, integrated approach and encourage adoption of our methods as appropriate. One is a 'garden impact study' to systematically examine the nutritional, health, income generation and empowerment impacts of the 1,000 Women's Gardens initiative, almost three years since it began. The second will collect qualitative and quantitative data on the impacts of the ASRH Gatherings innovation, to understand if and how these young mothers are better equipped to meet current challenges and realize their dreams for the future. We will have control-intervention study designs as far as possible.
Finally, we are pleased to say that Phase 5 organic gardening is well underway with all 75 new 'mother' gardens and 7 community gardens planted, including one school garden. The school garden is a 'pilot' as there is much interest among local schools to incorporate gardening into student learning, in addition to growing healthy food for children to take home. We will be reporting on how this goes. Photos below show the big emphasis given to heavy mulching from crop residues for water retention and weed management. We are also conducting a fruit tree survey for distribution of preferred tree seedlings by August 2023, as well as water tanks to families with the most serious water access problems. GlobalGiving donors have funded the water tank activity – THANK YOU once again.
Sending warm regards and great appreciation from Doreen, Wycliff, Benjamin, Jostas and Robin