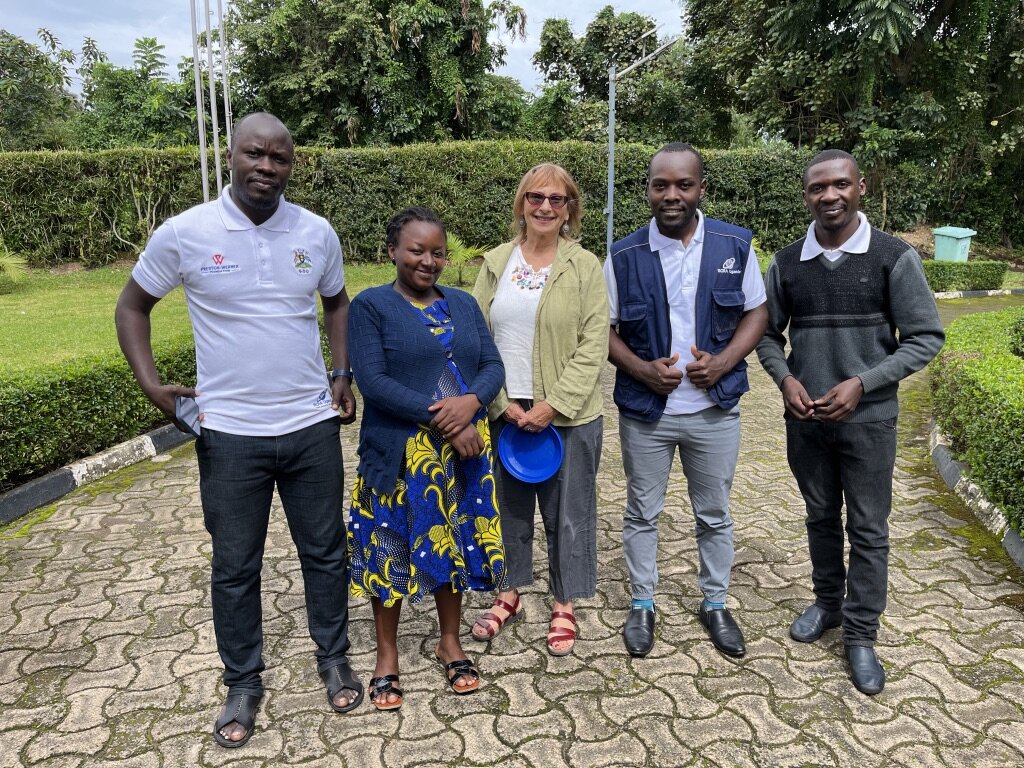 We will use this report to tell you about two significant events, and then briefly get you up-to-date on our regular activities.
In October, 2023, we held an in-person Mid-Term Strategic Planning Workshop at Kayla Courts Hotel in Fort Portal (one hour north of Kasese), with the full 1,000 Women's Gardens team, including Dr. Robin Marsh, visiting from Berkeley, California. Using techniques like tracking agenda items and goals, vision drawing, colored cards to write down ideas, and participatory discussions (photos below), we got a lot done. To break up the long work days we played frisbee!
After a full sharing of viewpoints and clustering of ideas, we reached consensus on 1,000 Women's Gardens for Health and Nutrition mission, vision and medium-term outcomes (2023-2027). We then agreed on planned activities for the next five years to achieve our outcomes in four strategic areas: organic gardens, gardeners' sexual and reproductive health (SRH) knowledge and rights, climate change/environment, and partnerships.
Mission:
Enabling women's organic gardens as a gateway to food secure and climate resilient families in the Rwenzori Region, Uganda.
Vision:
We envision 1,000 thriving organic women's gardens for health, nutrition and economically strengthened families in the Rwenzori Region by 2028.
Medium term outcomes:
Thriving organic gardens in 40% of the households within the villages where we work.
80 community gardens with sustained access to land and water, of which 40 or more are for young mothers.
80% or more of the young mothers we work with shall be able to access family planning knowledge and services as a result of ASRH gatherings, peer knowledge sharing, extension team advocacy, and RCRA mobilization)
ECOTRUST Carbon contracts serving 200 women farmers with estimated 60,000 trees, and all interested small farmers plant at least 10 trees for climate resilience in the service area.
Capable and committed team in place to implement, monitor, and assess project activities
The second big event was RCRA's Executive Director, Jostas Mwebembezi's participation as a panelist in the International Conference on Family Planning (ICFP) held every four years (Nov 2022 in Thailand). Furthermore, 1,000 Women's Gardens competed for the Quality Innovation Challenge sponsored by the Packard Foundation, and was selected as one of 15 finalists. Very exciting because 10/15 finalists will be awarded $100,000 each to fund their innovation over the next two years. Our innovation is – Adolescent SRH Gatherings for Young Mother Gardeners by and for the Whole Adolescent in Western Uganda. The overall outcome from this innovation is to increasingly meet the needs and aspirations of adolescent mothers by combining economic empowerment through gardening with access to quality ASRH information and services. This integrated approach is needed both to reduce transactional sex leading to unwanted pregnancies, and to increase the emotional, economic and physical well-being of the 'whole' adolescent. We submitted our full proposal in January and will hear back in February.
By mid-December we completed Phase IV with 75 household and six community gardens established and in different stages of harvest. November and December trainings were held on pest management and seed saving. Some damage from flooding occurred because of especially hard rains. On the good side, all of the distributed water tanks are full. We hope to distribute more tanks in time for the next rainy season in March/April. Robin was able to attend an ASRH Gathering of Young Mother Gardeners in October (photos shown below). We are now collecting baseline data on participants so that we can understand what changes take place over the following year. More on this next report.
Finally, we want to welcome Doreen's son into this world, born November 10, and, as you can see, very healthy!
Wishing you all a healthy and happy 2023!
Doreen, Robin and Jostas