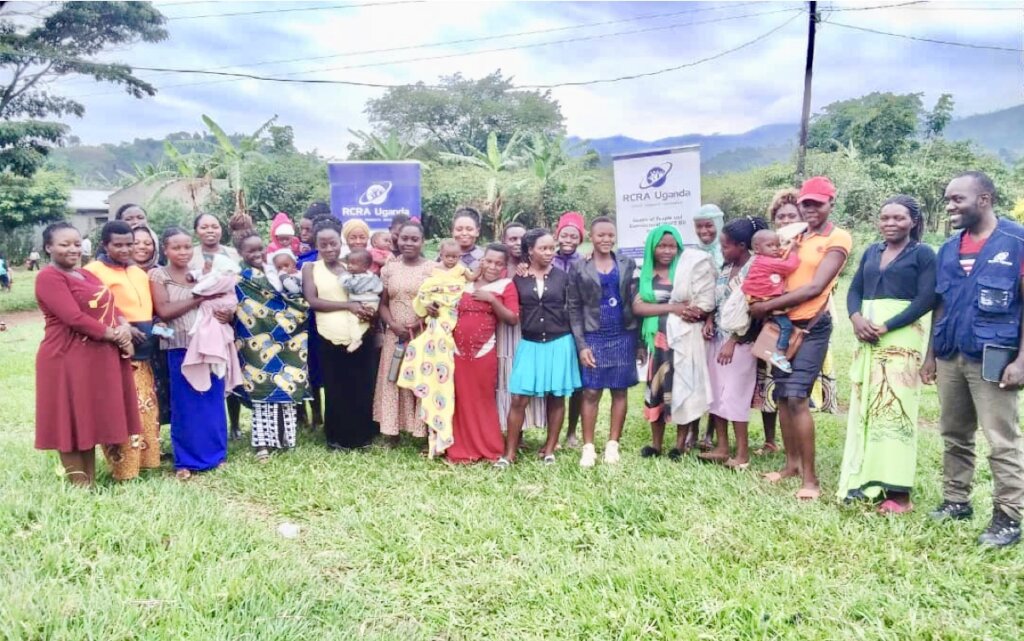 We are happy to report that on September 1st, 1,000 Women's Gardens convened the first Adolescent Sexual and Reproductive Health Garden Gathering and Training (ASRH Gathering) in Maliba sub-county. All 23 young mothers that attended are gardeners with the project, living nearby the gathering site and coming from all four phases of the project. As you can see from the photo below, many brought their babies and young children to the event. The training on reproductive health was done by local peer-educators trained by RCRA, while the 1,000 Women's Gardens team led discussion on the integrated approach to achieving sustained gains in young women's welfare – nutrition, food security, S/RH – including volunteer family planning, education and income generation, while stewarding the natural resources on which they depend.
Our goal is to reach 150 adolescent mothers by the end of 2022, learning from September 1st and improving as we go along. Our program was very interactive throughout the day from initial ice breakers (line up by height!) to small group discussions and presentations (photo below), with presenters making ample room for questions. The sub-county (female) Community Development Officer opened up the session with a few remarks. When mothers divided into small groups they addressed two questions each, among them:
What are the reasons that adolescents may give birth even when they are still young?
What are the consequences of unplanned pregnancies for adolescents?
How is vegetable gardening related to the well-being of young mothers and their children?
How can adolescents find respectful partners, including safe and satisfying sexual relations?
How can young mothers reduce their poverty and food insecurity, even in a changing and more problematic climate?
Phase 3 mother gardens are now all developed, with 75 individual gardens and six community gardens, and harvesting of crops is well underway (see photos of tomato terracing and harvesting). The nearly 1,000 tree seedlings distributed are progressing well, as they are protected with rustic fencing and watered regularly. The water stored in the recently distributed water tanks has helped the driest gardens survive the hot months of June and July. Mobilization for Phase 4 began soon after the last Phase 3 training on pest management, in order to take advantage of the first rains in August. An innovation for Phase 4, preferred by the women, is group sowing of the nurseries, with vegetable transplants later divided among the gardeners (see photo below, Kyabarungira). The project team also benefits from fewer individual visits and trainings. Vegetable germination, transplant and harvest rates have increased markedly since Phase 1, mainly from improved timing, mulching, pest management, water conservation and group knowledge sharing.
In October, senior technical advisor, Dr. Robin Marsh and former UC Berkeley student, Rebecca Gerny, will visit Kasese in person! Rebecca stays on for several months to help with an impact survey, website redesign, and future ASRH Garden Gatherings. Stay tuned for photos from the visit!