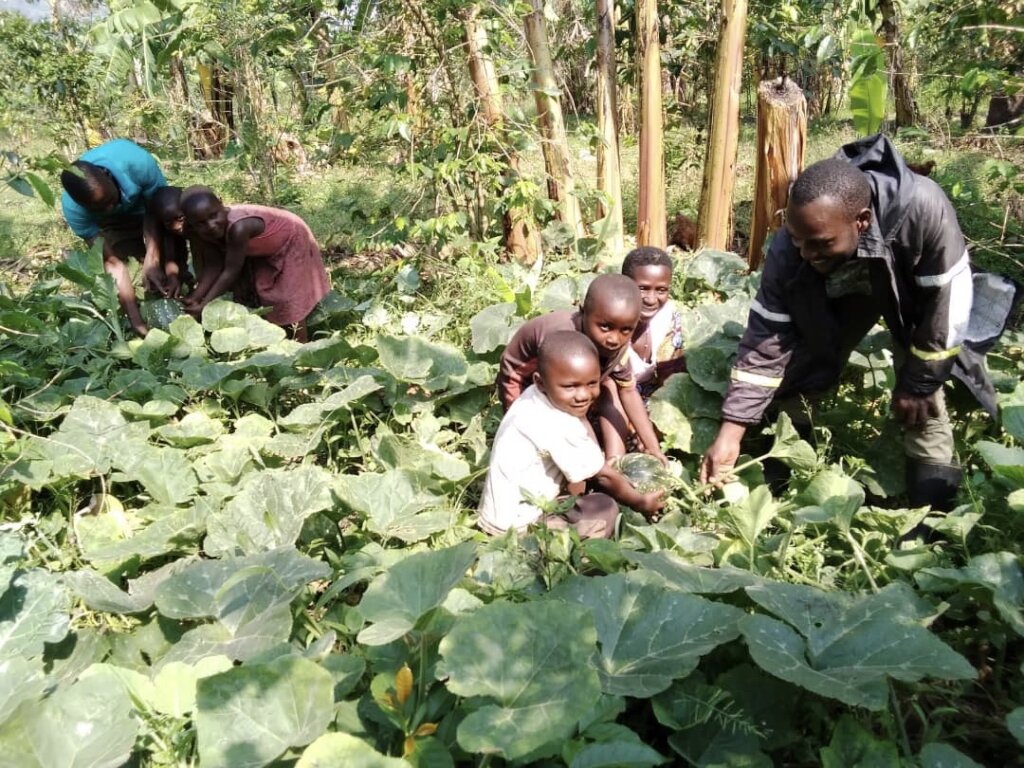 We are glad to report good news that last month 1,000 Women's Gardens for Health and Nutrition received a grant from a Bay Area based small family foundation. They were especially impressed with the holistic approach of RCRA in meeting the integrated health and livelihood needs of women in western Uganda, with food security and nutrition as the core focus. With this new grant we will be able to add a component on reproductive health knowledge and services for young mothers, and adopt additional measures to improve household and community climate change resilience including multi-purpose tree planting adjacent to gardens and distribution of water tanks for rainwater harvesting.
Now that Benjamin and Wycliff have joined the team as garden technicians, graduating from their internships, they have taken on more tasks, including monitoring Phase 1 gardens. Of the 100 gardens established, they report that 65 have continued to garden on their own, buying and using saved seeds, with an average of four crops growing in the gardens. Of the 65, 17 have compost pits (see photo). The project is encouraging others to build pits and showing how to make fertile compost out of local waste.
By mid-December 2021, the team had completed Phase 2 gardens, with all 75 household gardens and eight community gardens in the harvest stage. In November and December trainings were convened and carried out in organic pest and disease management, soil and water management – including composting, and seed saving/. With 65 Phase 1 gardens, 75 Phase 2 gardens, and 16 community gardens, there are more than 300 families harvesting vegetables for home consumption and sale (photos below).
The project has developed a work plan for 2022 that includes an impact survey mid-year to gather information on the nutritional, health, income and savings benefits of the gardens, and how to spread these benefits more equitably to families with greatest vulnerability.
Testimonials
I look after six children in my house. How I came to know about the 1,000 Women's Gardens, it was in March 2021, through Doreen. She came and told us how to plant seeds on raised beds and I learned another skill through her that is plant spacing, when I am planting my seedlings, I use a proper space, and we have also learned how to manage our plants. Through trainings we have also improved on planting vegetables in our kitchen gardens. So, we have reduced on buying vegetables from the market. We are hoping to get seeds after the harvest, so we dry our seeds ready to plant for the next season. We have also learned how to share views and knowledge with other members, and to talk in public.
I have 19 years and I'm having two children. In order to take care of my children, I sometimes go in people's farms and dig for them to make money and buy them food. The little money that I earn is not enough to take care of me and my children, since their father cannot, and my parents cannot either. In July 2021, Doreen, and extension workers with RCRA, came to our village to encourage the young mothers to go for kitchen gardening, so when they came to me, I looked into it and saw it was a good program for me. From kitchen gardening I am hoping that I will be able to get food for my children, and the surplus I will take to the market and sell to buy medication, clothing, and other basic needs. ….. Also, the money I may earn from the community garden might pay fees to learn a simple skill like tailoring.

My family is one of the beneficiaries of the 1,000 Gardens program that we got to know through my wife. Before the program of kitchen gardening I used to get angry with my wife because of not fulfilling the domestic needs of the family. But after the garden, we have enough food in the locality to eat…. we no longer need to buy vegetables from the market like tomatoes, cabbages, sukuma wiki. As the leader of the household I do the fencing where the nurseries are, and also the mother gardens to prevent stray animals from ruining the vegetables, I also maintain the nursery beds, and prepare where to transplant the seedlings from. Through the training I've come to realize that working together as a family, the man and the woman in the kitchen gardening, is very important, it reduces fighting in families, and helps with raising up children who will take an example from us.

All GlobalGiving donations go directly to support women's gardens. Please contribute here and thank you!
1,000 Women's Gardens for Health and Nutrition.
A final note, we are saddened to report that the father of Jostas Mwebembezi (ED, RCRA) passed of complications from Covid-19 on January 13th, at 65 years old. May he rest in peace.