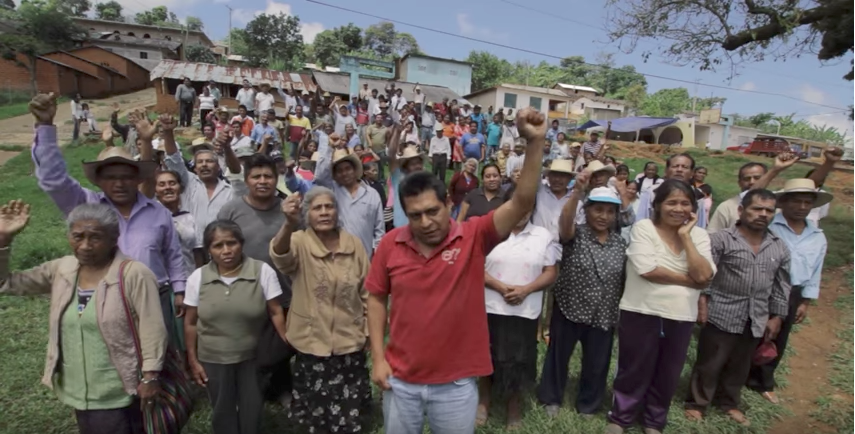 In 2011, the indigenous Júba Wajiín community learned that the government had granted two companies mining rights for the mountain region of Guerrero state in Mexico. The rights, which would encompass 80% of Júba Wajiín land, had been granted without any consultation with the indigenous community.
Frustrated, the Júba Wajiín decided to take action. They teamed up with Tlachinollan Centro de Derechos Humanos de La Montana to mount a legal challenge against the granted concessions on their territory, in the hopes of reclaiming their land.
Two years later at WITNESS' co-convening of Video for Change activists working in Mexico and Central America, participants from the Tlachinollan Centro de Derechos Humanos de La Montana proposed the production of collaborative videos to support the Júba Wajiín's efforts to fight the concessions.
Since then, WITNESS and other groups from the convening have worked with the community to plan an advocacy strategy and collectively create videos. The plan has been to make three different videos, all serving different functions. The first was produced for the judicial system and shows how the government violated the Júba Wajiín's rights by failing to consult them, as well as proved their identity as an indigenous community. The second video tells the story of the case for allies and social networks, to raise awareness in the broader community.
Most importantly, we want this case to serve as a model for other indigenous communities fighting for their land, so the last video, which is still in progress, aims to tell the story from start to finish, enabling other communities to replicate their strategies.
With the help of these videos, amplification by news sources, and the efforts of the Júba Wajiín and their collaborators, the case was a groundbreaking success. In 2015, the mining companies relinquished their rights before the Supreme Court even reviewed the case, benefitting around 240 indigenous communities in Mexico, including the Júba Wajiín. Then, in July 2017, the Júba Wajiín won an unprecedented victory: the court ruled that mining operations cannot continue without consulting the indigenous community.
Thanks to their inspiring use of video advocacy with the support of WITNESS and other peer organizations, the Júba Wajiín have reclaimed their land and shown that video can create change. WITNESS will continue to support marginalized communities around the world using video and technology to stand up and act for their rights and together, we'll secure dignity and justice for all.