Project Report

| Jun 9, 2017
Revealing Abuses of Power & Fueling the Resistance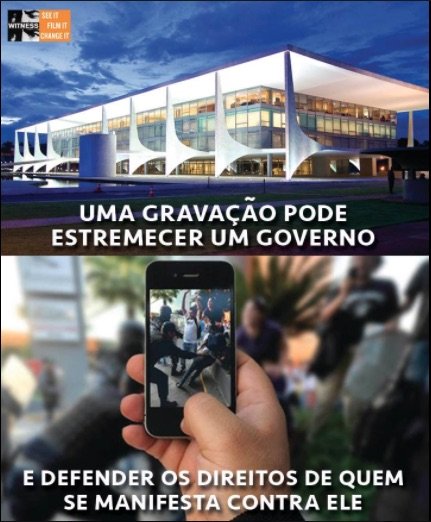 Amidst this climate of "fake news" and "alternative facts," WITNESS is celebrating 25 years of supporting those documenting the truth.
For 25 years we have enabled anyone, anywhere to use video and technology to protect and defend human rights, and right now, we're doubling down on our efforts to stand alongside communities fighting for change around the world.
In May of this year, major protests erupted across Brazil after a recording surfaced allegedly showing Brazilian President Michel Temer participating in conversations with businessmen about bribery and corruption of high level politicians.
As the demonstrations grew, so did the violent police response to them, and the WITNESS Brazil team knew it was critical to share our guidance with protesters on the streets. WITNESS' Victor Ribeiro quickly created an image with the words: "A recording can shake up a government, or protect those that protest against it".
In just a few days, the image -- which was posted on social media alongside WITNESS' tip sheets on how to collect video evidence and how to film protests safely and ethically -- was shared more than 400 times on Facebook, reaching 57,000 people.
Now more than ever, video is playing a crucial role in revealing abuses of power and fueling the resistance. With cameras, someone can expose government corruption in Presidential cabinets or capture police violence at local protesta. And with your support, WITNESS will continue to ensure that anyone, anywhere has the tools and skills to stand up and act for human rights.