Project Report

| Dec 26, 2018
Video Evidence Secures Justice in the DRC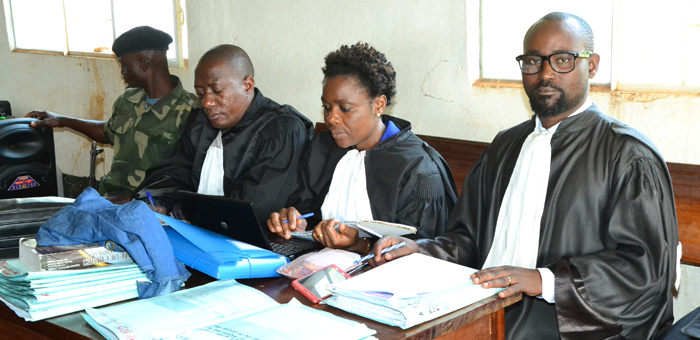 Image credit: Augustin Safari Macumu/TRIAL International
WITNESS, together with TRIAL International and eyeWitness to Atrocities, used video footage in a landmark court victory, securing justice for human rights in Eastern Democratic Republic of the Congo (DRC).
On September 21, 2018, justice triumphed in Bukavu, where a military tribunal in Bukavu condemned two high-ranking commanders for murder and torture constituting crimes against humanity. Video footage was submitted to the proceedings as incriminating evidence–an all-time first in DRC. Thanks to the power of video evidence, the two commanders of the rebel militia Democratic Forces for the Liberation of Rwanda (FDLR) received life sentences for their crimes against humanity, which also included pillage and arson. All 100 victims party to the proceedings have been awarded reparations ranging from 5,000 USD to 25,000 USD.
In 2012, the villages of Kamananga and Lumenje (South Kivu) were the stage of barbarous attacks by the FDLR. Alleging the villagers' support to a rival local militia, militiamen led by commanders Gilbert Ndayambaje (alias Rafiki Castro) and Evariste Nizeimana (alias Kizito) looted both villages, killed and tortured civilians, and burned buildings to the ground. Read more about the case here.
"We are delighted with this verdict" says Daniele Perissi, Head of the DRC program at TRIAL International. "Impunity in DRC is rampant... This sends a strong warning signal to anyone committing abuses who might think their military power places them above the law."
This success is the result of close collaboration between NGOs: WITNESS worked with TRIAL International, whose mandate is to fight impunity for international crimes; and eyeWitness to Atrocities, which has developed a unique tool to record, file, and verify videos used in judiciary proceedings. Together, they assisted the victims' lawyers in collecting the strongest incriminating evidence, including verified video footage and photos - a first in the Congolese judiciary.
Isabelle Myabe, Program Manager at WITNESS, explained: "As part of the investigative process, we trained lawyers working on the case in the best practices of capturing and preserving video as evidence. During a fact-finding mission in July 2017, one of the lawyers documented evidence of mass graves in the targeted villages. An extract of this video was presented in the trial."
On the base of the collected evidence, TRIAL International assisted the victims' lawyers to build their legal strategy.
"When the footage was shown, the atmosphere in the hearing chamber switched dramatically" testifies Guy Mushiata, DRC human rights coordinator for TRIAL International. "Images are a powerful tool to convey the crimes' brutality and the level of violence the victims have suffered." Learn more about the use of audiovisual as evidence here.