Project Report

| Oct 21, 2022
WOW 3 Graduate & WOW 4 commence training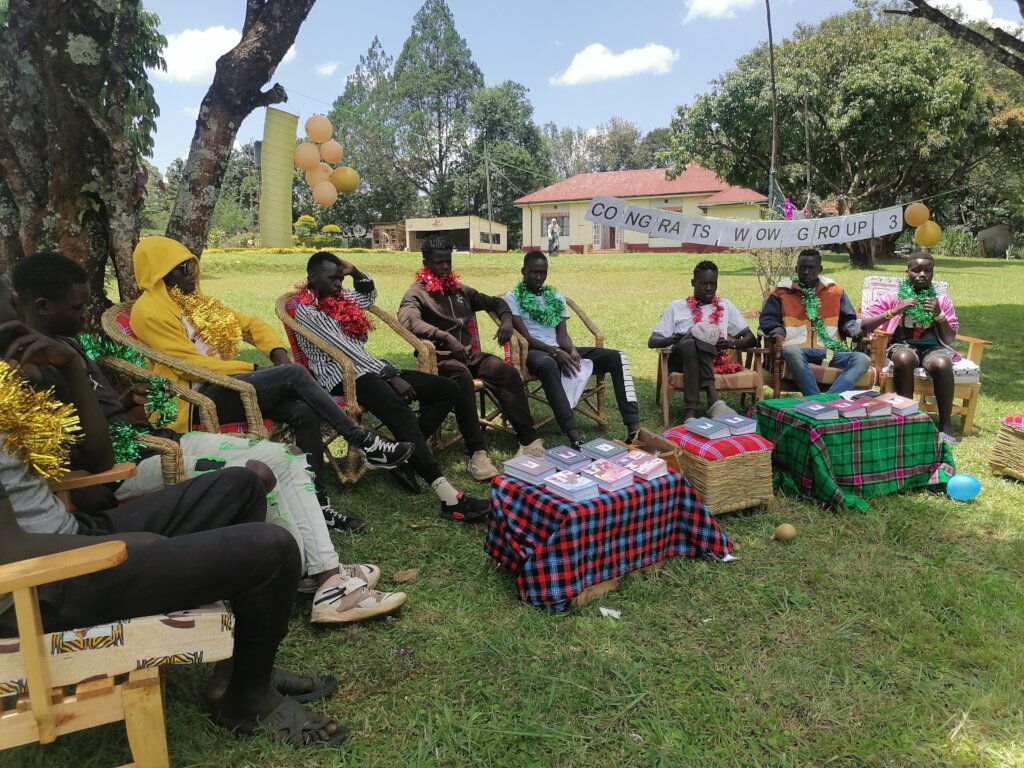 During this period the World Of Work (WOW) 3 team, who had been with us since Feb 2022, graduated and a new WOW 4 group commenced. WOW 3 was our first group to have girls as participants. One of the girls, Joyce, was very happy to graduate in early October. In addition to receiving their certificate the particpants also received a photo album which documented, in pictures, their story through the WOW 3 programme. They also each received a mobile phone. The photos of graduation below show the colour, flavour and happiness of that day. During the period WOW 3 also participated in a number of events at Kitale Museum. These included World Tourism Day when the young people sang, danced and played drums. There was also the Sanaa ya Jamii festival when they participated and joined with a number of other young people and creatives. These days give our young people opportunities to interact and enjoy events which they would not normally be exposed to. On some of these occasions our WOW youth have provided the catering services for which they have received much praise.
By the end of the period of training all WOW 3 members have been housed and all but one are on attachments / placements or running their own small business. 3 are training as mechanics, one as a welder, two have been given street food trollies (following appropriate training), one boy has been taken back home to return to finish primary school, one youth is training in a restaurant and one youth has a luggage trolley. We hope to facilitate the remaining youth to return home to his grandmothers and to assist her in running a honey business.
With the WOW 4 we have taken in a bigger number of participants at 15. This includes working with 4 young women. We also have formally begun our Personal Development & Lifeskills programme with two sessions being facilitated each week by Godfrey. The other usual activities such as catering, horticulture, crafts etc also continue. A fun activity for WOW 4 members has been the two day Story Train event currently taking place facilitated by a team visiting from Nairobi. This gives an opportunity for the young people to share their stories in a relaxed, informal and supportive way. Drumming, movement and dance are also a feature of this exercise.
During this period we continue to partner with Kitale Museum and spend each Friday at the museum assisting with landscaping and cleanliness among other activities. A new activity during this period is our engagement with the Kitale Women's prison. Here we have made an initial donation of 2 desktop computers (photo below) and have began computer training sessions with the women there. This group in the prison includes one of our WOW 3 girls while one of the WOW 4 girls was recently released from prison.
AMV would like to take this opportunity to firstly thank our team of staff and volunteers who day in and day out work to assist these young people to have a better life. None of this work could be carried out without the generous support of our well wishers and friends. We are so grateful to those who have donated, on the GlobalGiving platform, to our work with the street connected youth of Kitale. We know, because they tell us, we are making a difference in these young peoples lives.