Project Report

| Jan 11, 2022
Trainings, crafts, catering, museum visit, a graduation and more from Kitale....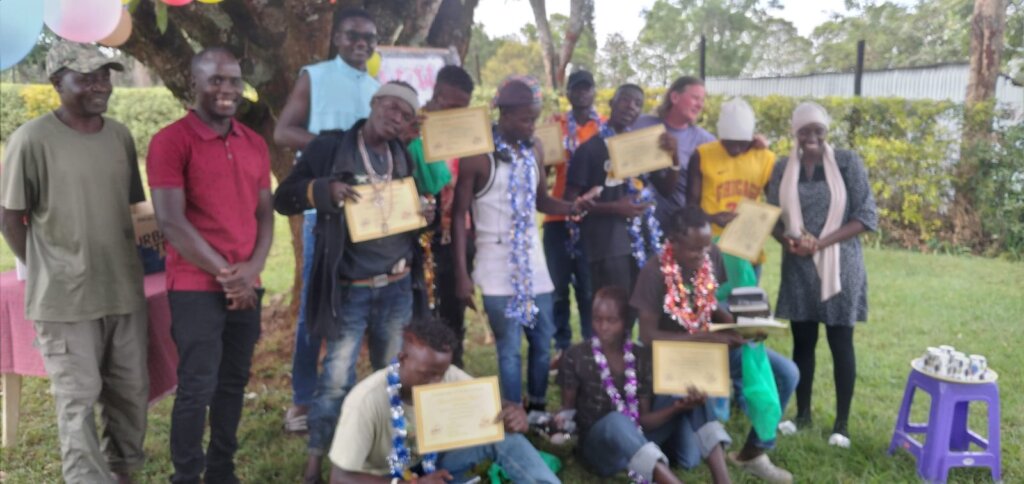 GLOBAL GIVING REPORT: SEPTEMBER-DECEMBER 2021
WORLD OF WORK (WOW) PROJECT - Group 2
Since receiving your donations through GlobalGiving, our WOW project has been able to support street connected & homeless youth in the following ways;
Encouraging their economic sustainability through access to vocational and livelihood skills training so as to be better able to avail of employment or livelihood opportunities.
All the WOW 2 youth participated in business training classes where Jane instructed them on basic but fundamental lessons on how to manage the smallest and simplest of businesses. After completing the classes, they are awarded certificates of participation and completion. As most of the youth have never had any certificate from school or otherwise they are proud to receive these. Following the theory we began looking at the practical side for those with various interests. One youth was specifically interested in being a barber and he is now undergoing an apprenticeship in this work. Others were interested in the area of catering /food vending and we are engaging with them to be able to do such. During September four youth were enrolled for a month's residential course on organic agriculture run by Thrive For Good / Organics for Orphans. They successfully completed the course and were awarded certificates. Two are looking to engage practically in basic food production. Another youth wished to receive a trolly/cart, which the project has been able to acquire for him, to perform daily tasks like ferrying luggage and fetching water for hotels and other businesses and he is now earning a basic living from this. Support is ongoing as the youth start out in their businesses.
Promoting their personal wellbeing through supported access to medical services, food, clothing and meeting their need for shelter through access to affordable accommodation.
The project is currently paying rent for over 10 street related youths and still has plans to settle more. In November we were able to facilitate one of our youth enrolling in an alcohol rehabilitation centre for a 3 month residential programme. During the period we have also looked to facilitate home visits to reconnect the youth with their families/relatives/guardians. As a result of one of these visits one of our youth has been able to go back home and, with support from the project, was able to resettle and build his own simple structure on his piece of land. On Sunday nights about 50 youth receive a mug of porridge before they settle down for the night. These in the main are youth who are still on the streets, many who are younger and who may join WOW groups in the future.
Facilitating learning and development of life management skills within their community and society.
The project welcomes the youth from Monday to Friday to indulge in different activities such as gardening, crafts, basic computer training and social activities such as sports activities, swimming, museum visits etc. Weekly on Wednesdays we had sessions on sexual health. From this we facilitated a number of the youth, who were ready and wished to get tested for HIV to have the testing and counselling carried out at our premises. In addressing day to day issues which arise and through formal sessions life skills such as communication, stress management, collaboration, conflict resolution, creativity, time management, respect etc. are discussed. This has in turn helped the youth to learn to express their emotions in most cases without resorting to violence. Responsibilities and tasks are shared which brings out the leadership and other group roles in the members. Hygiene and sanitation is also emphasized by providing water and soap for bathing and doing laundry.
Encouraging their active citizenship.
Since the project works with youths above the age of 18, we support them in the process of applying for the National Identification Cards. To date, more than 20 youths have applies, 12 have successfully been processed and 3 have received their IDs.
On the 17th December, 2021, WOW Group 2 officially graduated from the project after completing the various trainings offered by the programme as mentioned above. As 2022 begins we will continue journeying with these youth as they venture practically into the world of work and a life less connected to the streets.
The funds raised from yourselves through GlobalGiving since September has allowed us to be part of the lives of the youth and to shape them in a positive way. In this way, it is envisioned the young people will become 'included' as opposed to 'excluded' and better positioned to lead self-determined lives.
Thank you for your support to our work. At this time we would also like to acknowledge the support of our small team but also to those who chose to volunteer with us during the period. As we start 2022 they will be missed - Firstly huge thanks to Tony who lead the work from the end of 2019 as we established WOW 1 and then WOW 2. Thanks also to our short term volunteers Nick and Angus for all they gave to the WOW 2 programme during the 3 months they each spent with us working towards the AMV mission - "To share who we are and not just what we have".