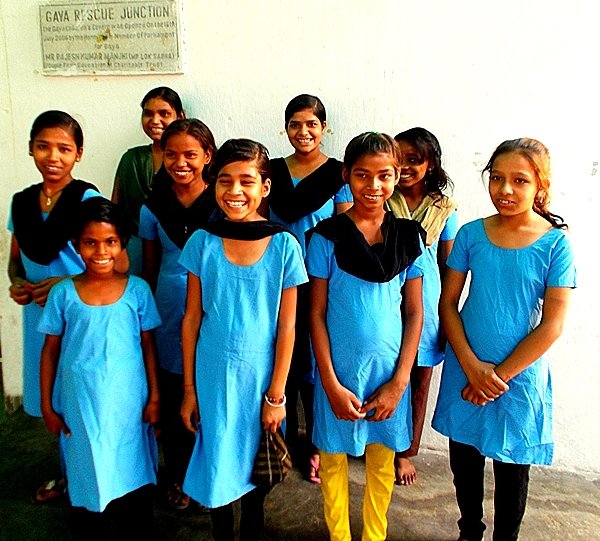 Hi this is Riya,
Greetings to all of you!
For this report number 45 I think!, I thought it would be interesting to review the progress of children featured earlier in our reports over the years (names have been changed but their story has not)
2009
"My name is Bhola. I am I think 10 years old. I am living at Rescue Junction. Sometime ago on a crowded train station I get separated from my mother who went to get some water and the train moved away. I miss her very much. Everyone here is trying to help find my family, but we lived by the side of a railway station in another state in a tent because we moved a lot and I cannot remember the name. But I do like living here at Rescue Junction, we get food and I am going to classes and I feel safe here. Without Rescue junction I would have nowhere else to go".
2016
Bhola never went "home" because he didn't want to return to his former life, he told our counsellors that there was physical abuse and hunger. Despite extensive efforts to locate his family,( although Bhola would never have been asked to go anywhere against his will), no family was ever found Bhola was placed in a residential school at Rescue Junctions expense and he spends his holidays at the centre, now coming up to his school leaving exams, Bhola tells us he is happy with his studies and wishes to join our vocational training programme ,and once he reaches and 18 live independently with our support.
2010
This is the sad story of Pramilla, Sheethal and little Sonu

Life in Village Bihar can be very hard. According to the Department for International Development in the UK if the State Bihar was a country it would be the sixth poorest in the world.

In early September the centre was contacted by the District Magistrate concerning the distressing case of 3 small girls from an remote village in the area who had no one to care for them.

Their mother died following illness two years ago. And just this month their father died too. It was suggested by some in the village the family were so poor the father had died of starvation, giving what little food he had to his daughters. The government maintained he died of TB. However the last thing he told his eldest daughter, Pramilla before he passed away, was "love and take care of your sisters" , "you are in charge of them now"

Pramilla had no money for a cremation, and with the help of some villagers buried her father outside the village. As a landless family she had no source of food, but a rice dealer sometimes gave them rice. The villages felt they were going to die from hunger, and without relatives to care for them they took the children to the local block office and demanded that the government help. But as you know the government has no home or facilities for such children, and therefore the authorities formally requested admission to Rescue Junction pending referral to the Child Welfare Committee.
2016
The three sisters were sent to a government run hostel and school 100km away in Patna, this took some time because our staff were determined they would never be separated, but have no home of their own and spend all of their holidays at Rescue Junction. The girls are unrecognisable from those initial months with is, they are confident and talkative. The really good news is that a special separate appeal on Global Giving $5,000 was raised for their care and Rescue Junction have opened a special account for their future. We will help Pramilla with finding employment and a place of her own once she reaches the age of 18. The funds collected for her and her sisters will ensure that they will have a good start in life. Our team are looking at all the options with the girls regarding their future.
These are just two stories of so many in future reports we may well tell more stories of children who have featured in earlier reports years ago. Every child has thier story
We are busier than, ever up to date news in our next report but in order to keep the services for children at their current level we need to raise an extra $5,000 to ensure another year of unbroken service at current levels.
Please ask your friends family and workmates to perhaps consider just giving a little to help the children so we can raise this much needed help by the time of our next report in 90 day's time . In the meantime, I would express our profound gratitude on behalf of the children to all of you for your donations.
As you know full tax benefits are available to those eligible on GlobalGiving.
Take care,
Riya
Links: