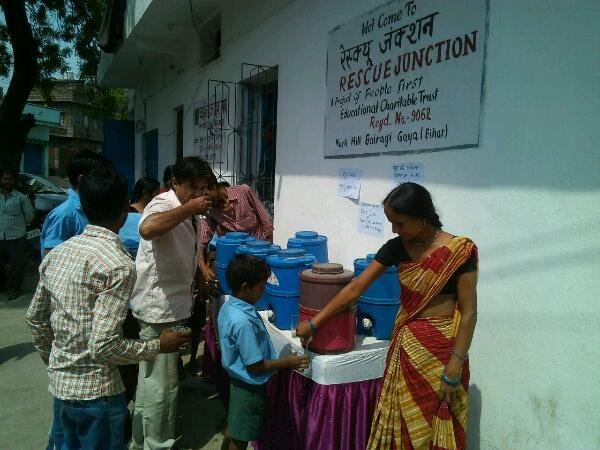 Hello Everyone.
I hope the email finds you are your family well. It's time for another update from Rescue Junction the centre for the Gaya Rescue Project here in Bihar in India.
Well so much to tell, we have had earthquakes, we have had a killer heat wave, and many new children and young people have come to Rescue Junction for help and support.
From Mid May onwards until June 13th, we were hit with a massive heatwave and we were getting reports of children and babies in distress due to the extreme heat on local trains and at stations due to heatstroke and dehydration. We purchased some extra coolers and fans and set up a cooling centre at Rescue Junction. At the height of the heat wave we had a nurse on call to rehydrate young children, and we even had to refer a few cases to the hospital for further care. We purchased many large bottles of drinking water and set up a free drinking water centre outside the centre because we are very near the station. We equipped volunteers with water on the station and on running trains to monitor any distressed people especially children , young mothers etc and worked with the railway police and coolies to help those in need. However over the six weeks of severe weather we exhausted our fund for emergencies, and the Trust had to step in using precious reserves to help children from suffering so we do have an appeal which will help replenish our depleted emergency fund . It is here.
http://www.globalgiving.org/microprojects/help-save-lives-from-the-indian-heatwave-in-bihar
I am of the opinion that our reports should thank people for their donations and help explain to them how we have used their hard earned money, the fact that you are reading this means you have already donated, but one way you can really make your money go further is donating on July 15th when Global Giving will match your donation by a massive 50% for as long as the matching funds last.. Matching funds begin at 09.01 Eastern, so please make a note in your diary.
I want to end with a sad but in its way inspiring tale about one girl who ran away from home due to pressure to become married.
We will call her Pramilla. ( not her real name). She is at most 14 years of age.
She was picked up at another station by a man and a woman who took her to their home in Gaya and tried to persuade her to travel to Calcutta for " Work" ( almost certainly prostitution). She gravely resisted and was severely beaten but managed to get to a mobile phone and dialed 1098 ( the emergency toll free childline number) and spoke to someone at Rescue Junction. She was able to give a rough description of the area and was composed enough to even give a house name. Within 20 mins the police broke into the house, arrested the couple, and set Pramilla free. .
On arrival Pramila was understandably distressed but it became apparent she may have some internal injuries and she was immediately admitted to the local hospital. A member of staff, a qualified female counselor was provided around the clock until she had recovered enough to return to rescue Junction where she reasons to this day.
One thing I want to tell you is that Pramila wants to help take part in a campaign to bring more awareness of the childline service and will be visiting schools and colleges with our staff shortly.
Thank you for all of your support in supporting brave children like Pramilla
Sunita
Links: