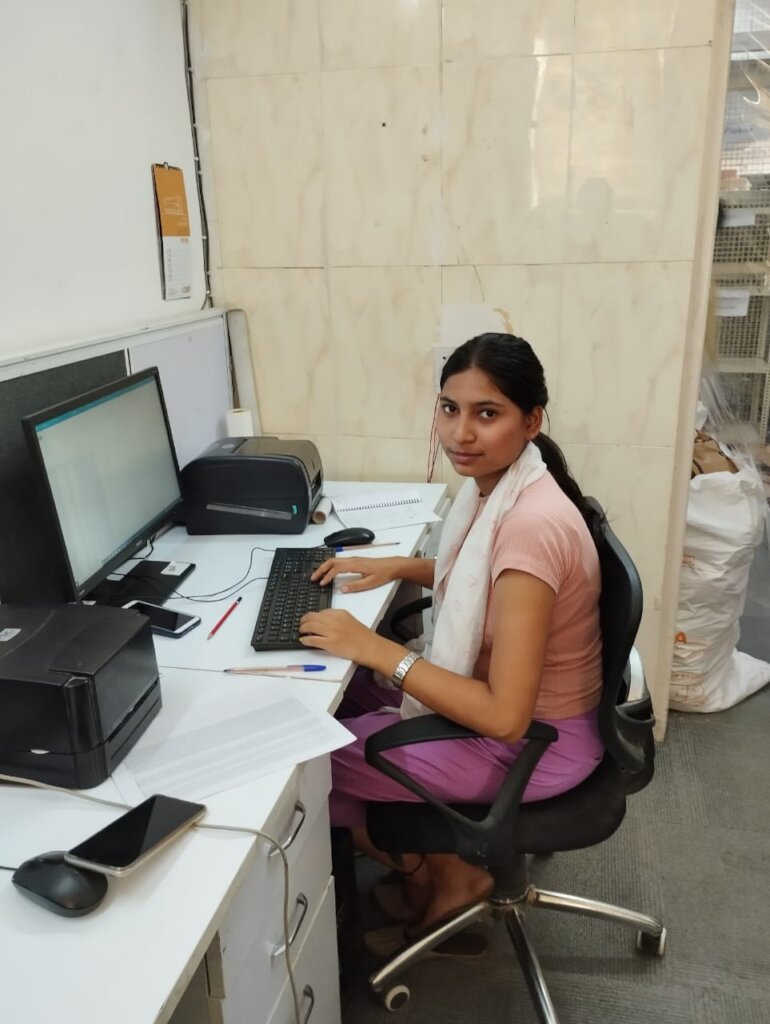 Greetings of the day to all,
Hello everyone, my name is Gaurav serving my capacity as Senior Programme coordinator with Udayan Care IT Centre programme. Before joining Udayan Care I have worked with the organization, which works for the PWDs beneficiaries, here I got the opportunity to work with a diverse IT Centre to ensure the placement of youth who complete their training in job specific IT courses namely: Diploma in Information Technology (DIT), E-Accounting (Tally) and Graphic & Print Design.
Getting placement done for such gentry has not been an easy nut crack, as the students come from the deprived section of the society, lack of skills had not only been the problem I used to face student's rejection due to lack of confidence, nervousness, and communication skills but the way Udayan Care IT Centre staff adhere the curriculum to make the students equipped with IT software knowledge as well as English communication, soft skills, personality development, it's really highly appreciable.
Keeping the same in mind we used keep inviting corporate employees for their voluntarily support to hold sessions on specific topics which will help us to open the horizon of our students, recently we got connected with a young Business Analyst Ramkrishna who is working with a renowned organization called HCL Technology.
Ramkrishna conducted a specific session for our Noida IT Centre students who have enrolled in Customer Care Executive course, a long hour session facilitated with an objective to provide basic tips to the students about Email Writing & Telephone Etiquettes. After 45 minutes a briefing by the volunteer session continued for the questions followed by their respective answers, it was quite a fruitful session for the students when they got to know few tips which they should follow during the conversation on call and while writing an official email. We even block our calendar to celebrate some specific tropical days in our IT Centres. We have always paid attention to conduct some meaningful activities, on similar thought on 11 May our centres participated to celebrate the National Technology Day following the theme 'Integrated Approach in Science and Technology for a sustainable future.
On the same accord Our Vinod Nagar centre staff conducted a live presentation for the students of Graphic Designing, our students learnt about the new method of printing the creative which can be used with beverages and bakery eatables, same day our Noida IT Centre students divided in groups to present 3D model of network technology, our Vijay Nagar, Bhangel, Kasna, Faridabad, Vinod Nagar students took part in poster making competition as well.
50 percent women participation in all courses is one of the major objectives of our programme but we always give our best to create safe environment at our centre's for the girls students as well as staff. Hansika who is working with us as a Soft Skills faculty, took initiative to conduct some specific sessions in IT Centres to create awareness about the Menstrual Hygiene for the girls who come from the underserved community where lack of awareness and resources create lots of health issues for the females. As we know menstrual health is one of the critical foundational factors for women health and yet a lot of ground which has already been covered, there is still a lot of ignorance, lack of understanding or misconceptions around it. Education and awareness about menstruation is the only way to change one's beliefs and behavior.
On the occasion of Global Menstruation Hygiene Day we have conducted multiple activities/sessions across all IT Centres. All our women staff and students participated in a series of activities which even includes a talk session by a doctor. Some of the students attended a webinar organized by Action India. For the very first time, the program team introduced the concept of a Menstrual Hygiene Box which is made available to the girls in case of emergency. The varied activities which we have conducted are posted on Udayan Care's social media handle after watching the post one of our centre alumni named Chuninda got inspired and spoke to the centre team for becoming a part of this initiative, basically Chuninda got connected with our Badarpur IT Centre through one of her friends, she grew up in Badarpur ,South East Delhi along with her younger siblings.
Since childhood she has been a responsible and focused child for her parents, she notices how her parents struggle to manage their regular expenses and children's education expenses at the same time. Chuninda father works as a helmet seller on the roadside but could not earn enough that is why her mother also started working in an NGO on part time basis to teach beauty parlor course to young girls.
After completing her intermediate Chuninda took admission in Delhi University's distance learning programme to pursue graduation in arts, simultaneously started learning computer course from Udayan Care's Badarpur IT Centre. 4 months intense training in Diploma in Information Technology (DIT) course helped her to crack a tough job interview to be selected as an MIS Executive in a renowned company called White Shrub Pvt Ltd (Okhla) with 12000 Rs salary per month.
About Udayan Care
Udayan Care is a Public Charitable Trust, working for the last 28 years, for the quality care of disadvantaged children and women.
About IT centres programme
Udayan care Information Technology centre tends to brings digital media closer to the underserved society of the people to improve their livelihoods. Currently we are running 19 IT centres in Delhi, Uttar Pradesh and Haryana and have impacted the lives of more than 21322 beneficiaries.
Our centres offer certificates courses in basic computer knowledge, diploma and advanced courses in computer application. Workshops on Spoken English, life skills training and job readiness are also a part of the curriculum.