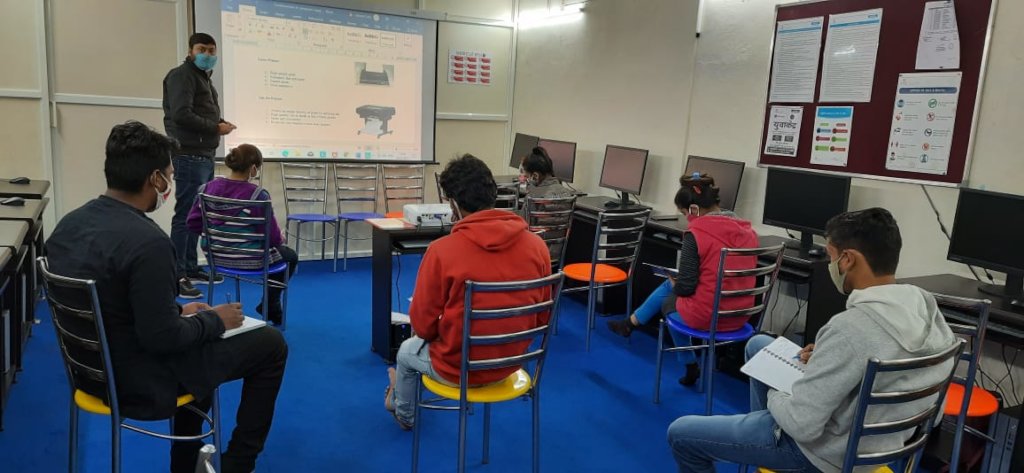 Hello Everyone,
Greetings of the day,
My name is Manoj, I have been heading Udayan Care Information Technology Programme for the last 14 years, at present, there are 39 staff members accompanying me to take this programme towards greater heights. 2nd wave of Corona hit the capital (Delhi NCR) compelling us to undergo lockdown yet again, all of us were ensured to abide by the guidelines, pertaining to lockdown, though not comprising on giving our participation to the fullest, helping the government, overcome this life-threatening situation. We have tried to implement the concept of work from home furthermore possible as per the availability of resources and reach each employee of the Udayan Care IT Centre programme to give their optimum towards achieving the organizational, as well as programme goal. We have taken prompt actions to fight COVID 19 and ensure beneficiary & staff engagement with multiple activities for their enhancement. During this period, we connected with beneficiaries using a digital format to provide them training in IT courses and English communication simultaneous, collaborated with other agencies like CSRBox, NIIT Foundation, ICICI Foundation & IBM SkillsBuild to give exposure to students, ensuring their holistic development.
To deal with the situation Rajnish came to organize a capacity building training session for our IT centre staff members, he picked an ideal topic "Mindfulness" to make oneself resilient to fight the pandemic. Rajnish brings with him over 30 years of experience in profound multinationals like TCS, American Express, Aviva etc. He has played different roles from being a CIO, COO and CEO. The session was completely interactive where Rajnish explained how the conscious & subconscious minds play a vital role in our daily life, the major take from the session was that the "quality of thoughts of subconscious mind elevates our mental health by managing stress and defeating negativity", for the prosperity of subconscious mind we should eradicate the habit of jealousy, comparison and develop an attitude of gratitude. A 2 hours' productive session become an energizer for all of us to boost up our energy towards work accompanied by maintaining a positive attitude.
We always attempt to promote a creative environment through meaningful and innovative activities, on 5th Jun'21, our students took the initiative to celebrate "World Environment Day" our IT Centres students' got connected virtually to show their posters which they were made to create awareness in the community to save the environment, few of them planted saplings at their home and nearby for a greener environment. During the training of trainee, we always paid attention to invite industry expert to hold session worth learning for our students, these sessions help us as well as our students to know the current requirement of industry and how they can prepare themselves and head for a promising career in the relevant field, On 14th May we conducted a session on "Basics of Designing". Spearheaded by Himanshu working at the capacity of a lead designer with XR Central, holding an experience of 3 years to create impactful products. Alongside the basics, he also threw light on UX designing and typography. Briefed on the concept of prediction to conceptualization, each step was taken with an in-depth explanation.
We have specifically conducted this session for our Vinod Nagar IT Centre students where we precisely focus to train the trainees in the Graphic & Print Design course. 50 participants including existing and alumni attend this session virtually, resulting in an interactive workshop. All questions put forth by the students have been answered ardently and gave an opportunity for learning as well.
COVID 19 and sudden lockdown affected everyone's life but when we see people lost their employment and struggling to manage their household expenses it's shaken up gravely but our placement team did great by connecting with good employers to ensure placement of our students, recently my team shared a story about a girl her name is Jyoti who completed Diploma in Information Technology (DIT) course from our Noida IT Centre she grew up in Khora colony where she is putting up with her younger brother and parents, her father works as a barber (Hairdresser) to raise his family of 4 members. He switched to a big town with a purpose to give better education to his children and fulfilled the same. Jyoti completed her graduation from the University of Delhi through a distance learning programme.
After completion of her course from our IT centre, she has started working with a food outlet called "Rebel Food" which is located in New Kondli (East Delhi), She joined there as a "Production Associate" due to lockdown her office was closed but Jyoti is express her gratitude towards Almighty as she got an opportunity to do work from home now she is handling their billing work and earning Rs. 13500 per month.
About Udayan Care
Udayan Care is a Public Charitable Trust, working for the last 26 years, for the quality care of disadvantaged children and women.
About IT centres programme
Udayan care Information Technology centre tends to brings digital media closer to the underserved society of the people to improve their livelihoods. Currently, we are running 14 IT centres in Delhi, Uttar Pradesh and Haryana and have impacted the lives of more than 18,696 beneficiaries.
Our centres offer certificates courses in basic computer knowledge, diploma and advanced courses in computer application. Workshops on Spoken English, life skills training and job readiness are also a part of the curriculum.