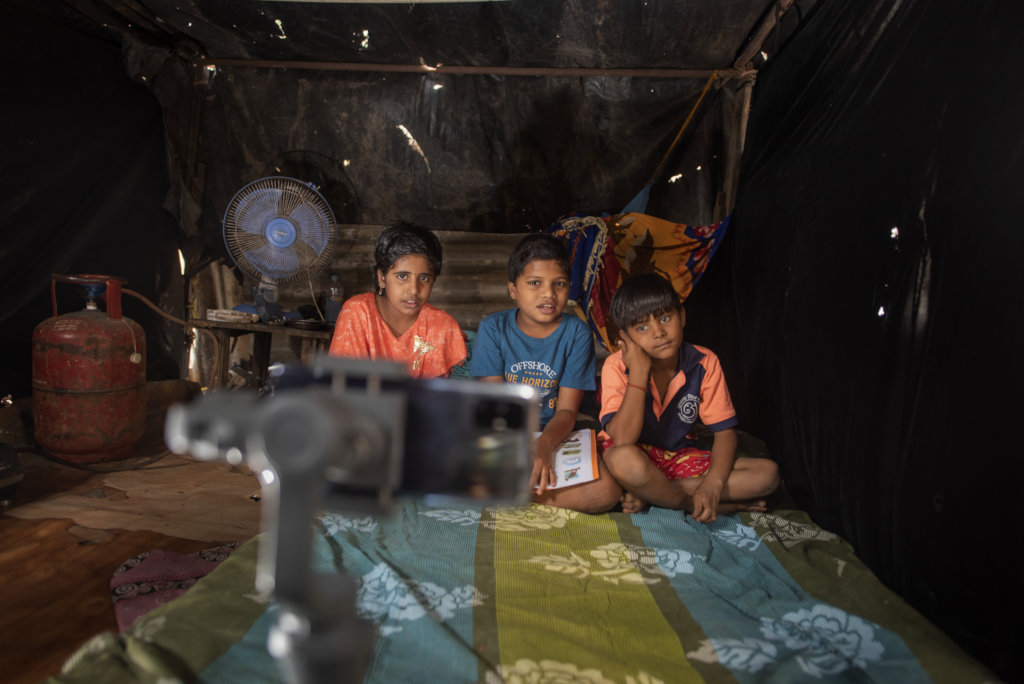 Meeting my students for the first time, online, was not easy. It took us, students and Fellows alike, a lot of time to adjust to the uncertainties that virtual learning brought. Blended learning was exciting initially- so much to do, so much to explore! But I could see my students not responding well to it, it only started making meaning for them when I partnered with them. After introducing them to various zoom features, google classroom, reels, mood boards, canva, and other tools that I was using, I could see so much ownership in my classroom! They were conducting quizzes for each other, hosting KBC with me, lesson planning for important themes in history! My experience last year has influenced the vision I'm setting for my students this year- as they enter grade 10, I hope my students and I work together to create safe spaces for each other. I want them to be independent and continuous learners, I want them to continue to question everything around them, I hope to see them create strong friendships and most importantly, I want them to continue being their resilient selves.
With another academic year full of uncertainties, especially working with a board class online, my priority is to keep my students and their needs at the forefront. Involving students in every decision making process- making timetables with them, sharing unit plans with them, setting goals with them, understanding what teaching methods work best for them, updating their parents about their progress etc. I also plan on collaborating and working closely with school teachers this year. Their knowledge of the content and their experience with boards will definitely help me support my students better. We will also be working with volunteers this year- to drive rigour in our classrooms and to ensure we reach every child.
Along with regular content-related teaching, I have also started a small book club with my students. We meet every Thursday to discuss a short story over a cup of chai/coffee. This space is entirely student-led, my students even made up norms and set culture on their own! We generally watch youtube videos, talk about the context of the story, the era in which it was written and how it affects us today. I see my students understand the world around them and question society. They have also become much more self-aware. Their Reading Comprehension levels have also increased. Apart from this, all our synchronous classes have small morning meetings, movie or song analysis too! Most of my students consume media differently now- they pay attention to lyrics, dialogues and cinematography too. We also host student darbars once in two months to celebrate talent in class!
The second wave hit our community terribly. Some of the parents were asked to not come for work and most parents decided to go back to their villages as they could not support their family. My school team and I have been working towards COVID relief for the families we cater to. We are currently helping them out with ration and medical expenses. A lot of our students did not have access to a device to attend online classes, we conducted a donation drive for the same. We also leveraged Teach For India devices in our classrooms to ensure that learning doesn't stop.
In order for a child to be their best self, they need to have a safe and sustaining environment, where they can learn and grow to their fullest potential. Our students had that space when they were coming to school everyday, but because of virtual learning, their homes became their school. Teaching an all girls classroom definitely comes with its challenges- they are teenagers and face new battles in their families and communities everyday. They are expected to help with household chores and adhere to strict gender roles. Investing them and their parents became a huge challenge. During our community visits, while interacting with our students' families and other stakeholders in their lives, I realised the need and importance of gender sensitisation in the community. This drove me to join GenderBenders, a Be The Change Project based in Delhi. Our vision is to empower individuals to shape a gender-neutral world. We are currently developing a curriculum for gender sensitisation for students, parents and educators.
As I begin my second year of the fellowship, my hope for myself is to make meaning of my journey, to create impact beyond my classroom and to understand my true purpose in this sector. My hope for my community is to be ambassadors of gender equality. And finally, my hope for my students is to see how powerful they truly are. I want them to believe that they can actually change the world.
- Riddhi Satti, Delhi Fellow, Cohort - 2020-22