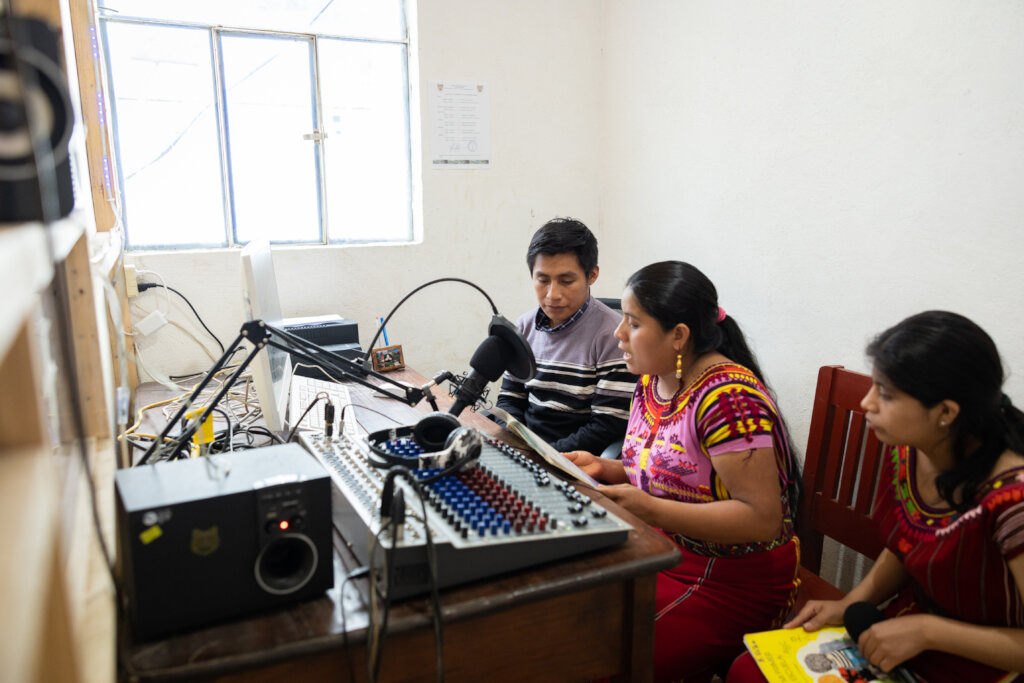 Bilingual Story Hour on the radio began as a response to pandemic lockdown measures that forced us to close our Saber Sin Límites (Limitless Knowledge) Community Library in 2020. Three years later, it has become an integral part of our library programming, uniting and inspiring our community through the enchanting power of storytelling in both Spanish and Ixil. It has been a wonderful way to expand our reach well beyond the youth who walk to our library each day, reaching their family members back at home, and youth and families miles outside of Chajul.
Approximately 60% of our library attendees speak Spanish, which is why our Bilingual Story Hour has been a vital tool for promoting literacy and language acquisition in Chajul. Led by Head Librarian David Imul, our talented staff have skillfully curated a collection of stories that have captivated listeners of all ages. In 2022 a total of 64 bilingual stories in Spanish and Ixil were broadcasted on the radio, each airing multiple times throughout the week. These stories provide an opportunity for young learners to engage with literature in their native language while also improving their Spanish comprehension skills.
So far this year, we have aired eight stories, covering a range of compelling themes such as women's empowerment and the importance of perseverance.
We take pride in witnessing the success and impact of Bilingual Story Hour on the radio as part of our efforts to promote literacy in Chajul and we look forward to continuing to foster a love for stories in both Spanish and Chajul's local Maya Ixil language.


A new program for the new year
As our impact on the community grows, so is our steadfast dedication to meeting the needs of those we serve. We are thrilled to collaborate with our Colegio Horizontes' Ixil language and grammar teacher, Edilma, to incorporate more cultural programming into the library.
This exciting addition to the schedule aims to celebrate the rich diversity and cultural heritage of our community while creating a more inclusive and culturally sensitive space within the library. Through monthly sessions, participants will have the opportunity to learn about various aspects of Mayan culture, including the Mayan worldview, numeration, and the calendar.
"One of the most important things is to explain the why - why we practice our customs, why we dance in a certain way, why we eat certain foods, why the textiles are woven in a particular manner and the differences in textiles between the communities of the Ixil region. It is also important to talk about our values and the significance of the Mayan calendar, which is an important tool for us in daily practices such as agriculture as a guide to knowing when and how to plant crops. It is essential that we teach our younger generations our traditional values and customs to prevent their loss and keep our language and culture alive."
-Edilma, Colegio Horizontes' Ixil language and grammar teacher
Your ongoing support empowers us to expand our educational offerings and provide our community members with further opportunities to delve into their cultural heritage, cultivate their identity, and establish meaningful connections with one another. Thank you for being an essential part of our mission to ensure that our library remains a safe, inclusive, and welcoming space for all!