Project Report

| Sep 28, 2015
From Island to Island with Green Map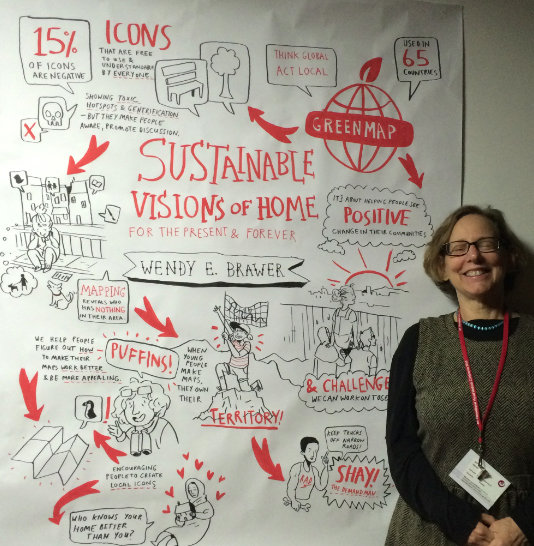 The season is off to an exciting start at Green Map System. We're just back from working with great project leaders in Iceland and United Kingdom, where we delivered six talks and workshops.
While delivering a keynote address at the International Visual Methods conference at University of Brighton, our director encompassed many of the values of this multimedia form of community-engaged research. Wendy Brawer's talk was captured as a 'graphic recording' by a talented Scriberia artist.
In addition to the packed conference workshop with our network partners from UVic (Victoria BC Green Map), CUPP and Community 21, Maeve Lydon, David Wolff, Nick Gant and Wendy also hosted a local community mapmakers exchange. 60 practitioners, researchers and professors took part.
In Bristol, a research and media network met at the University's School of Art. Cornwall Green Mapmaker Dominica Williamson gave an outstanding presentation of her mapping explorations, ranging from patiently uncovering an archeological site, unlocking government data, and developing thoughtful biodiversity walks for young people. We also met with Steve Parry of the 4B's project (linked below) and community leaders in this, the 2015 European Green Capitol.
Our work is about people and about place. That's why it was so moving to start this European journey surrounded by Iceland's remarkable landscape. The entire country is featured on Nature.is, the website for the Iceland Green Map made by Guðrún Tryggvadóttir and Einar Bergmundurat. Events at Listasafn Museum and Solheimar EcoVillage drew surprisingly diverse audiences interested in our adaptable approach to climate health and sustainable communities.
While on the road, we have welcomed new projects from Chile to New Jersey, and beautiful new Green Map editions are informing communities from the US to South Africa. Our board is meeting frequently as we develop a solid vision for our 20th year. We'll be sharing that vision with you soon. Our best wishes for Climate Week and harvest season!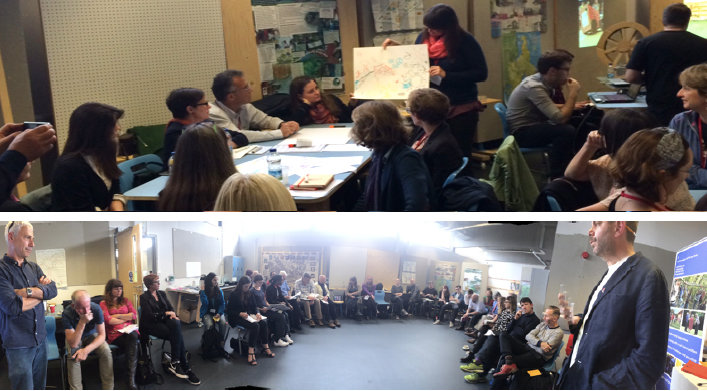 Links: