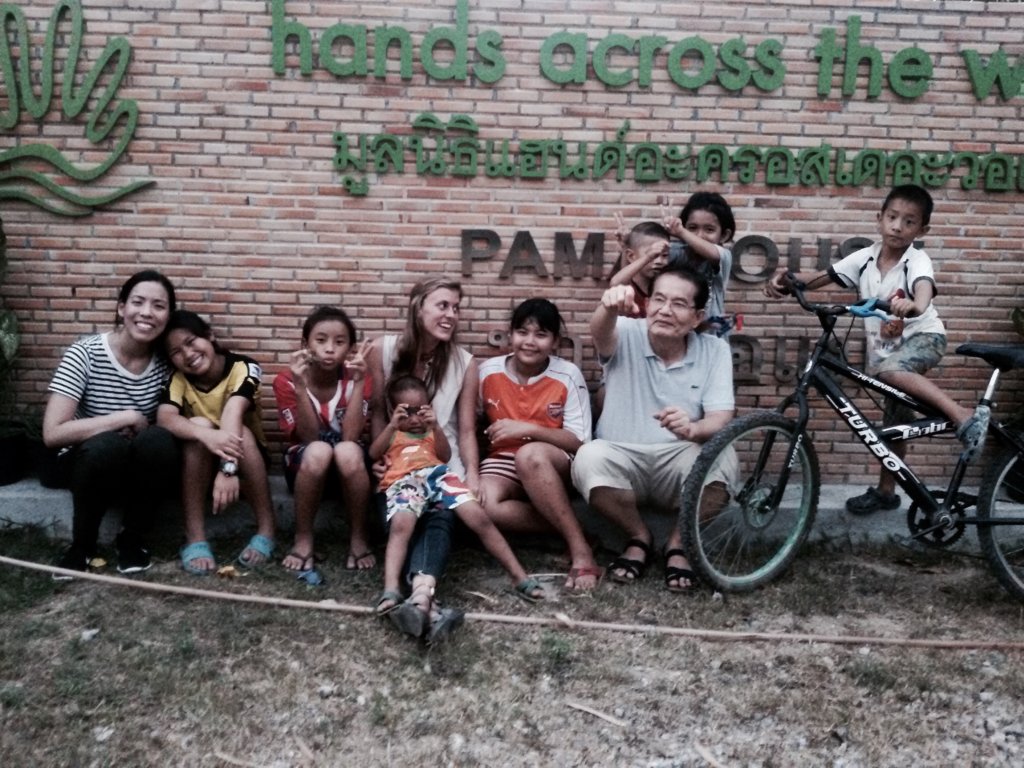 There are so many things I could share about Thailand, but I'll try to codense my thoughts and hit the highlights!
To begin, Thailand is truly one of the friendlistest and easiest to navigate countries that I have ever travelled to. I often would travel by bus or train, only to get off in a city and have little idea of how to get to the place I was going to sleep. No fear! Without asking, there was always someone who saw my confused face and took it upon themselves to ask "Where you go?" Everywhere I went, it was the same. A bus driver waving to me when it was my time to get off; a teenager who could speak a little English, asking if I needed help; a family that went out of their way to point me in the right direction. The kindness that has been shown to me, has been overwhelming. Needless to say, I learned to flag down the local bus, barter down with the local tuktuk driver, and even drive my own scooter.
There are a number of incredible organizations here that (of course) take donations, but also take volunteers! There is much to be learned from the beautiful country, and I hope that if you are interested in learning about a particular organization, area, or volutneer opportunity, you do not hesitate to contact me.
South Islands
I began in the south of Thailand, in Phuket. I met with an organization that rescues dogs from the Vietnamese meat trade, another that provides transportation and education for ethnic minority children, and yet another that helps women learn skills and allows the opoportunity for them to empower themselves, through economic gains.
The islands were stunning. Still blue waters, white sands, cloudless skies. Islands dotted with fishing villages and local boats waiting to take tourists for a ride. It was a little shocking to learn that, despite the absolute beauty and paradise that is the south of Thailand, there is so much more that goes on behind the facade of what has been designed for the tourist world. I would like to challenge future travelers to open your eyes, ears and minds to the life, culture and tradition that exists beyond the hostel parties, spas and amazing nightlife. Visiting ladyboys may be hilarious, but I doubt you would find their life stories so. Getting frustrated for a higher price than the locals pay is absoltuely frustrating (I know), but having a dollar less a day is not nearly as important to you, as it is to someone else. Thailand may have moved from a developing to a middle-income in only a few short years, but there is still so much development going on.
Bangkok and Central Thailand
Bangkok is a big, busy, busteling city. She boasts a well-organized and impressive transportation system, is less dirty than other developing cities, and has quite a bold and energetic atmostphere. Bangkok came in stark contrast to the south, where locals were still more conservative, people walked around in beachy clothes and the energy was more relaxed. Bangkok, on the other hand, is a mixture of people from all over the world, full of expats, new fashions, delicious food, long lines and bright lights.
Like many other big cities, the gap between rich and poor was not hard to see. One morning I traveled into a different community, settled among towering businesses. I made my way through a maze that is the slums of Khlong Toey, learning about this little world. Without the young woman who guided me, I would have surely been lost. The sewage was quite bad and other sanitation conditions were poor. However, I would often pass a house that was so immaculately clean and organized, it was hard to know how it was kept that way among the stray dogs, loose trash, and dust and dirt that shrowded the community. I learned that the slums are not always a permanent home, and that often families move there when they are having financial difficulties. Unfortunately, the slums were also home to people with stories that you might expect to hear about. I met drug addicts, prostitutes and young children living on their own. Of course these encounters are an emotional experience. But more than anything, it only strengthened my belief that education is of the utmost importance in the circumstances, and that, for those of us who have a strong voice and a will, we should use this to do good and to be of service, by supporting the organizations that work to improve the education, advantages and choices that people living in these conditions are afforded.
I also visited a city some four hours east of Bangkok, to the east, called Chanthaburi. There are far fewer tourists here, and the city still contained a splendor of old fishing villages and times of the past. I met a group of children here that came from surrounding mountain areas and often unstable homes. They lived in a group home and all learned, lived and played together. It was the happiest, most loving group of little ones I have ever met, and I will never forget them singing to me as they fell asleep in their home van, driving my colleague and me back to the bus stop.
Northern Thailand
I spent most of my time in Chiang Mai and Chiang Rai, and few other smaller villages on the border with Myanmar. The north is quiet and agriculturally based. I really loved it here. Rivers ran under mountains and houses sat helter skelter among the fields. There were gorgeous temples and ancient towns. Unfortunately, there is still a great deal of agricultural burning going on this time of year, so it was pretty smokey most of the time.
This more quiet atmosphere afforded me the time to visit a cat cafe while I worked on my evaluations, play with children from rural villages and shoot waterguns at locals and tourists alike during Songkran, the Thai New Year Celebration. This was one of the most fun weekends I've ever experienced! Children hauled out buckets from the boat moor and threw them on eachother while they're parents played music and talked. It was so good to see foreigners and locals eating, drinking and interacting.