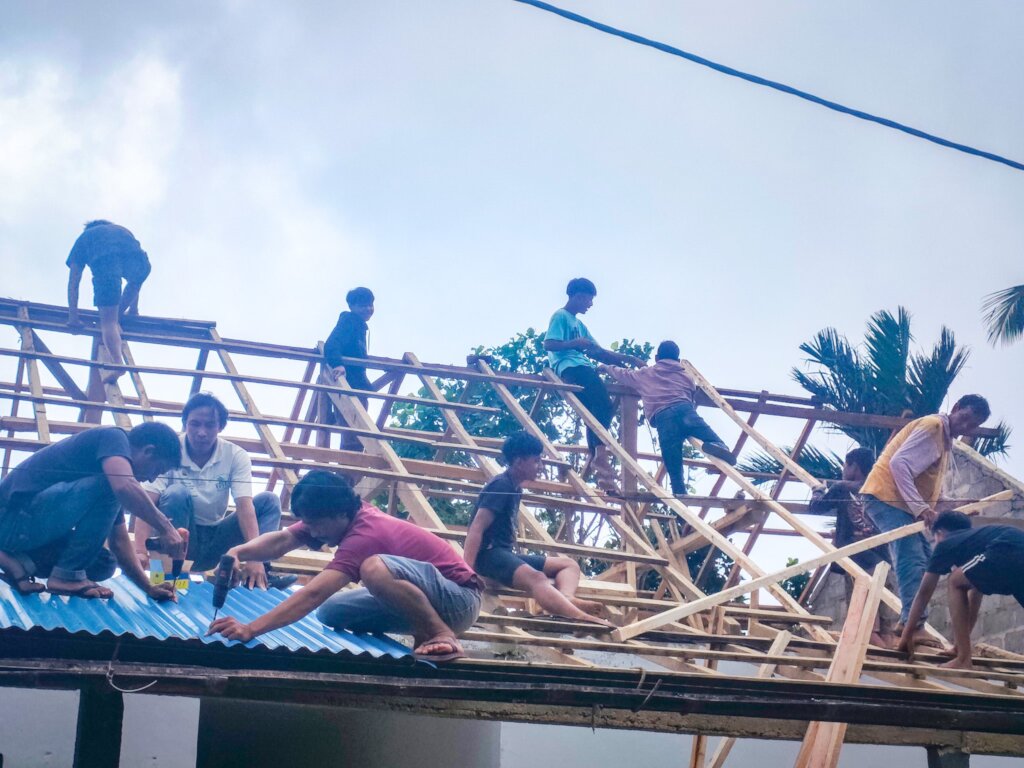 A Stormy Start to 2023
On 2 January, hurricane-force windsseriously damaged Manikaji School roof, butfortunately, our students were still off for their year-end holiday! Thanks to the fantastic response to our funding appeal, EBPP's efforts and our students and community's 'gotong royong' (working together for mutual benefit), the new roof and classroom renovations were rapidly completed and our 68 Manikaji students returned to their classrooms on 16th January.
Dry Land Regenerative Agriculture for Sustainable Soil Fertility, Water Retention, Food Security and Climate Resilience
In early January, thanks to our successful Australian Volunteers' one-year Climate Action Small Grants proposal,
our Manikajihigh school students had the opportunity to learn and implement,through 6 workshops and hands-on field work, facilitated by 2 Indonesian dry-land permaculture experts, agriculture/agroforestry techniques to improve the fertility and water retention of their dry and sandy farmland. Their training includes the basics of agriculture, how to cultivate the land, and prepare maps of the larger concept. With this new knowledge and experience, our students, in 3 groups of 10,spend a few hours every dayin a pilot project near their school: cultivating land, cutting terracing and watercourses, making solid and liquid organic fertilizers, planting and caring for vegetable seeds, and determining the location of companion plants and some for producing biomass fertilizers.They use their detailed weekly activity reports, including videos and photos, to share with their extended families and replicate in their own kitchen gardens.
Photo Exhibition and Presentation of Problems and Appeal to Government
On 10th February, Manikaji junior and senior high students withother EBPP students held a photo exhibition and presentation,for government and traditional village leaders,as part of their extra-curricular EMpower Photovoices program, to illustrate the problemsof damaged roads and community awareness in carrying out greening of their surrounding environment, located on the slopes of Mount Abang.There is still a lot of land and bare hills that often erode during the rainy season. The positive impact of the event was that the government forestry service contacted EBPP, and provided 670 assorted tree seedlings to be planted in Manikaji hamlet. They were proud; their voices were heard!
English Club
In mid-February,three Manikaji high school students eagerly joined 13 other EBPP students forour new twice weekly'English Club', created for students who wished to learn more English!Amazing progress so far!
We once again express our gratitude to all of our GlobalGiving donors for continued support, enabling our students to pursue their dreams of having a better future.