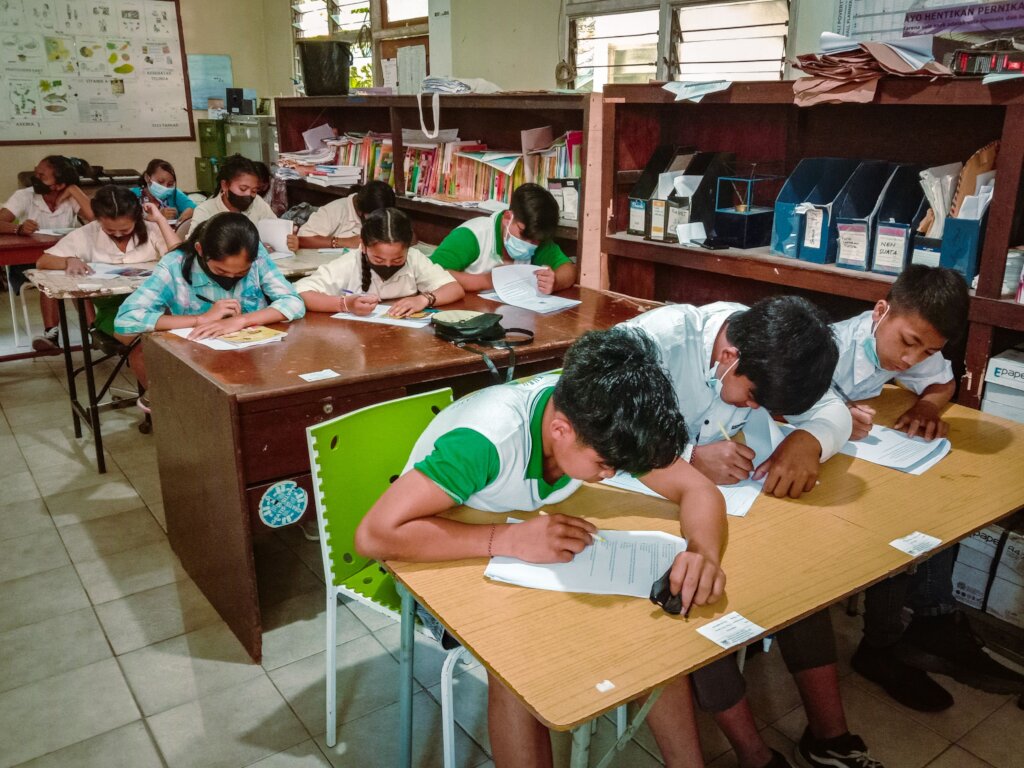 All Manikaji School students were very happy when the government authorised return to classroom learning on 7th of Marchwhen teachers immediately distributed module books for all study subjectsfor the 2nd semester academic year 2021-22.
Government exams to graduate Elementary, Junior and Senior High School
The exams that all our students have been waiting for,taken offline:
Senior high: 11-14 April, 2 students;
Junior high: 25-27 April, 6 students;
Elementary: 17-19 May, 6 students.
We're very pleased to report that all students graduated!
We were pleased also that our Balinese traditional dance classesresumed, focusing onthe Rejang Dewa, Puspanjali, Merak Angelo, and Margapati dances.
Extra-curricular EMpower program activities
In addition to the main learning topics of reproductive health, nutrition, job & university readiness andPhotovoices, all of our junior and senior high school students enjoyed a full day history and culture field trip in April to the Royal family's Puri Karangasem and the two water places of Taman Ujung and Tirta Gangga where they also held elections for the new Student Council (OSIS) committees, followed by many fun competitive games, finally returning to Desa Ban at 5.30 pm when all happy students returned to their homes.
Our EMpower instructors, in collaboration with Ban village government held meetings to synergize with children's parents and Manikaji community leaders to create parent committees and newpararem (customary laws).
The highlight of this academic year though was being able to hold our first National Education Day event since 2019 on 5th of May, when students of all 6 EBPP schools gathered in Daya to enjoy various competitive events, including intelligence quiz, chess and face painting. In the competitions, Manikaji elementarystudents won 1st place, 2nd place for junior high and 3rd place at the senior high school level. In addition to competitions, the event was enlivened by music performances and songs.To close the event, EBPP Education Coordinator Mr Suarjana, had a graduation announcement:Our two senior high school who took their final exam had passed! Congratulations!!
Students' health: We were please that our ENT (ear-nose-throat) examinations for all students were conducted in May and all students were happy to have clean ears and full hearing!
The final activities this month were: measurement all studentsfor new uniforms, a graduationcelebration for our grade 12 students, and distribution of students' report books,attended this year by allstudents' parents, with the aim of establishing active communication between teachers, students, and their parents.