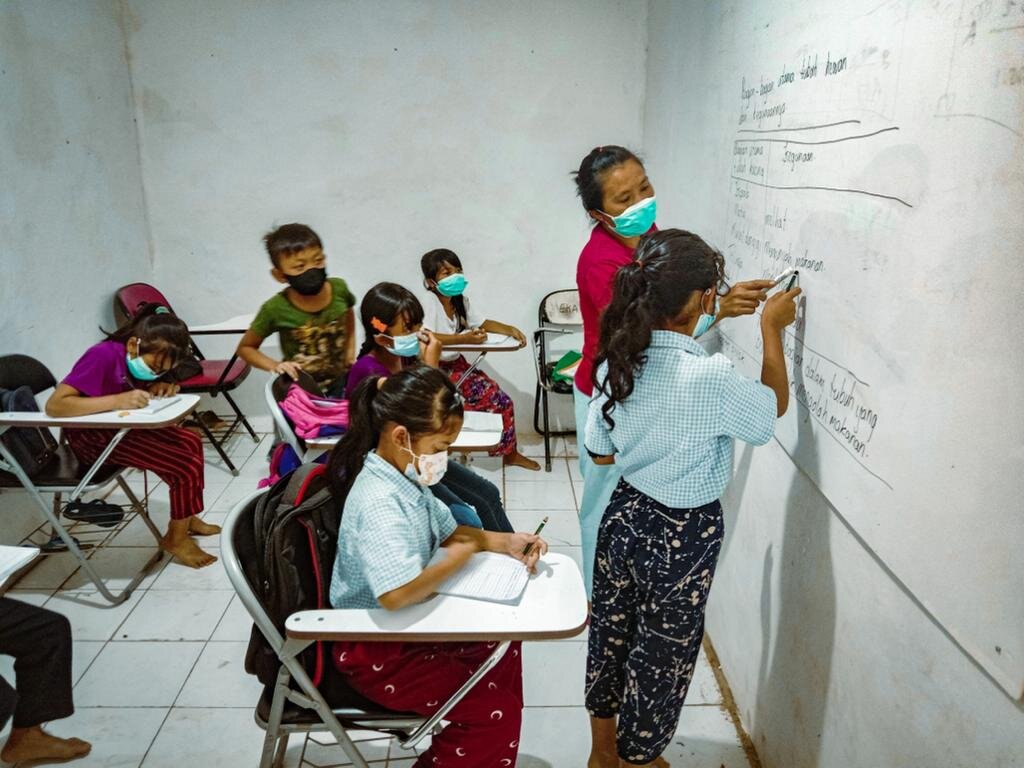 In the four months since the October 2021 earthquake, Manikaji School renovation was completed, with all of the physical work executed directly by our Manikaji students and their parents! In addition, to help relieve the trauma experienced by most of our students after the 4.8 magnitude earthquake, we provided trauma healing therapy, facilitated initially by our psychology counselling teacher, with professional interventions provided by our professional consultants, Udayana Psychologist Institute. Within a week, students returned to study outside school jn temporary facilities until the school building was safe for return. From November 15-19,2021, students focused on doing their semester exams and on December 17 our teachers gave the students their report cards to see their results for this semester and show their proud parents.
New Semester, January 2022
Shortly after the second semester of academic year 2021-2022started on 3rdJanuary, we are pleased to report that all students aged 6-12 years were given their first Covid vaccine for stages 1 and 2, ages 12-18 are given advanced vaccines for stage 2. This aims to minimize the transmission of the Covid-19 virus. Teaching and learning activities in. Students learn face-to-face in class by implementing strict health protocols. All students are provided with learning equipment such as; notebooks, drawing books, coloured pencils, pencils, pens, etc. and medical equipment such as masks, soap bars, and hand sanitizers to support the learning process.
In addition to academic classes, all students were pleased to resume teaching weekly arts classes of Balinese dance, including the Rejang Dewa dance, Puspanjali dance and Belibis dance and cultural arts activities, where students practiced drawing and colouring with free themes.
EMpower Extra Curricular Youth Empowerment Modules
Starting in 2015 for high school students, these rate among students' favourite learning activities that are not included in the academic curriculum and are carefully designed to broaden their scope of learning and empower them for their future after graduating high school. Modules learnt during this period for new students comprised computer basics of Microsoft word, Excel and PowerPoint, and introduction to the internet; and reproductive health. Meanwhile, the older students studied advanced Microsoft office, advanced internet, and website design basics. An addition to the Empower programs this year was a talent and interest test for grades 11 and 12 students, designed and delivered by our consultants, Udayana Psychology Institute. This aim to determine the students' interests and talents to help them prepare to make future plans after graduating from high school. For example, if they hope to continue their studies, they can choose the right major and if they plan to seek jobs, it helps choose the type of work they want.
Return to Home Learning
After enjoying face-to-face classroom learning since early October 2021, students had to return to online learning on February 7thdue to increasedCovid-19 cases. Currently, junior and senior high students are studying through WhatsApp groups while elementary students' learning materials are distributed to their homes under direct guidance from Manikaji local tutors.
Finally, during the pandemic situation, we continued providing monthly staple food packages to ensure students get adequate nutritional intake during COVID-19.
Thank you to all donors and supporters for your continued trust and assistance