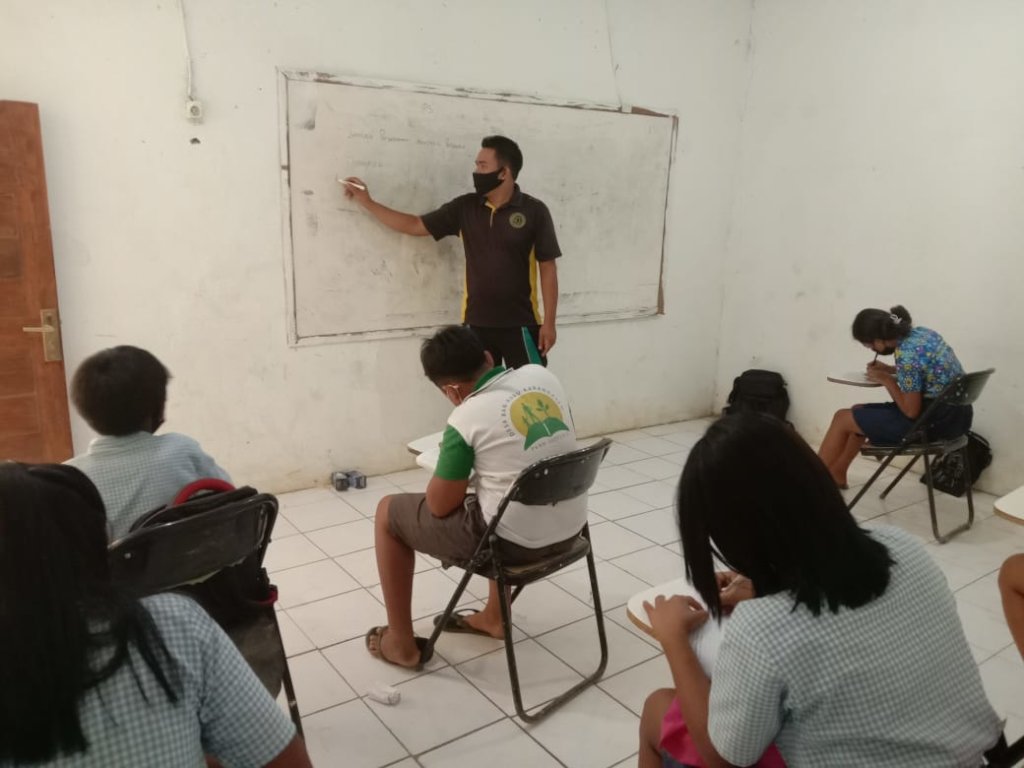 A lot has happened since the beginning of July with the new academic year starting on 13th July with students still learning remotely, as detailed in our earlier reports, due to Covid but finally returning to the classrooms on 11th October, with strict Covid-19 health/hygiene protocols in place – and then in the early morning of 16th October, a massive earthquake struck our village! I'll update you with the current status below.
Starting the new Academic year 2021-2022
Eleven new students enrolled: Elementary, 8 in Grade 1 and one Grade 4; Junior high, two in 7th Grade. All students were given school stationaries of books, pens, pencils, drawing books, coloured pencils, rubbers, and rulers.
Independence Day, 17th August 2021
Pre-Covid we held a full day event in Daya hamlet for all students and their families but this year, due to remote learning, we held several virtual inter-school competitions to commemorate the celebration of Indonesia's 76th IndependenceDay. The competitions held were: Painting at the elementary level, writing poetry at the junior high level and writing stories at the high school level. Manikaji School winners were: at Elementary level, Nuada won 3rd place;Junior high Sutami proudly won first; and Widnyani got 2nd place at Senior high level! Congratulations to the winners.
Extra-Curricular Empower classes
In this period, to take advantage of the remote learning, all of our high school students were able to choosde from a wide range of 'creative programs': painting, dancing, singing, cooking, photography, sports, and also learn computer basics which they excelled at by communicating remotely with their peers
Hooray, Back to Classroom Learning
On the 9th October, we got the good news from the district education office, where previously students studied almost 1.5 years online, with many obstacles due to the covid-19 pandemic, that commencing 11th October, they are allowed to study face-to-face. This can be done because the number of Covid cases has decreased drastically, and all students aged 12+ years old have received both their Covid vaccines. The first day they learned face-to-face at school, all students looked very happy; they could meet all their friends and also the teachers who taught directly. This learning is carried out by implementing a strict health protocol, in which all students must wash their hands and have temperatures checked before entering classroom, always use masks, hand sanitizer, and must also maintain social distancing.
The 16th October Earthquake
Just a week since students returned to the classrooms and disaster struck their village!An earthquake measuring 4.8 on the Richter Scale struck on October 16 at 04.15am. In the whole of Ban Village, the earthquake damaged 1,460 people's houses, of which 377 houses were completely destroyed, and 132 temples, places of worship, were also damaged. The sadness and tears were felt by the EBPP students who lost their homes, toilets and kitchens; only the rubble of the buildings remained! All of them were afraid, traumatized and very worried that aftershocks would occur. Responding to this problem, in the morning the EBPP team immediately moved to the field to find out the situation. When we arrived in the field, we found access roads to the location of many landslides, residents' houses were completely damaged, one child died, many people were seriously injured, two EBPP school buildings in Cegi and Manikaji hamlets were completely damaged, four other schools had cracks in the walls, and12 Manikaji student houses were totally destroyed – as well as those of 54 students at EBPP's other 5 schools in Ban village
To help the community and students who are experiencing disasters, EBPP distributes food packages for their families, containing rice, eggs, cooking oil, vegetables, nuts, etc.
Currently, EBPP is more focused on raising funds to build temporary shelters and toilets for all 377families who do not have a home, are worried that the rain will soon fall, they do not have a place to sleep for their family and also lacks of sanitation facilities.
We thank all who have helped, and would be grateful if you will consider donation to our GlobalGiving campaign to raise funds for the shelters Click this link. https://www.globalgiving.org/projects/shelters-for-343-e-bali-earthquake-victim-families/
Your donations will lighten the burden of life for the community and EBPP students.