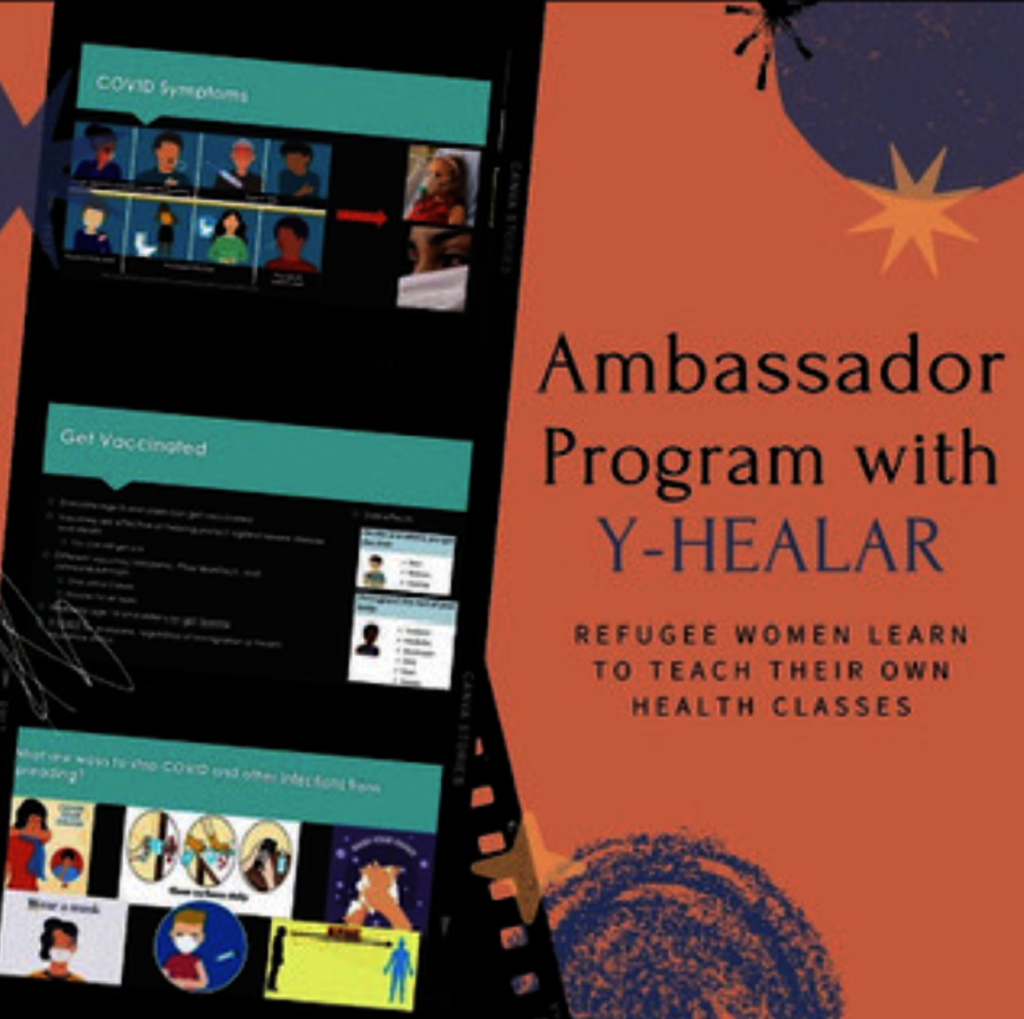 Since the winter, Elena's Light has started some exciting projects and additions to our health team!
Our ambassador program began in January and it empowers and teaches two refugee women to become capable of teaching health classes on their own. The women begin with two training classes each where they follow a healthcare professional's lead on class topics such as Covid and vaccines, common illnesses, and navigating the healthcare system, and translate the class for the audience of refugee women. From there, each woman is provided additional one-on-one training with medical professionals within Y-HEALAR to be ready to teach their own classes towards the end of the six month program! The refugee women are reimbursed for their work to respect the women and their hard work. All classes for the ambassador program took place in 2022 and 19 women have attended so far with two classes left in May.
Since our last update, Elena's Light has also kicked out a Photovoice Program in collaboration with a class at Wesleyan University! In this program, refugee children ages 9-15 paired up with Wesleyan University students through their Refugee Literature class for some hands-on experience working with refugee families. The refugee children took photos on various topics such as their favorite food or something they are proud of, and worked in groups to discuss their photos and learn a bit more about each other. This collaborative semester-long project allowed for cultural exchange and friendship building amongst the refugee community and those who wish to support them. The images below are from our initial orientation which we held in person. We believed building friendship and connection between the families and the Wesleyan students was important, and we were thrilled to see the turn out–even amidst an unforeseen snow storm! There were games, pizza, baklava, and lots of connections!
As far as our summer program, The Children's Summer Wellness Program of 2022 is in the works and setting up to be better than ever! The team is working on finding a location and will begin to recruit families soon. Overall, it's looking to be a great summer full of fun and education!
The health team has also spent 2022 working alongside Yale Masters of Public Health students Zia Shakir and Ashok Perumal to create a political advocacy approach and social emotional intervention for the refugee population in New Haven. The health policy advocacy program will kick off this summer with prepping to reach out to local officials and politicians in Connecticut to spread awareness of issues refugees faced especially related to the pandemic, and what changes are good to bring.
In addition, we have welcomed our newest team member MInahil Gilani as Health and Wellness Coordinator to assist with Ambassador health classes and general programming classes. She is doing a wonderful job, and with her help, EL health can continue to grow and expand! We are also currently onboarding Masters of Public Health interns from New York University for the summer of 2022 to help us with our general health programming and advocacy plans.