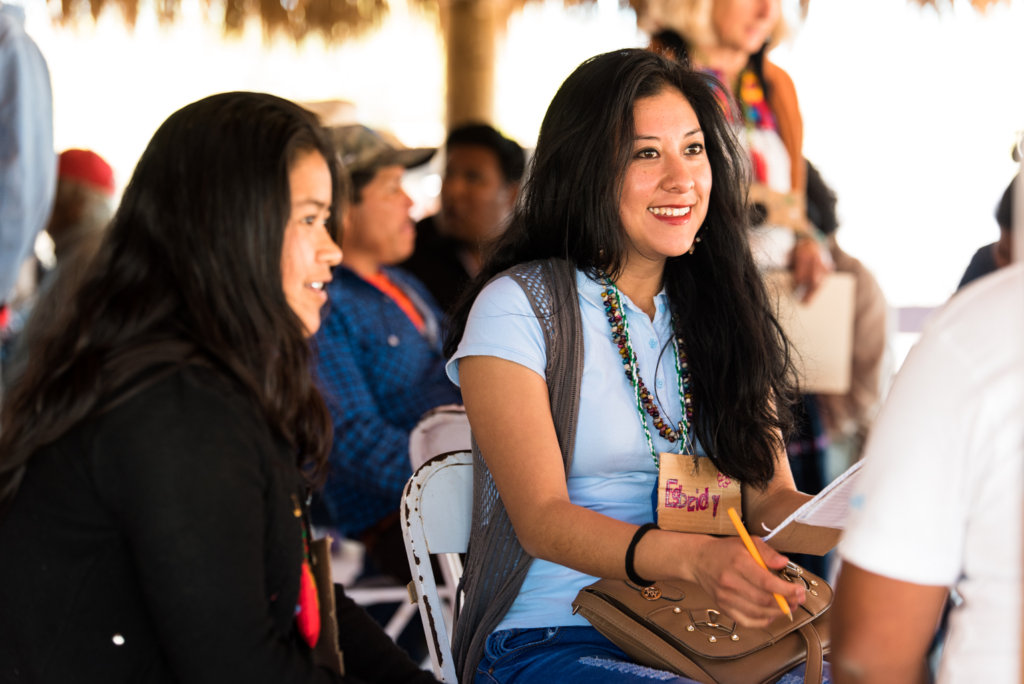 [Texto en Español sigue abajo / Spanish text follows below]

From February 9-14, 65 Indigenous community leaders, facilitators, and allies gathered on Comcaac territory in Sonora, Mexico for the 2017 North American Community Environmental Leadership Exchange (NACELE). Participants came from 12 different Indigenous nations, and the event included interactive workshops and presentations on territory defense, communications, local economies, food sovereignty, biodiversity, and art and transformation. Following up on our last report, this Global Environments Network Story includes participant reflections, photos, and possibilities for future collaborations that emerged from NACELE 2017.
GDF North America holds the nurture and support of GEN members' collaborative initiatives to protect their biocultural landscapesas a core commitment. NACELE 2017 demonstrated that GEN members in Mexico are already engaged in many dynamic, thoughtful projects situated in context, grounded in local needs, and committed to a long-term presence. In this report, we highlight one of these projects: Developing Learning Materials to Strengthen the Tojol-Ab'al Language. NACELE 2017 participant Maribel developed this language revitalization project with her classmate Diana, as the capstone of their studies at the Intercultural University of Chiapas. Both are speakers of the indigenous Tojol-Ab'al language who come from the municipality of Las Margaritas in Chiapas, Mexico.
As they found in their initial inquiry, in the community of Bajucu, Las Margaritas, approximately 50% of the population no longer uses the Tojol-Ab'al language in a fluent manner, and has some degree of ignorance regarding the Tojol-Ab'al names for words. Maribelexplains, "Unfortunately this problem principally affects children and youth.... Factors include acculturation (globalization, modernization, migration, use of technology and ideological changes), discrimination (difference and lack of interest in strengthening language) and the educational system (lack of support, lack of resources, no materials to promote the original languages). Therefore the young people already have a mentality of not using the language with each other due to shame. As well, a portion of the lack of knowledge in children is due to the lack of instruction that they receive from their parents." The two women note that loss of the Tojol-Ab'al language also contributes to the erosion of a collective Tojol-Ab'al identity, loss of cultural patrimony, and a loss of respect for traditional knowledge.
In order to address these issues and strengthen the Tojol-Ab'al language in Bajucu, this GEN member has initiated a project with the following goals:
Identify the causes and consequences of linguistic changes in the community.
Conduct workshops to raise awareness among children, youth, and parents on the Tojol-Ab'al language and cultural identity.
Develop Tojol-Ab'al learning materials with

high school

students in the community. These materials will include:
Audio recordings of the Tojol-Ab'al alphabet, body parts and household items;
A booklet of medicinal plants with Tojol-Ab'al, Spanish, and scientific names;


Transcriptions of

elders

' recounting of

legends, stories, myths and poems in Tojol-ab'al and Spanish;
A dictionary of scientific terms in Tojol-Ab'al and Spanish;

and




M

aterials on Tojol-Ab'al cosmovision and astrology.
Teach strategies to strengthen the Tojol-Ab'al language.
Promote the use of traditional plants in the Tojol-Ab'al language.
Maribel explains that the central values necessary to implement the project in a good way are respect, responsibility, unity, confidence, a strong sense of ethics, tolerance and patience.
In the GDF North America program, we are pleaxed to be increasingly able to offer mentorship, organizational and funding support for the biocultural landscape protection initiatives of network members. With your support through the Global Giving platform, we can continue this important work of nurturing and strengthening GEN members' work to secure a future of Indigenous well-being and self-determination in Mexico.
Texto en español:
Apoyando a iniciativas que fortalezcan a los paisajes bioculturales en México: Revitalización del lenguaje Tojol-Ab'al

Entre el 9 y el 14 de febrero, 65 líderes comunitarios, facilitadores y aliados se reunieron en territorio Comcaac en Sonora, México para la Conferencia de Liderazgo Ambiental Comunitaria Norteamericana de 2017 (NACELE). Los participantes provenían de 12 naciones indígenas diferentes, y el evento incluyó talleres interactivos y presentaciones sobre defensa del territorio, comunicaciones, economías locales, soberanía alimentaria, biodiversidad, arte y transformación. Siguiendo a nuestro último informe, esta historia de la Red de entornos globales incluye reflexiones, fotos y posibilidades para futuras colaboraciones surgidas de NACELE 2017.

GDF North America sostiene y apoya a las iniciativas colaborativas de los miembros de GEN para proteger sus paisajes bioculturales como un compromiso fundamental. NACELE 2017 demostró que los miembros de GEN en México ya están involucrados en muchos proyectos dinámicos y reflexivos situados en contexto, basados en las necesidades locales y comprometidos con una presencia a largo plazo. En este informe, destacamos uno de estos proyectos: "Desarrollar materiales de aprendizaje para fortalecer el lenguaje Tojol-Ab'al". La participante de NACELE 2017 Maribel desarrolló este proyecto de revitalización del lenguaje con su compañera de clase Diana, como punto culminante de sus estudios en la Universidad Intercultural de Chiapas. Ambos son hablantes de la lengua indígena Tojol-Ab'al, y provienen del municipio de Las Margaritas en Chiapas, México.

Como encontraron en su diagnóstico inicial, en la comunidad de Bajucu, Las Margaritas, aproximadamente el 50% de la población ya no usa el lenguaje Tojol-Ab'al de una manera fluida y tiene cierto grado de ignorancia con respecto a los nombres Tojol-Ab'al para ciertas cosas y conceptos. Maribel explica, "Desafortunadamente, este problema principalmente afecta a los niños y a la juventud. Los factores incluyen la aculturación (globalización, modernización, migración, uso de la tecnología y cambios ideológicos), la discriminación (diferencia y falta de interés en fortalecer el lenguaje) y el sistema educativo (falta de apoyo, falta de recursos, no materiales para promover los idiomas originales). Por lo tanto, los jóvenes ya tienen una mentalidad de no usar el idioma entre sí debido a la vergüenza. Además, una parte de la falta de conocimiento en los niños se debe a la falta de instrucción que reciben de sus padres." Las compañeras señalan que la pérdida de la lengua Tojol-Ab'al también contribuye a la erosión de un sentido colectivo Tojol-Ab'al, la pérdida de patrimonio cultural y la pérdida de respeto por los conocimientos tradicionales.

Para abordar estas cuestiónes y fortalecer el lenguaje Tojol-Ab'al en Bajucu, este miembro de GEN ha iniciado un proyecto con los siguientes objetivos:
• Identificar las causas y consecuencias de los cambios lingüísticos en la comunidad.
• Realizar talleres para sensibilizar a los niños, jóvenes y padres sobre el idioma Tojol-Ab'al y su identidad cultural.
• Desarrollar materiales de aprendizaje Tojol-Ab'al con estudiantes de secundaria en la comunidad. Estos materiales incluirán:
Grabaciones de audio del alfabeto Tojol-Ab'al, partes del cuerpo y artículos del hogar
Un folleto de plantas medicinales con sus nombres Tojol-Ab'al, español y científicos;
Transcripción de relatos de ancianos de leyendas, historias, mitos y poemas en Tojol-ab'al y español;
Un diccionario de términos científicos en Tojol-Ab'al y español; y
Materiales sobre la cosmovisión y la astrología de Tojol-Ab'al.
• Enseñar estrategias para fortalecer el lenguaje Tojol-Ab'al.
• Promover el uso de las plantas tradicionales en el idioma Tojol-Ab'al.

Maribel y Diana explican que los valores centrales necesarios para implementar el proyecto de una buena manera son el respeto, la responsabilidad, la unidad, la confianza, un fuerte sentido de la ética, la tolerancia y la paciencia.

En el programa de GDF Norteamérica, se nos pide que cada vez sea más capaz de ofrecer apoyo de mentoría, organización y financiamiento para las iniciativas de protección del paisaje biocultural de los miembros de la red. Con su apoyo a través de la plataforma Global Giving, podemos continuar este importante trabajo de nutrir y fortalecer el trabajo de los miembros de GEN para asegurar un futuro de bienestar indígena y autodeterminación en México
Attachments: