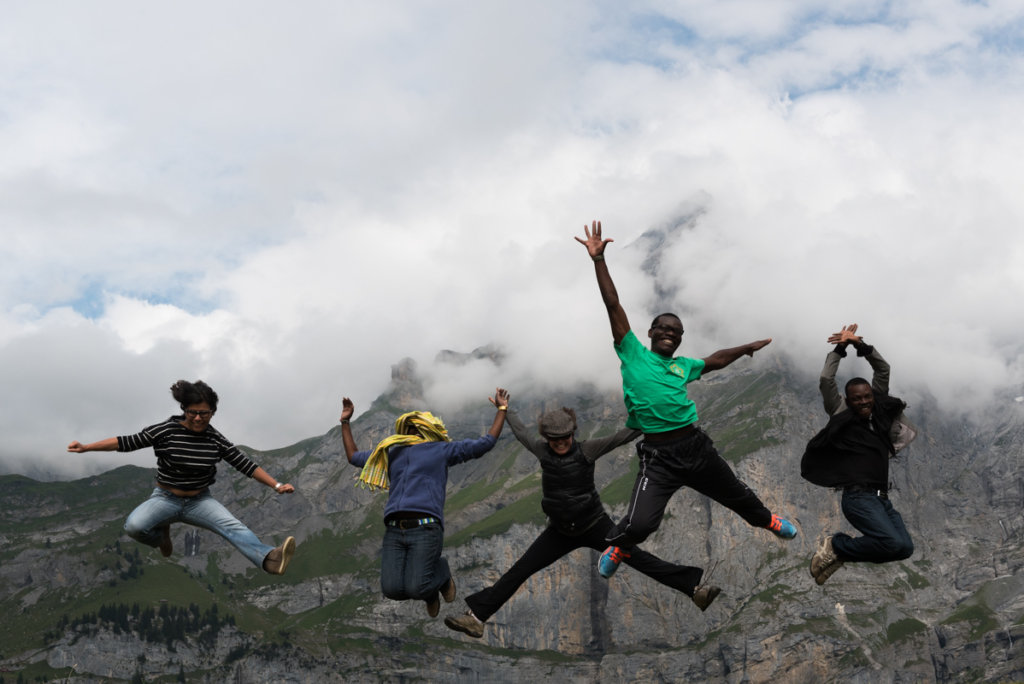 Following an intensive three weeks, GESA 2015 concluded on August 14th 2015, successfully completing our fifth summer academy. Participants departed the academy, held in Bern (Switzerland), infused with energy and purpose, celebrating newly found inspiration and the seeds of new collaborations sowed. The academy again delivered an enriching, transformative, and inspiring experience for both participants and organizers.
In this fifth year, 504 candidates applied from 94 countries. Following an intensive selection process, 21 participants joined GESA from all over the world: 5 from Africa, 3 from Asia, 5 from Europe, 5 from Latin America and the Caribbean, and 3 from Northern America. These individuals collectively speak some 31 languages and come from diverse disciplines with exceptional academic backgrounds and broad practical experiences. They clearly possess the potential to become future environmental leaders. Our website has a portrait and profile of each participant, now integrated with the profiles of all other GESA alumni.
This year's GESA again opened with a 2-day Salvia Goethe Dynamic Engagement Retreat in the Swiss Alps (image 1). This grounded the group in an experience of our ecological identities, and provided guidance and inspiration on how to establish this as a lens for experiencing the world. The group engaged elements of Johann Wolfgang von Goethe's process for knowing the phenomenological world (image 2); the practices of Joanna Macy's Work that Reconnects; mindfulness practices; and deep ecology methods.
The learning community that emerged in the retreat was engaged, self-reflective, and mutually supportive. It enabled considered and critical dialogue throughout the remaining GESA sessions, which included plenary lectures, roundtables, practical workshops, and field trips (see here for an overview of the various types of sessions held at GESA every year).
GESA evolves every year. In keeping with this tradition, the 2015 edition retained the strongest elements of previous academies while introducing innovations. As in previous years, the academy placed particular emphasis on honing communication of environmental solutions through the development and presentation of TED-style talks and the much-loved video communications workshop (image 3). Novel elements this year included plenary lectures from Alastair McIntosh, a Scottish writer, academic and activist who spoke on spiritual activism and Ashish Kothari, founder-member of the Indian environmental group Kalpavriksh, who spoke on environmental justice. They also joined forces for a dialogue on spiritual activism (image 4).
In keeping with tradition, we held an interim evaluation halfway through the three weeks, giving us the opportunity to hone the schedule and approach to immediate needs, followed by an in-depth anonymous evaluation at the end of the event. Our participants were, as usual, full of enthusiasm throughout the three weeks, and are looking forward to the future as part of the Global Environments Network:
"Wow. What to say. You are all amazing and each of you has touched me deeply. I feel so privileged to have been here and to feel like even a small part of your (our? this!) family and community. I love how this course breaks boundaries beyond the conventional. I love how it is flexible and … willing to risk touching upon what would not long ago have been considered "taboo" topics. The selection of participants and resource people was also brilliant. It really allowed us to both learn and see new worlds, but also to feel so at home and be able to express ourselves to a group of like-minded people to whom we did not feel we need to justify or explain ourselves or to defend our views. Many new skills were gained (highlights are how to give good TED-style talks!)."
"I hope that the lessons learned, friendships and partnerships forged, networks created, and the intangible values of communion will continue to resonate in the hearts, visions, and lives of everyone who was part of it. GESA reminded me that the future is bright."
We are also please to share these blog posts by Gloria from Kenya on her experience at GESA 2015.
We would like to thank all of our donors who supported us through GlobalGiving, ensuring the participation of four outstanding individuals from all over the world at GESA 2015 and allowing us to grow the Global Environments Network.
Next steps…
In the five years since GESA was launched, we have grown a global action network of over 150 emerging changemakers from 52 countries – drawn from a pool of 1619 applications from 132 countries. We have established connections, ideas and collaborations that had – and continue to have – important practical outcomes for individuals, communities and environments around the world.
At this pivotal moment in GESA's history, we are excited by the Global Environment Network's immediate and sustained power to catalyse transformative reflection and action. We are also deeply motivated by our remarkable alumni who have called upon us to propel the Network forwards, galvanising the existing energy of its members and amplifying it to engender the profound shifts in the course our planet needs. In this next phase, we will focus on activating the Network by implementing regional academies and community exchanges, and boosting its "nuts and bolts" – the online networking and communications platform and the Alumni Innovation Fund. Watch this space for breaking news!
Detailed photo captions:
Image 1: Salvia Goethe Retreat facilitator Emily (centre) took participants to new heights with dynamic sessions in the Swiss Alps. (L to R) Sarah-Lan (Switzerland), Gloria (Kenya), Emily, Bryans (Uganda) and Serge (Benin).
Image 2: Janelle (Canada) reflects during a session on the Goethean method on the shores of Lake Oeschinensee.
Image 3: Heliodoro (Mexico), Mohamed (Bangladesh), Delicia (Peru), Chitradarsinee (Mauritius) work with Ruth (Germany; workshop leader) to interview Hasnaa (Morocco)
Image 4: Attentive GESA 2015 participants and GESA organizers Susannah McCandless and Gary Martin during a discussion session with Ashish Kothari and Alastair McIntosh.