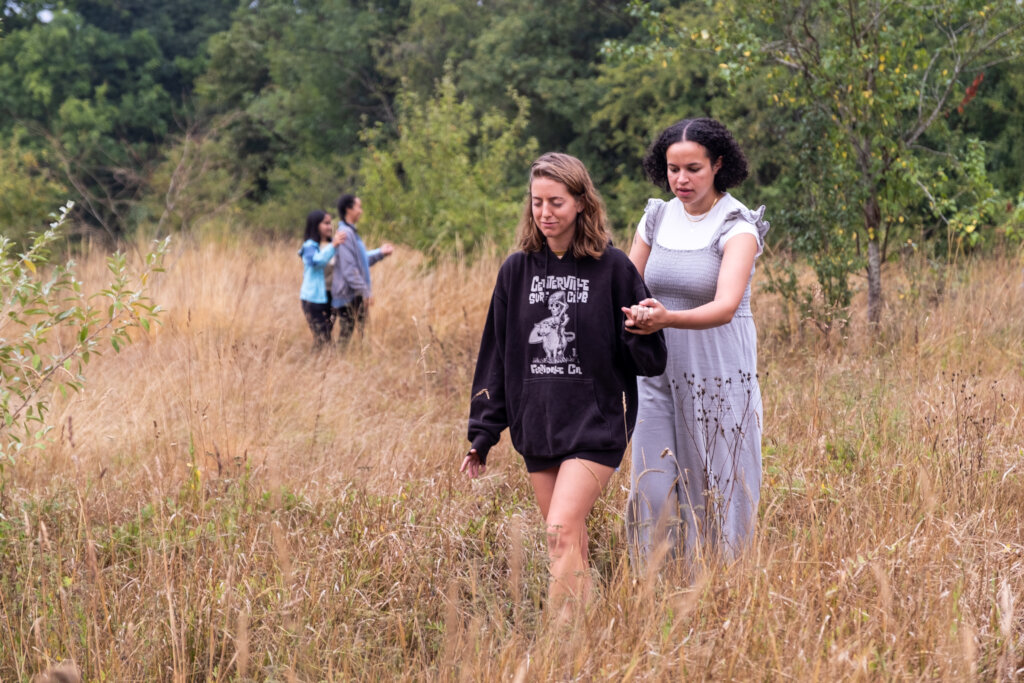 In April 2022, we launched the Seventh Global Environments Summer Academy (GESA 2022). The 2022 GESA cohort consists of environment and social changemakers working to find durable solutions to complex social and environmental challenges. The participants come from 16 different countries, working as multidisciplinary researchers, practitioners, activists, academics, and artists.
After meeting online every week for 4 months, in August 2022 we met in person for a 12-day Academy, hosted at The Quadrangle in Kent and the Environmental Change Institute at the University of Oxford. GESA participants went on a journey encompassing deep self-reflection, nature connection, thought-provoking dialogue and practical skill-sharing relevant to our contemporary social and environmental crises. Our time together was packed with enriching, transformative and inspiring workshops, peer-to-peer learning, dialogues, field trips and ethnobotany breaks. We had a host of incredible resource people who created a rich environment for sharing and expanding participants' knowledge, networking and communication skills.
In the first week at The Quadrangle, we began with an opening ceremony, guided by Terra Mirrim, where we collectively built a kabana in an immersive nature connection ritual that brought us closer to our themes of the five elements: fire, earth, air, water and ether. The participants then shared the personal journeys which led them to become environmental changemakers, before sharing the work and projects they are most passionate about. Filmmakers and GESA alumni, Elif Tibet and Inanç Tekguc from Karma Motion) facilitated a video-making workshop which provided participants with the tools to make campaign videos and spread their message in an impactful manner. Peter Larsen (University of Geneva) and Nana Haja Salifu Dagarti led us through an engaging roundtable dialogue sharing experiences, concepts and practices of dealing with different dimensions of resource governance and conservation, bringing in concrete cases, conceptual issues and human rights dimensions for frontline environmental defenders.
In week two, we visited Knepp Rewilding, a pioneering rewilding project in England, for a field trip followed by presentations and discussions with Chris Sandom (University of Sussex) and Ricardo Rocha (University of Oxford) on critical contemporary environmental issues, ranging from the role of rewilding in conservation efforts, to the false dichotomy between people and nature. Ruth Krause and Oonagh Cousins guided participants through skill-sharing workshops on ethical journalism and effective campaigning where we learnt about engaging with the media. We then went on an immersive walking tour with Uncomfortable Oxford, where we examined racial inequality, gender and class discrimination, and the legacies of empire in Oxford. Karen Larbi (POC In Nature) guided us with ease through these intriguing discussions via transdisciplinary lenses and Elif Tibet facilitated a workshop on building alliances and transmedia storytelling. Finally, Gary Martin and GESA participant, Laura Vallejo, offered participants practical tools and technical knowledge in a workshop on developing a Theory of Change.
Participants left infused with a revived sense of purpose and direction and with new friendships and collaborations forged. Participant profiles are available on our website and will soon be integrated into our Global Environments Network Community pages.
(Please note this author has permission to use all of the above names).