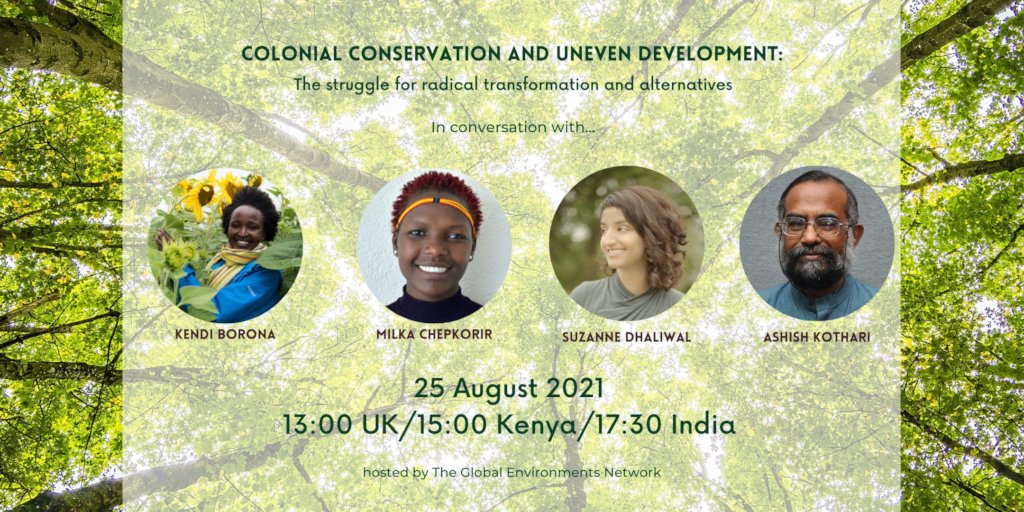 Fortress conservation is a persistent model in the post colonial world. This conservation approach carries the belief that biodiversity protection is achieved through creating pristine environments, i.e. ecosystems which are free from human disturbance. Mostly created, funded and heavily lobbied by the Global North, this top down approach often excludes, quite violently, local communities and their traditional knowledge practices. In doing so, power imbalances intensify.
The idea for our August 2021 In Conversation event came about as GEN members, Milka and Kendi, outlined the root causes behind the problems faced by the Sengwer people in Embobut Forest, Kenya, where fortress conservation prevails. As Milka and Kendi developed the collaborative project, Revitalizing Sengwer people-land relationships through Indigenous Knowledge in Kenya, we learned elaborate details about knowledge systems encoded within the Sengwer story of origin, land use practices, and relationships with nature, particularly the Embobut forest and its associated resources. This interconnection with the natural environment influences all aspects of Sengwer ways of being, from cultural expressions (song, dance, stories, crafts, dress, food) to governance systems. Unfortunately, these knowledge systems and land management practices continue to be undermined. Since the early 1900s to present day, the Sengwer people continue to face evictions from their ancestral lands, which become heavily militarised fortresses in the name of environmental conservation.
During the event, titled Colonial Conservation and Uneven Development: The Struggle for Radical Transformation and Alternatives, Milka and Kendi were joined by Suzanne, co-founder of the UK Tar Sands Network, which challenged BP and Shell investments in the Canadian tar sands in solidarity with frontline Indigenous communities, and Ashish, founder-member of Kalpavriksh, a 40-year civil society organization in India focusing on environment and development issues. Together, they shared their first-hand experiences of the ways Indigenous Knowledge and community-led education can revitalise our human connection to land and build resilient, thriving societies.
We are pleased to share the full recording of the event with our GlobalGiving donors. Around the world, traditional Indigenous territories make up 22% of the Earth's surface, overlapping with areas that hold 80% of the planet's biodiversity (Sobrevila, 2008). In order to seek alternatives to colonial conservation and radically transform uneven development models, it is imperative that Indigenous Peoples and Knowledge are at the forefront of the conversation.
Thank you for your support!