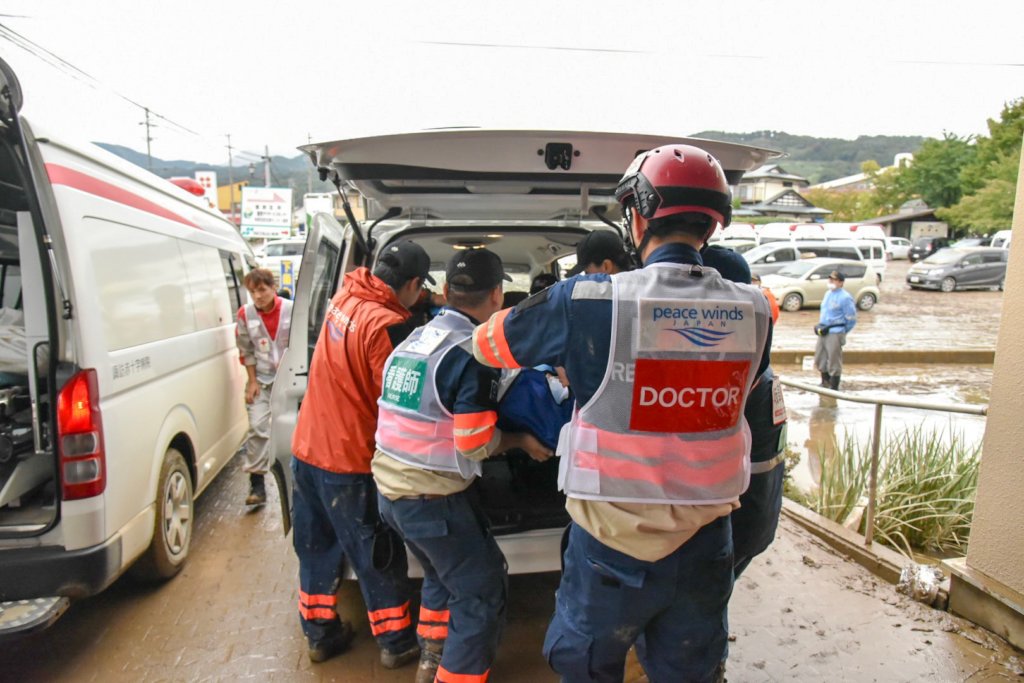 On October 12, a large and powerful Typhoon No.19 (Hagibis) made landfall in east Japan. A series of flooding and landslides brought by record levels of heavy rain caused enormous damage across the region. As of December 12, according to the Fire and Disaster Management Agency, the typhoon was responsible for 99 deaths, 3 missing, and 484 injured.
In immediate response to the typhoon, Peace Winds Japan (PWJ) dispatched a Seach-and-Rescue (SAR) Team on the morning of October 13 to the affected areas and, together with partner organizations, assisted the transfer of 38 patients from the Nagano Prefecture Rehabilitation Center. The center experienced a power outage due to the flooding of the Chikuma River. Additionally, PWJ rescue dogs participated in SAR activities and the team's doctors provided medical consultations at two evacuation centers.
On October 14, PWJ assisted in patient transfers at another flooded medical center called Sanikukai Clinic. The joint emergency response team ended up assisting in the transfer of 238 patients from the clinic. At five evacuation centers, one volunteer center, one clinic, and two municipal offices, PWJ delivered much needed emergency relief items to evacuees including underwear, portable water containers, drinking water, etc.
Since mid-December, PWJ has distributed 103 vouchers for home appliances to families whose homes were flooded. We are targeting a 857 more vulnerable households to receive these vouchers.
Thank you to our supporters for donating to this cause. With your help, Peace Winds Japan will continue to respond to disasters and serve those in need.