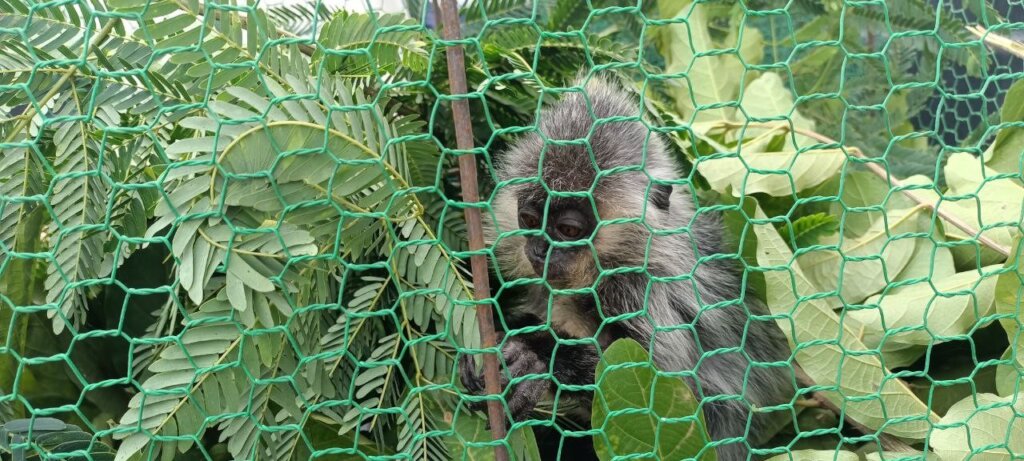 It's been a busy summer for the Wildlife Rapid Rescue Team that your donations support. Highlights from the past two months include several cases where information from our covert informants yielded impressive results – including rescuing live animals from traders and YouTube vloggers who were exploiting them, and seizures of wildlife parts from species that are being decimated by illegal trading networks. If you enjoy these stories and would like to help save even more wild animals, please donate up to $50 today for a 50% match!
In early July, following reports by our informants, the Team raided a stall in a market in the coastal province of Sihanoukville. During the raid the team rescued 2 live pig-tailed macaques and 4 hill mynas. They also seized 14.3 lbs. of scales from pangolins (which are Critically Endangered due to demand for their use in "traditional" medicine), 1 Asian box turtle carapace and 16 dead seahorses. Since the owner refused to pay the transactional fine of $2,055 USD, quite a high fine due to the large quantity of pangolin scales, her case was sent to court. The live animals were brought to Phnom Tamao Wildlife Rescue Centre and the specimens destroyed.
A few days later, the Team received information that a shop selling second-hand Japanese goods in Phnom Penh had a large piece of ivory for sale. With assistance from the municipal court, the Team inspected the shop and confiscated 1 piece of ivory weighing 4.85 lbs. The shop owner was not in Phnom Penh during the raid, but a court case is being processed to prosecute the owner under article 98 of the Forestry Law, which allows for a sentence of 1-5 years in prison and/or a fine of $2,500-$25,000 USD. The ivory is being kept in Wildlife Alliance's evidence room.
While conducting a mission in Banteay Meanchey Province, the Team rescued several wild animals that were illegally being kept as pets. They convinced a monk to donate 1 pileated gibbon and 2 long-tailed macaques that were being kept in a temple, and convinced a private owner to donate his silvered langur. Shortly thereafter, while raiding restaurants and markets in Battambang Province, the Team received 1 more silvered Langur, 1 more pileated gibbon and 1 pig-tailed macaque that were all donated by members of the public. Due to habitat loss and demand from the illegal pet trade, all species of gibbons and langurs that are native to Cambodia are now IUCN Red-Listed as Endangered and all macaques are Vulnerable. Gibbons and langurs are not easy to care for in captivity, and langurs are especially sensitive and often die because they are fed an inappropriate diet by people who do not understand their biology and needs. These animals were taken to Phnom Tamao where they will receive proper care.
Whereas gibbons and langurs are difficult to care for in captivity, it is easier for non-experts to keep macaque species alive – unfortunately this means macaques are commonly exploited by YouTube vloggers who earn money every time an unwitting animal lover clicks on one of their videos. The problem is that macaque videos often involve creating "dramas" about the lives of these wild animals, dressing them up in clothing, and forcing them to perform all manner of unnatural behavior to entice viewers. Following numerous reports of macaques being exploited to produce YouTube videos and conducting an investigation of this online abuse, the Team raided three different locations in Cambodia, confiscating a total of 13 macaques. While viewers of such videos see nice sets such as the room in the photo below that was dedicated to filming macaques, off-camera these animals are often kept in tiny, overcrowded cages. Each of the three offenders was fined following the Forestry Law, and the rescued macaques were brought to Phnom Tamao.
In addition, we have continued to support the Anti-Corruption Unit as they prosecute the case of the major illegal trader in Phnom Penh that our Team busted (featured in our May 2022 report). We will include more on the progress in that case in future reports after a verdict is reached.
Thank you so much for supporting our work. Your donations help pay informant fees, salaries for Forestry Administration officials on our Team and so many other costs that make it possible to save wild lives.
Please share this report with your friends so they learn about our work and can donate up to $50 and earn a 50% match during the September 12-16 Little x Little campaign!