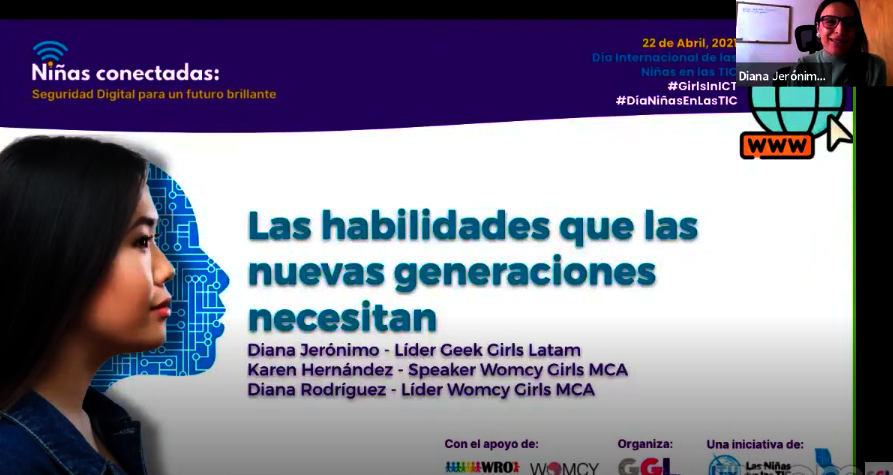 Hello, dear donors and Geek Girls LatAm community!
We continue inspiring, empowering, and connecting the STEAM Generation, and in this opportunity, we wanted to share with you how our community celebrated the International Girls in ICT Day.
We perform a successful online event to talk about cybersecurity. There were more than 200 adolescents and young people from different parts of Latin America connected to the live broadcast "Digital Security for a Bright Future", with the webinar, the participants learned about digital security, STEAM careers, skills for the future, and more, without having to leave home.
With the confinement measures due to the pandemic, the time that girls, boys, and adolescents spend browsing the Internet has increased, opening the door to a number of learning possibilities, but also exposing them to multiple digital risks when they do not have the accompaniment or proper orientation. That is why with this type of digital meeting we oriented the new generations about cyberbullying and cyber dependence that will help them create a promising future where the internet and new media are allies for learning, and support the achievement of their dreams.
We worked with the International Union of Telecommunications (IUT), the OEA Cybersecurity, WOMCY (Women in Cybersecurity LatAm), the World Robotic Olympiad, and other allies to build awareness about the gender digital divide, support technology, education and, skills training, and encourage more girls and young women to actively pursue careers in STEM.
The webinar was a success with 200 simultaneous participants and more than 600 views after the event.
Thank you to Lina Torres, and María Claudia Londono, and the community leaders involved for the support of this activity.
Geek Girls Latam 2020 Management and Sustainability Report
Also, we wanted to share with all of you our 2020 Management and Sustainability Report where you can find details about our social impact on Latina girls and women. Thanks to all the people and allies who believe in our purpose Geek Girls LatAm.
Thanks to all! We love you!
Geek Girls LatAm Team.
**//** Spanish
¡Hola, queridos donantes y comunidad de Geek Girls LatAm!
Continuamos inspirando, empoderando y conectando a la Generación STEAM, y en esta oportunidad, queríamos compartir con ustedes cómo nuestra comunidad celebró el Día Internacional de las Niñas en las TIC.
Realizamos un exitoso evento online para hablar de ciberseguridad. Más de 200 adolescentes y jóvenes de diferentes partes de América Latina se conectaron a la transmisión en vivo "Seguridad digital para un futuro brillante", con el webinar, los participantes aprendieron sobre seguridad digital, carreras STEAM, habilidades para el futuro, y más, sin tener que salir de casa.
Con las medidas de confinamiento por la pandemia se ha incrementado el tiempo que las niñas, niños y adolescentes pasan navegando por Internet, abriendo la puerta a una serie de posibilidades de aprendizaje, pero también exponiéndolos a múltiples riesgos digitales cuando no cuentan con el acompañamiento. u orientación adecuada. Es por ello que con este tipo de encuentros digitales orientamos a las nuevas generaciones sobre temáticas como ciberacoso y la ciberdependencia que les ayudará a crear un futuro prometedor donde internet y los nuevos medios sean aliados para el aprendizaje, y apoyen la consecución de sus sueños.
Trabajamos con la Unión Internacional de Telecomunicaciones (IUT), la OEA Cybersecurity, WOMCY (Women in Cybersecurity LatAm), World Robotic Olympiad y otros aliados para crear conciencia sobre la brecha digital de género, tecnología de apoyo, educación y capacitación en habilidades, y alentar a más niñas y mujeres jóvenes a seguir activamente carreras en STEM.
El webinar fue un éxito con 200 participantes simultáneos y más de 600 visitas después del evento.
Gracias a Lina Torres y María Claudia Londono y todas las voluntarias que sumaron su tiempo por el apoyo de esta actividad.
Informe de gestión y sostenibilidad de Geek Girls Latam 2020
Además, queríamos compartir con todos ustedes nuestro Informe de Gestión y Sustentabilidad 2020, donde pueden encontrar detalles sobre nuestro impacto social en las niñas y mujeres latinas. Gracias a todas las personas y aliados que creen en nuestro propósito Geek Girls LatAm.
Gracias por seguir apoyádonos.
Les amamos! Geek Girls LatAm Team!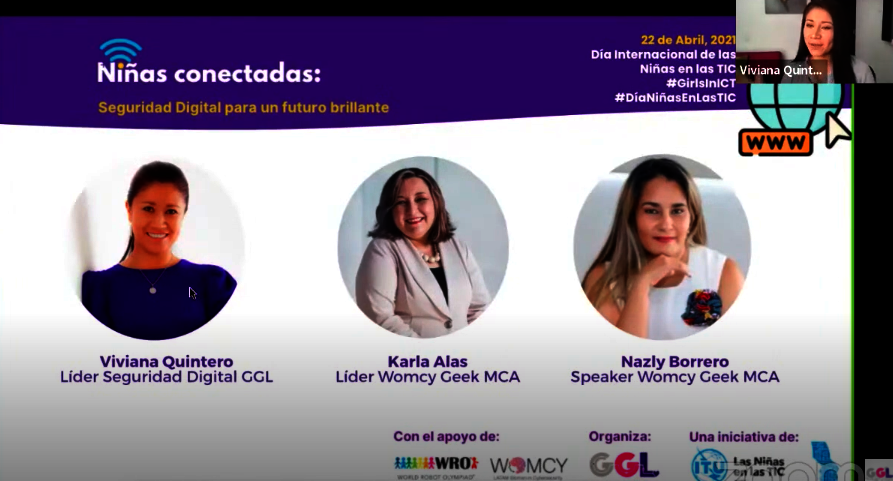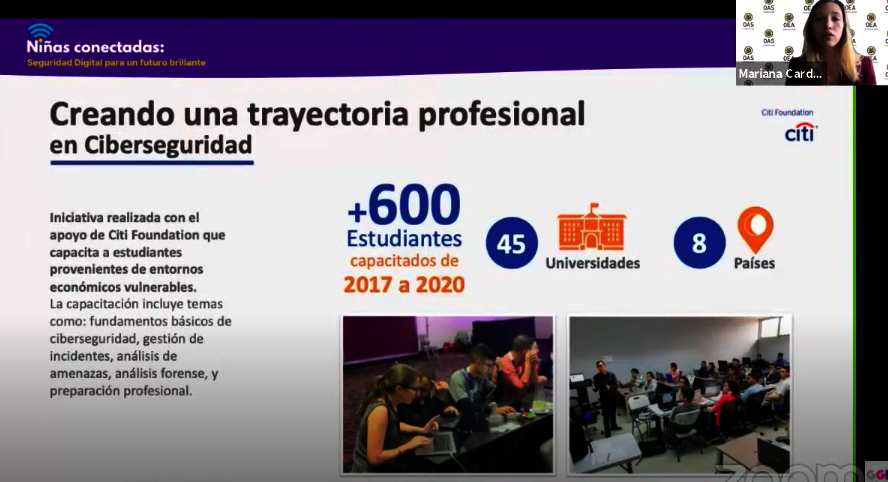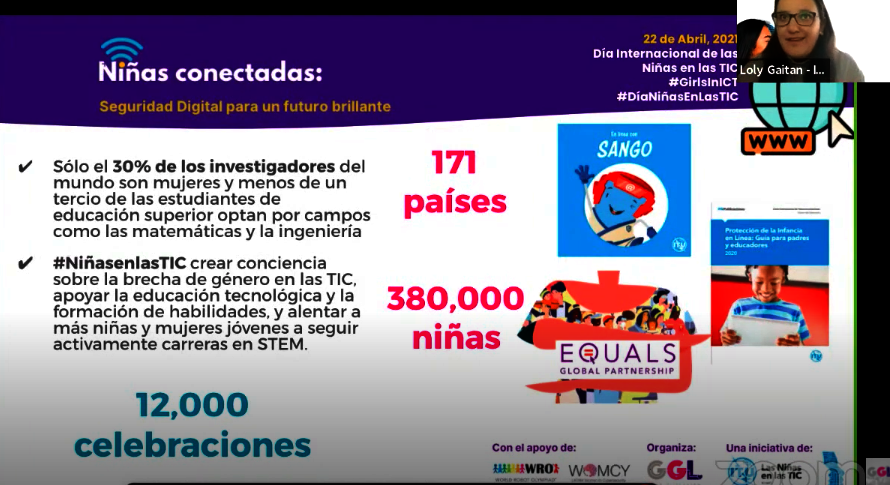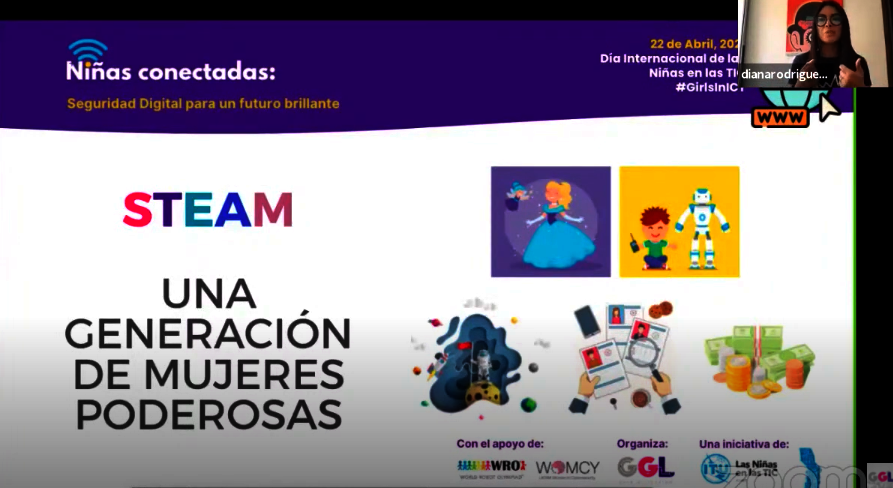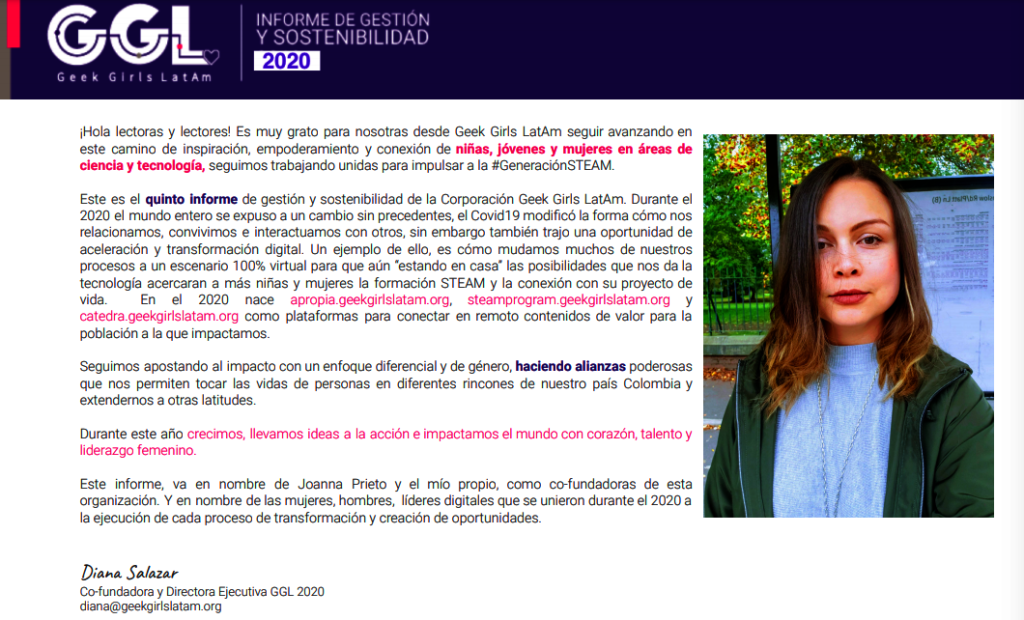 Links: