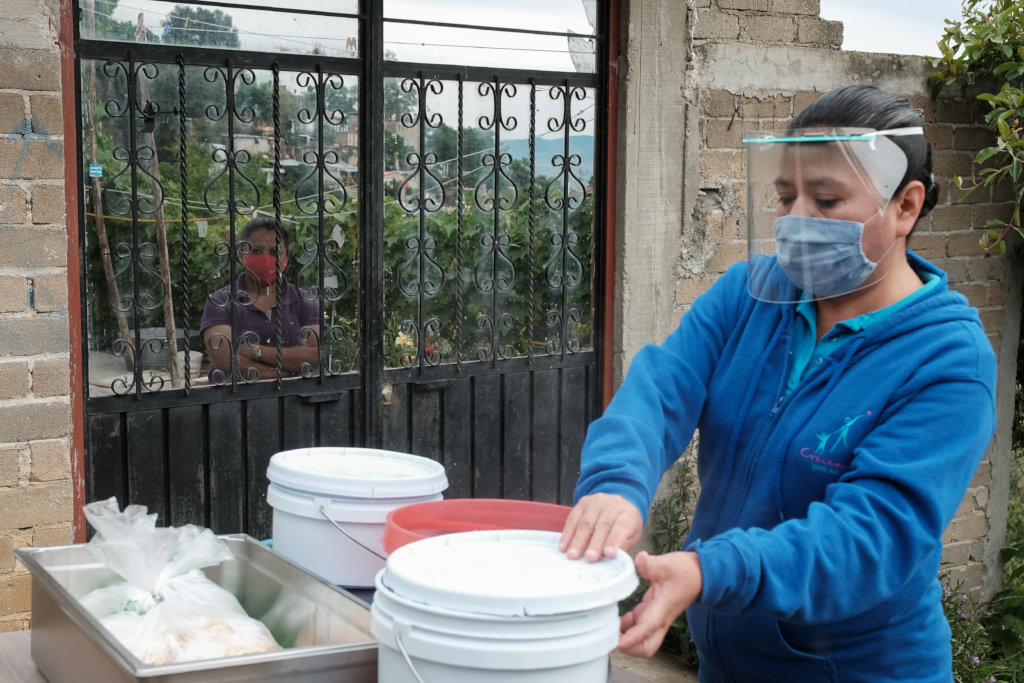 CrecemosDIJO continues to work supporting families that have been greatly affected by the COVID 19 pandemic, now they have not only been left without work and without money, now they have also been infected with the virus.
In the following testimony, Gabriela, tells us about the difficult situation she lived with her family, who were infected with COVID 19, in the midst of poverty and lack of employment, and also the way in which CrecemosDIJO was with them helping them to get ahead with the help of all of you who contribute to the cause.
The situation of the coronavirus pandemic has been very difficult for us, because since the pandemic started here in Oaxaca, we stopped working and if we don't work, we can't buy food, rent, water, electricity, gas, pay all of them. services. That is why it was not possible for us to stay home.
The first one to get sick was my dad, then my mom, my brother Dany, and my older brothers.
In the house it was impossible not to get infected or to isolate ourselves, because there are only two rooms where we all live; In one we cook and in another we sleep, which is why the virus spread faster. We never imagined how serious this disease could be, until my mother became seriously ill, as she suffers from high blood pressure, she started with back pain, headache, muscle pain and fever. We thought that at home we could take care of her, but in a short time she began to have difficulties breathing, we despaired because by then no one had a job. We got money for a doctor to examine her and he told us that we had to hospitalize her because she needed oxygen otherwise my mother could die. We took my mother to a public hospital for care, at that moment they began to ask us to buy medicines, the cost of which was too high and that was our main concern: getting money to buy medicines to save our mother's life. At that time, everything got complicated for us, we had to pay the rent, we ran out of gas for cooking, we ran out of our supply of drinking water and we had to buy because drinking water does not reach the neighborhood regularly, and we could not work either because we were all sick. In those days we thought that we would not get out of that situation
In those moments in which we were tighter, more afflicted, without money to eat or to buy my mother's medicines, when they gave me the news that CrecemosDIJO was going to support us to buy medicines for my mother and support us with food.
I felt like I could breathe again because we weren't alone anymore, someone was giving us a hand to get ahead. We did not spend on food because they gave us breakfast, lunch and dinner, with what we saved, we could also buy medicines for ourselves who also felt bad and also for my mother. They also helped us with hygiene materials such as soap and chlorine to have the house disinfected and face masks, they also gave us advice to improve care at home and the protocols to prevent us from infecting other people. The most valuable thing was her company in this difficult process, because it helped me to feel that we were not alone.
Right now my family is better, my mother, thank God, is already at home recovering, her health was very vulnerable, but we trust that she will slowly recover, we continue to check her blood pressure, oxygen and heart rate. We will continue to take her to the doctor for review. My father is already better too and is already working, as are my brothers. My brother Dany feels better too, only sometimes a little headache and body ache.
The concern that we now have is to take good care of my mother so that he does not get sick, because his health was very weak and any disease now can be dangerous. We are also concerned about slowly paying the money we borrow for medical care, because before CrecemosDIJO helped us we had already spent on medicines and medical care, which was very expensive because here the doctors do not treat you with symptoms of covid and those who They take care of you, they charge very expensive
We are very grateful to Crecemos DIJO and all the people who helped us. Thank you very much, God bless you, you came at a time when we needed a lot. We ask God to give abundant health and love to all who help us. You must know that we are asking God for you and are present in our prayers.