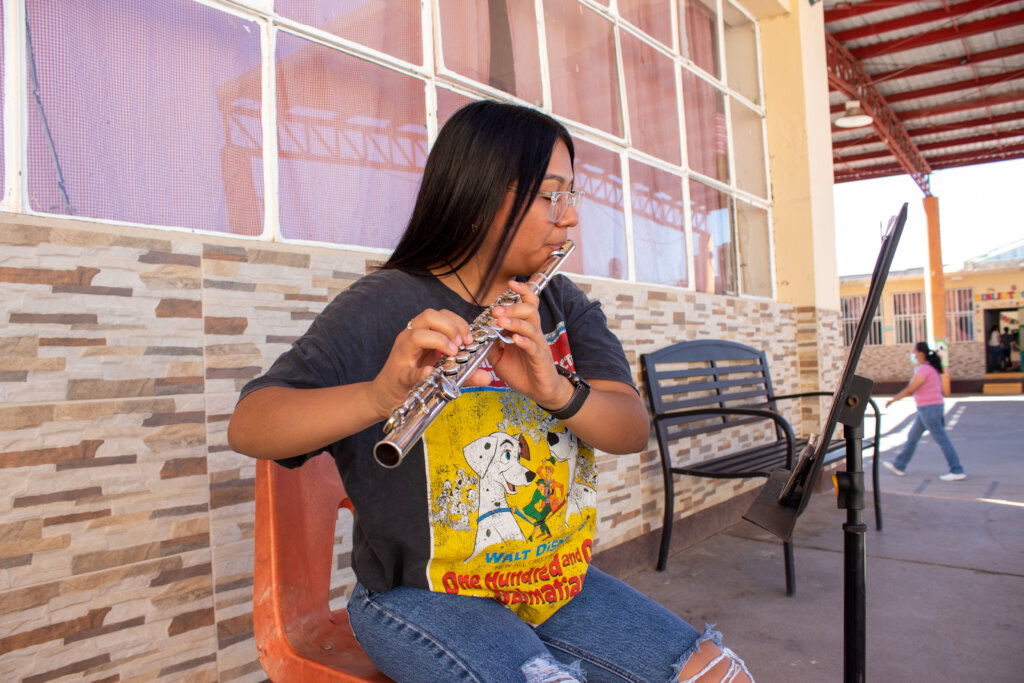 ESPAÑOL
MUVI Emprende recién se formalizó en abril de 2022. Es un Proyecto de Emprendedurismo Juvenil a través de la música, que se presenta como una estrategia de formación-acción dirigida a jóvenes, hombres y mujeres, que han concluido o están por finalizar su paso por el Sistema MUVI, y que tienen un claro interés por iniciar proyectos productivos relacionados con la música.
Más de 60 alumnos y exalumnos MUVI decidieron estar en el proyecto de MUVI Emprende, integrándose en colectivos para compartir con la comunidad emprendimientos juveniles musicales. Entre las principales ideas creativas de las y los "MUVIS Emprendedores" se encuentran: Impartir clases de música nivel inicial; conformación de ensambles musicales, como rondallas, bandas de rock, rap y tríos huastecos; estudios de grabación; venta de consumibles y artículos musicales; entre otros.
Todas estas increíbles ideas van tomando forma poco a poco, durante todo el mes de junio abordamos el tema de Capacidades Laborales (habilidades suaves) y la Metodología para Elaborar Proyectos. El pasado sábado 18 de junio participamos en la sesión: "Conceptualización Proyectual", impartida por Silver Eventides de RIM SL.
Algunos colectivos ya comenzaron con actividades, como lo fue el de "Alas del Desierto", ensamble musical integrado por alumnas de Matehuala, Villa de Reyes y la delegación de la Pila, a cargo de la maestra Rebeca Pérez. Ellas presentaron su música, el 25 de junio en la Jornada Sorora "Mil maneras de crear", en el Centro de las Artes de San Luis Potosí, a cargo del colectivo Sorora Santanera.
ENGLISH
MUVI Emprende was formalized in April 2022. It is a Youth Entrepreneurship Project through music, which is presented as a training-action strategy aimed at young men and women who have completed or are about to complete their studies in the MUVI System, and who have a clear interest in starting productive projects related to music.
More than 60 MUVI students and alumni decided to be part of the MUVI Emprende project, integrating themselves into collectives to share with the community musical youth entrepreneurship. Among the main creative ideas of the "MUVIS Emprendedores" are: Teaching music classes for beginners; formation of musical ensembles, such as rondallas, rock bands, rap and huasteco trios; recording studios; sale of consumables and musical items; among others.
All these incredible ideas are taking shape little by little, during the whole month of June we approached the subject of Labor Capacities (soft skills) and the Methodology to Elaborate Projects. Last Saturday June 18th we participated in the session: "Project Conceptualization", given by Silver Eventides from RIM SL.
Some groups have already started their activities, such as "Alas del Desierto", a musical ensemble made up of students from Matehuala, Villa de Reyes and the delegation of La Pila, led by teacher Rebeca Perez. They presented their music on June 25 at the Jornada Sorora "Mil maneras de crear", at the Centro de las Artes de San Luis Potosí, in charge of the Sorora Santanera collective.