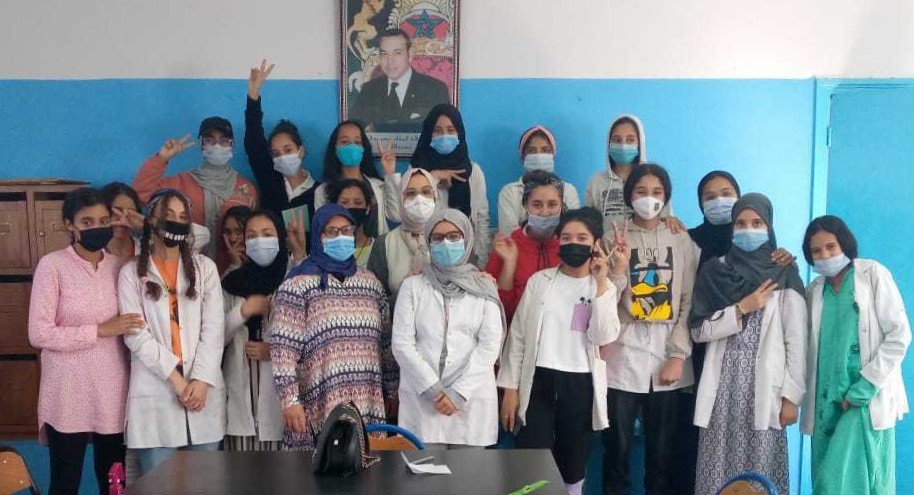 Dear Project Soar Friend,
We hope you continue to be well, as we send our gratitude to you, our supporter.
Your generous help and sponsorship is helping us to provide our teen leadership workshops to seven Project Soar Chapters across Morocco. You are contributing to the future of girls in Aourir, Casa Mabrouka, Casa Andalous, Casa Sidi Moumen, Casa Ain Sebaa, N'Zalatt Bni Amar, and Rich. In total, 125 Project Soar girls completed the Project Soar Empowerment Curriculum this year and over 6,250 empowerment hours were received cumulatively under the support of the GlobalGiving Sponsor a Girl program!
One such girl who has greatly benefitted from the Projest Soar Empowerment Curriculum during the 2020-2021 program is 14 year old Afnane, who is part of the squad in Casablanca Andalous. Of Moroccan descent, Afnane grew up in neighboring Libya but was displaced with her family due to ongoing violence. As is the case with many displaced adolescents, relocating to a place so far from the friends and the day to day life that she knew was a difficult transition for Afnane and her parents were worried about her acclimation in Morocco. Afnane speaks to this, saying "I was happy to leave Libya and finally be safe in my other country. Adjusting was hard though since I am often bullied by kids for being Libyan."
What often times helps people when making tough transitions such as this, is having a support group, a routine, and an outlet for creativity and energy. This is exactly what the PSB program provides for teen girls, no matter what they are going through. Among a whole list of benefits, participating in the empowerment workshops each week allows girls the chance to meet new people, learn the importance of supporting friends, learn healthy habits, feel more confident in their identity, and so much more. Afnane confirms these benefits stating "I am so happy I found Project Soar because it has really impacted me positively, especially my health. I've learned that healthy food is an investment one should make. I also have more friends than ever before! I am so happy I have Project Soar sisters that see me for who I really am - not just 'the Libyan girl'. I thank PS from the bottom of my heart."
A true Project Soar Girl to her core, Afnane has an important inspiring message to spread: "I want to tell all girls out there to believe in themselves, love themselves, and .... change the world!"
Thank you for your commitment to Project Soar and supporting teen girls such as Afnane to find a sisterhood and supportive community! We are grateful to you!
Stay tuned for more news from Project Soar and never doubt you are making a difference!
Best Wishes,
The Project Soar Team