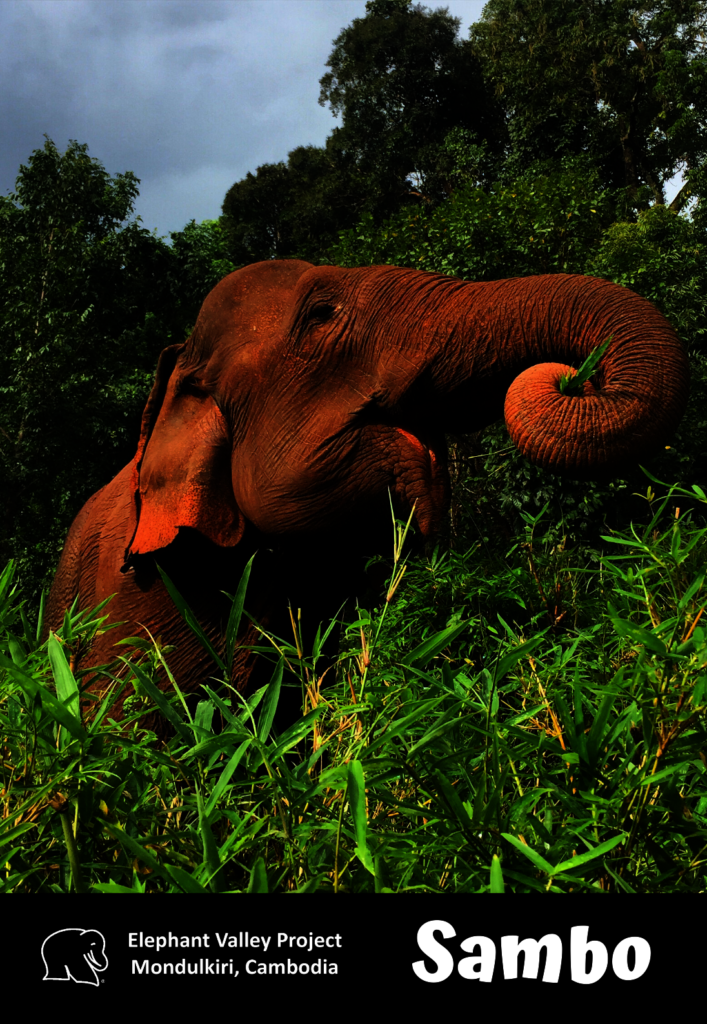 GlobalGIving - Sponsor an elephant @ EVP - Report - Q1 2022
ELIE & the Elephant Valley Projects (EVP) sponsor an elephant page is an ongoing funding program for the 12 elephants now at the EVP Sanctuary. Donors can sponsor one of our elephants as a monthly contribution or support them with a one off donation.
To give you a quick update on the 12 elephants at EVP, one of which you may be sponsoring, read on. Note individual elephant sponsors will also receive your specific elephant update directly from us at EVP.
Sambo
The first 3 months of 2022 were good for Sambo. Usually the cold season affects this city diva more, however this year there was quite a lot of grass on the tops of the hills for longer and her and bestie Ruby were able to graze to their heart's content. As the temperature starts to warm up, so does the number of annoying biting flies, which makes this old girl's daily visit to the clinic to soak her feet more annoying as she has to stand still for 20-30 mins. Her mahout Sophal cares for her so he helps her swat the flies while she is waiting patiently for her foot soak to finish.
Nung Bra (Ruby)
Our smallest elephant Ruby seems to enjoy having visitors back this year, as does her mahout Yel, who is the main carver of the amazing wooden elephant souvenirs on sale at the EVP. Returning visitors means he is carving again and selling his wares. Ruby has been continuing to follow her bestie Sambo around and get into mischief.
Gee Yul (Easy Rider)
Our big strong elephant Gee Yul (Easy Rider) has been doing pretty well this year so far. She has had a few small cuts and scrapes, because she loves smashing through the forest. Her and her partner in crime, Gee Nowl, again had to move out of the main valley, with the return of wild elephants to the area, and are all now over in our northern valley munching down on lots of bamboo.
GeeNowl
Old GeeNowl is still just pottering along at her own pace. The first few months of 2022 has seen her in great health, which is good as she is our elephant that suffers from PTSD and eating issues. She did get a little nervous in March with the return of wild elephants to the area, after her run in with them a couple of years ago, but she is happy now over in our further northern valley.
Hen
Our big old boy seems to be getting on with his life, despite his now lifelong injury and hip displacement following the attack by a wild bull elephant last year. Earlier this year in February, the hip was swelling more so we had to increase the warm healing compresses and some more pain relief. This month he seems to be doing better and is now also grazing slowly through our northern valley.
Gee Bloh (Doe)
Doe celebrated her 1 year retirement anniversary on the 28th March. Her and bestie Darling have been settling back into sanctuary life after rejoining the program in March 2021. In Jan and Feb this year she was probably the roundest we have ever seen her, as she was eating her fill of bamboo and grass in our Heaven Valley.
Bong Kong (Darling)
Together with Doe, Darling also celebrated her 1 year retirement anniversary on the 28th March. She is looking a little older than the last time she was here, but seems to have made it through the cold season ok and now the warm weather is here, she is loving getting back in the rivers.
Ning Wan
Our beautiful old matriarch has made it through another year, surprising us every passing season. When she lost most of her teeth a few years ago, we gave her a year. But with a very careful diet plan and medicine, she has surprised us all and keeps on keeping on! She loves warming up in the sun in the morning and tucking into her daily rice balls and food prepared specially by her caring mahout team.
Mae Nang
Similar to Ning Wan, our oldest resident Mae Nang keeps surprising us every year. Being over 70 years old now doesn't seem to be slowing her down. The cold season of Dec - Feb is always the most worrying time for the oldest residents, but this granny seems to be having a great start to the year. Still a little wary of the Gee Chreng, who joined this herd at the end of 2019, Mae Nang still prefers to hang on the outskirts of the group.
Gee Chreng
Probably our biggest elephant in the sanctuary, Gee Chreng's personality is coming out more and more following her retirement at the end of 2019. She was a little nervous, but is now much more relaxed and a big old gentle giant. She really loves nothing more than to follow her bestie Ning Wan around and has also made a quite close connection to Pearl.
Gee Pael (Pearl) & Gee Pech (Diamond)
The biggest news we have this year belongs to our elephant Gee Pael (Pearl). On Friday 25th March 2022, she has given birth to a healthy baby girl, which we have named Gee Pech (Diamond).
As an endangered species, the birth of an elephant calf is always a significant event, no matter the setting, country, community, wild or captive.
Some of you may remember that 2 years ago to this day, a wild bull elephant came out of the protected forest of Keo Seima Wildlife Sanctuary (KSWS) and crossed over into the Putrom Community forest and the EVP elephant sanctuary. He then found and ran away with our Pearl. They remained together in the forest for two weeks, which resulted in her unplanned pregnancy. We had our suspicions that she was pregnant about 6 months ago, as she has been getting bigger and bigger We have been monitoring her closely and after close to 24 months of pregnancy, Gee Pael (Pearl) gave birth in the early hours of Friday morning.
Mother and baby are doing well after the first few days. Gee Pael (Pearl) is tired after the birth but seems to be a natural mother. We feared she would be either aggressive toward the baby or scared and run away, but she is showing love, care and protective instincts for the baby. The baby is strong, healthy and drinking milk from the mother well.
We will be closely monitoring the two of them for the next couple of weeks, where they will be in quarantine without outside visitors to prevent the spread of diseases and allow time for the herd to bond together. Following this time and the local Bunong traditional ceremony, we will welcome visitors to meet our little Gee Pech (Diamond)
Thankyou
We want to thank you all for HELPING US, HELP THEM. We are committed to providing a better life for the amazing retired and rescued elephants under our care, but we could not do this without you, so thank you all for your sponsorships and donations.