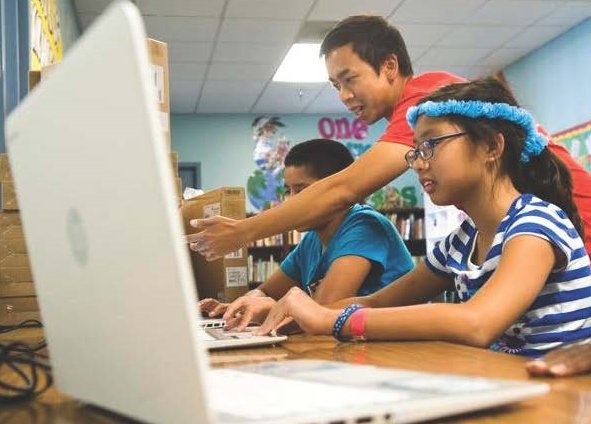 There are well over 1,000 children at the Boys & Girls Clubs in Huntington Beach and Fountain Valley who have no home internet access at all and even more whose only internet access is on their mom or dad's cell phone. That makes the Boys & Girls Club's technology labs their primary internet access during out of school time. Your sponsorship and support of kids in need helps give them that important resource.
The Club is very excited to announce that this fall, 30 new computers were donated to create new technology labs at the Club dedicated to helping youth learn through the Kahn Academy. Our local newspaper, the Orange County Register, reported, "The unveiling of 30 new HP Chromebook 14 computers at the Fountain Valley Boys & Girls Club branch grabbed the attention of nearby children last week, and a small crowd grew as the laptops blinked with life.Several students looked on as Tanya Hoxsie, CEO for the Boys & Girls Clubs of Huntington Valley, and Tim Nolan, unit director for the Huntington Beach branch, turned on several Chromebooks, prompting one student to ask the question all others had on their mind: "Are those ours?" Hoxsie smiled and said, 'In a few of weeks, they will be.'...Hoxsie said the decision to beef up the technology for the club came after she witnessed a demonstration of the online academic learning program Khan Academy by Salman Khan during a Boys & Girls Club conference in May. Having the Chromebooks coupled with the Khan Academy was a strong match, according to Hoxsie. 'By the end of the session, we knew that this was something we needed to have for our kids,' Hoxsie said."
Kahn Academy is a website that features thousands of educational tutorials on subjects like math, history, healthcare, medicine, finance, physics, chemistry, biology, astronomy, civics, art history, economics, computer science, and more. The tutorials are provided in short, conversational videos. They often feature doodles, drawings and notes to make them accessible and appealing to kids. Through these videos, kids can learn about any topic that interests them. They can extend their learning beyond what's taught in school or get extra help in subjects they are struggling in. To make sure they are mastering the subjects that they are watching videos about, kids use practice exercises and activities on the website. Access to the Kahn Academy will help kids at every academic level. Those who struggle with traditional classroom learning may have their interest sparked by the accessible style of the videos. Gifted kids will have something new to challenge them. And, all kids will be able to explore new ideas that they might not have learned about otherwise.
When you sponsor a child at the Boys & Girls Club, you are opening the door to technology and education that they wouldn't get otherwise. You are helping keep a low income child on par with his more affluent peers. You're helping him succeed in school today, and learn what he needs for a lifetime of success. You are changing a child's life for the better. Thank you.