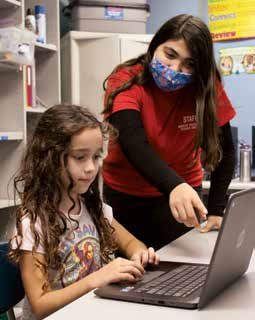 The world is complicated. But helping kids? That's simple. It all starts with one caring adult – YOU. When you support the Boys & Girls Club, you pass the torch to other caring adults like our Program Director Kelsey at the Pacific Life Foundation Branch. She and all the Club's staff members work every day to make sure kids get the support they need to thrive, even in the most challenging times.
Kelsey says, "When the schools closed back in March, it was a scary and hard time for everyone. We had some new kids join the Club and, like all of us, they were learning to navigate our new normal. For the kids, one of the hardest things to adjust to was distance learning. One little boy, Sam, stands out to me because he had an especially difficult time.
"He would close his Zoom classes early, argue about doing homework, or say he was done with assignments when I knew he still had work to do. The more I got to know him, the more I realized he was behaving this way because he wasn't confident in his schoolwork. Not being at school, he couldn't connect with his teacher in the same way anymore. Like most kids, he needs that support. So, I decided to do my best to support him while he's at the Boys & Girls Club.
"I started giving him lots of positive feedback. When I saw him on his Zooms, I would stand on the other side of the computer and give him two giant thumbs up. He would smile and roll his eyes in a joking way. Then, when it was time for homework, instead of asking why it wasn't complete, I started asking 'How could I help you with this?'
"I immediately noticed a change in his demeanor when he realized I was there to help him. The arguing stopped and the teamwork began. We knocked out assignment after assignment together. His confidence and his attitude about school began to change. Slowly, I began to encourage him to try on his own. When he doubted himself, I told him that I knew he could do it, because I'd seen him do it myself. With patience and perseverance on both our parts, he has come such a long way. I am so proud of him!"
Each day, your support allows every child who walks through the Club's doors to find the caring adult they need in their lives. From all the kids like Sam at the Boys & Girls Club, thank you for keeping the Club's doors open for the kids who need it most.