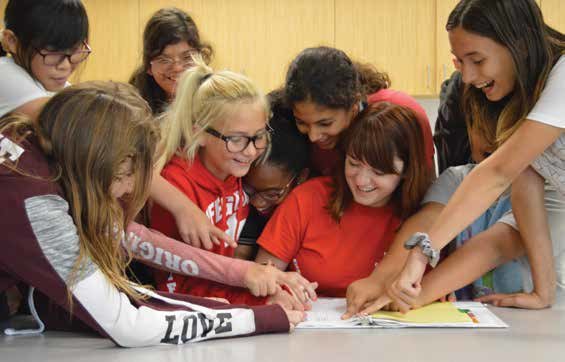 Each child who comes to the Club has their own set of circumstances, their own set of needs and challenges. And, of course, each child has their own gifts and potential to become someone with a great future ahead of them. Sometimes, all it takes is one person to help a child see that potential and get them on the right path toward their great future.
With your support, the Club is able to provide caring staff who connect with the kids at the Club every single day. They take every opportunity to be that one special person for a child that needs a positive influence in their life. A Program Director named Kelsey says, "When I think back on kids that I'm so proud to have made a difference to, there is one older member who really sticks out to me. She was a lone wolf at the Club. Being older, she thought she was 'too cool' to participate in many of the Club activities. Instead, all she wanted to do was help. She began helping me with little tasks, like cutting and stapling. After spending some time with her and getting to know her, I realized her home situation wasn't ideal. Knowing that, I started thinking about how and what I could do to enrich her life in order to be a positive role model for her.
"I began calling her my 'intern' and I taught her everything I knew about being a leader. She then started helping with our kindergarteners, assisting them with activities and being their guide in the Club. It made me so proud to see her helping others.
"She went from a lone wolf to a class leader and watching that growth made me feel like she was a role model for me, too. In fact, I feel as though we really helped each other out. I taught her to get out of her shell and she taught me to put in the time with every kid that I see at the Club because our world's next leaders are right here with us."
Your support of the Club makes stories like this one possible. Thanks to you, instead of being a "lone wolf," a child has become a caring leader and has moved one giant step further on the path to her great future. Thank you for making that possible!