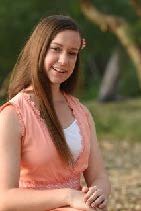 One of our long-time Club members, Amanda, recently spoke to a group of Boys & Girls Club supporters about how the Club has made a difference in her life. I'd like to share her story with you, because donors like you are who makes it possible for the Club to help kids like Amanda. Here's what she has to say.
"I first walked through the doors of the Boys and Girls Clubs of Huntington Valley in 2008 to audition for a musical. My parents wanted a way to redirect my wild energy and introduce me to the performing arts, but it quickly became much more than that.
I discovered my passion for the arts and took advantage of opportunities to shine both on and off the stage. Not only was I taking dance and theater classes, I soon began to lead them, too, first as a teacher's assistant, then as a choreographer, teacher, and director. Through leading classes for younger children, I found my sense of direction in life. That direction and purpose, along with support from the Club, got me through the toughest parts of my life.
During my junior year of high school, I wanted to be a perfect student while at the same time supporting my family through financial and medical struggles. All that pressure led to a series of horrible anxiety attacks. But the Club's staff was my saving grace, always making sure that I was OK.
When you support the Boys & Girls Club, you're helping kids like me find that support system when they need it most. From giving me a second home, to helping me discover my passion for the arts, to helping me develop the skills that I need to be a leader in my community, the Boys and Girls Clubs of Huntington Valley has completely changed my life for the better.
With your support, the Club has opened the door to my great future. I hope to become an arts therapist and pay it forward to another generation of kids, helping them on the path to their great futures. Your support makes a big difference – thank you!"