Project Report

| Sep 1, 2022
Solidarity in Action Updates!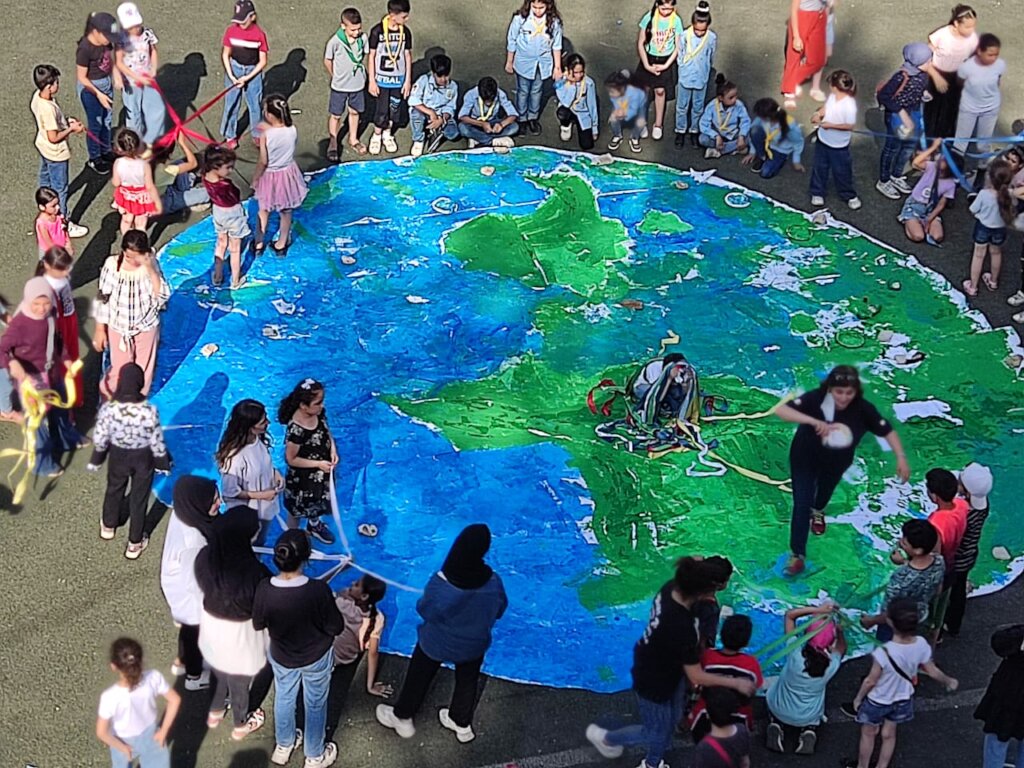 Initiatives: May - July
Psychosocial support initiative - Carla Karam:
Based on a needs-assessment, this initiative was implemented to create a safe space for groups of children and sought to enhance life and social skills while raising awareness on physical and psychological well-being.
This initiative targeted children in the community of different age groups and social backgrounds such as children at risk, people exposed to gender-based violence, females, males, and caregivers.
150 children took part in this activity which included dancing, singing, dialogue, discussions on the concept of peace, writing message of peace, and creating relevant art pieces. In addition, the initiative focused on nonviolent communication through several other activities, including: identifying the concept of violence, types of violence, safe areas for the child, and his/her physical protection. The third part that the initiative focused on was on bullying, where they watched a movie that tackled this issue, followed by a discussion and dialogue inspired from life experiences.
Every little initiative we are doing now can transform into a bigger one in the future as we believe that little things make a difference. What we need to teach our children is how to interact with a diverse world, how to embrace their community and environment, and how to find inner peace.Children are born genuine, loyal, and fair; they are also capable of listening to their needs. In addition, they have a strong sense of empathy and inter-connectedness.
Small business rehabilitation / Food security & essential supplies – DLR / Dr. ZiadFahed
Despite the difficult circumstances and difficult conditions that the country is going through, and within the framework of promoting solidarity, diversity, and human dignity,Dialogue for Life and Reconciliation, in cooperation with the Sustainable Network of Religious Leaders in the North, and with Adyan Foundation's support, showed a gesture of solidarity towards some religious leaders so that they can continue their meetings, work, and mission, despite the difficulties, within this network. The cars of a Muslim Sheikh and a Christian priest were repaired so that they can continue their humanitarian mission.The initiative also supported families in need from different religious backgrounds.
For example, 19 food vouchers were distributed to these families by Muslim and Christian religious leaders together. Both the sheikh and the priest visited these families, and the atmosphere was very positive, as this visit remained imprinted in people's minds, reinforcing by that the reality of living together.
Small business rehabilitation / Mariam's Kitchen - Pere Hani Tawk
Mariam's Kitchen, an initiative that was launched following the Beirut Blast, took it upon themselves to buy 7 sewing machines with the aim of training women from the Karantina-Medawar region in Beirut to secure their own livelihoods. The five-day training course with specialists gave them insight on how to start their own business and earn a living to support their families. In the next phase, Maryam's Kitchen will collaborate with these women, who will sell their clothes for a symbolic amount. That way, they would be able to earn a living while providing clothing for under-privileged communities.