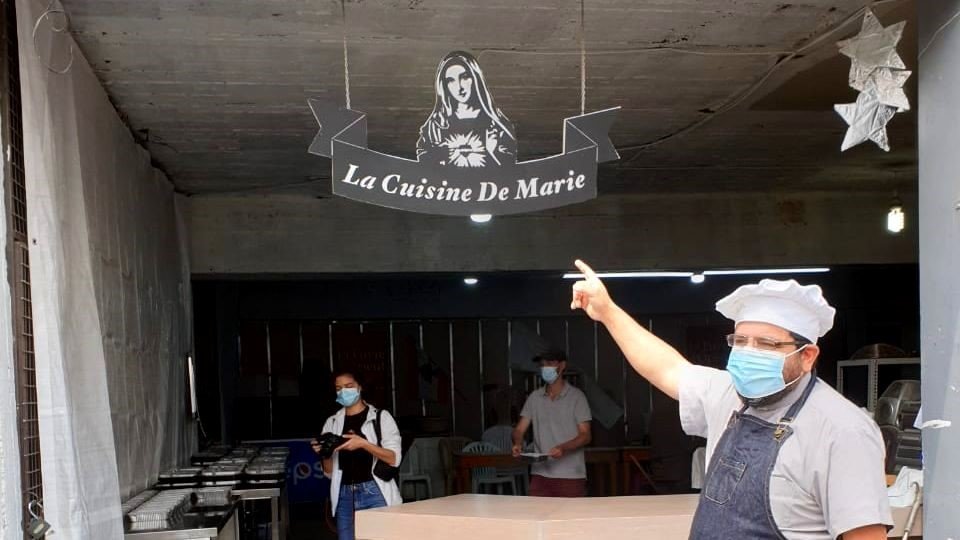 Mariam Kitchen: Feeding Souls Discreetly

We Stand With Beirut | Stories of Impact | May 2021
"The blast is unforgettable, and the pain on people's faces was inexpressible," said Father Hany Tawk when asked about the Beirut blast of August 4.

Father Tawk is founder and head chef of Mariam Kitchen, a personal initiative that fed thousands of people after the blast.

"During the first week, my family and I were still in shock. We didn't know what to do or where to start."

Two weeks into the tragedy, Father Tawk started distributing home-cooked meals, first within his circle of connections, then to volunteers in the streets of Beirut. He then moved his kitchen to an empty building in Karantina, a severely affected Beiruti neighborhood.

"This place was a mess. There was rubble everywhere."

Father Tawk brought his pot of pre-cooked food to the building every day and then distributed the meals to volunteers and people in need. Slowly, more people started coming in every day. Offre Joie offered to build him a small kitchenette and a bathroom.

9 monthsafter the explosion:
Father Tawk's pot grew to 6others, multiple equipment were donated, more than 700 plates were delivered daily to thousands of people across Beirut.
When asked about continuity, Father Tawk responded without hesitation, "The kitchen is staying. Some people come every day. If we stop, they might not have anything to eat. Our main goal is that no one, in Greater Beirut at least, sleeps hungry. So far, donations have been coming in. God's helping hand is helping us continue."

The kitchen now has 60% of the equipment needed, and people know how to reach out. A future step could be finding a more sustainable location in Karantina.

"The kitchen is open to anyone from all cultures, nationalities, ethnicities, ages, and religions."
Father Tawk also expressed that some people just come to vent.

"We're here to listen too! My wife is a family therapist, and our volunteers include an ergo therapist as well as a psychotherapist."

After passionately talking for more than an hour about this nine-month journey, we asked Father Tawk about his life before the Beirut blast.

The question made him a bit uncomfortable as he is known to keeping his personal achievements and contributions private.

Jad Moufarrej, one of his life-long students and active volunteers stepped in to say, "Father Tawk holds a Master's degree in theology, one in philosophy, and another in political science. He is now pursuing a Ph.D. in international arbitration. I have known him for 13 years. He is quite a role model." Moufarrej added that Father Tawk had been discreetly helping hundreds of people throughout his life, and the blast only made his contributions more public.
Father Tawk added, "My mother's dream was to open something like this, and I feel truly grateful that we're actually doing this." He wrapped up with a genuine smile and said:

"Everything you do with love is not considered a sacrifice because it is more emotionally rewarding that anyone can ever imagine."
Copyright © 2021 Adyan Foundation, All rights reserved.

Adyan | Foundation for Diversity, Solidarity and Human Dignity
Independent Non-Governmental, Non-Profit Organization | Registration: Lebanon N.1103
Lebanon, Beirut, Sin el Fil, Charles Helou Street, Riverside Building, 6th – 7th floor, P.O.Box: 13-5233
Tel/Fax: +961 1 490 406 | e-mail: contact@adyanfoundation.org | web: www.adyanfoundation.org

Want to change how you receive these emails?
You can update your preferences or unsubscribe from this list.