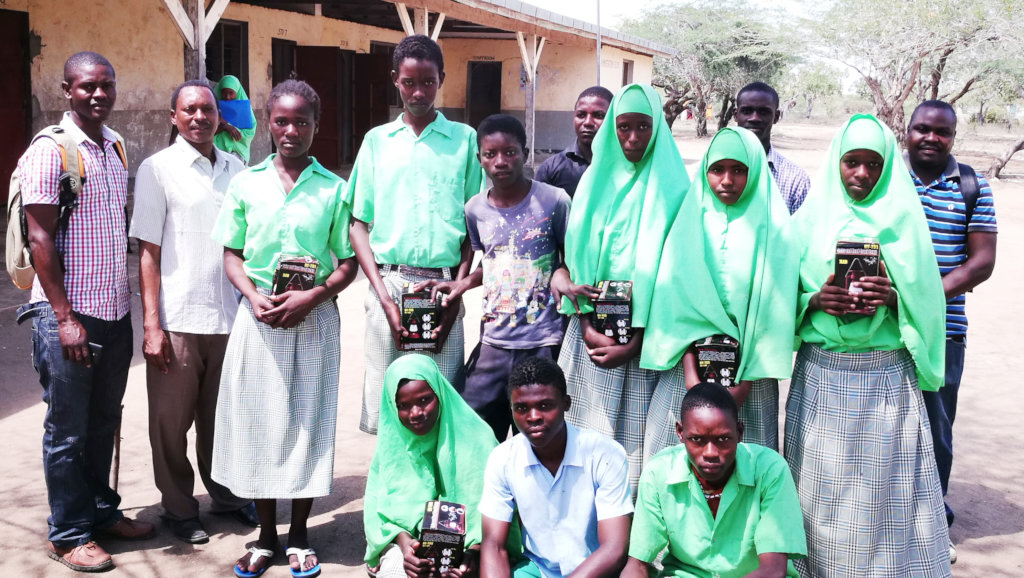 Thank you to all that gave generously on the Rewards Bonus Day that was on 18th July. We managed to raise $1,073.
Implementation of several projects including the distribution of solar lanterns to the most rural schools as many roads to the interior villages were completely cut off for over two months due to floods. In July 2018, we managed to visit Sera Primary School (latitude -2.124403, 40.123895) to meet and advise the Standard 7 pupils. In Kenya, the primary school education runs for eight years, from Standard One to Eight. The class has 17 children, who come from the various surrounding villages of Sera, Feji, Abaganda and Galima. Each child received a solar lantern to help them learn at their homesteads at night.
Here are testimonials from two of the students, Omar and Habuko.
"My name is Omar from Feji village. I am 13 years old and a class seven student in Sera Primary School. Today I received a solar Lamp from Tana River Life Foundation and I would like to thank all of you for assisting me with the solar lamp.
Without the lamp it was difficult for me to do night studies and complete my home work because at home were using the local traditional kerosene lamps. This made me to go a neighbour's house where they have a solar to do my night studies. As I have got this this solar lamp I will do night studies comfortably at night in our own home."
"My name is Habuko from Sera village. I am 14 years old and am in Standard Seven in Sera Primary School. My mother is a famer and my dad passed away two years ago.
After the death of my father, life in our family became more difficult because my mother had to act as a father also. We live in a small mud house and lack many basic needs at home. After school, I had to help my mother to look for firewood and also fetch water which made me have little time for my studies when there was still light. Now I will be able to help my mum and still do my studies at night using the solar lamp."
The Headteacher of Sera Primary School, Mr. Emmanuel explained that his students have been facing the problem of not being able to study at night as most have no source of affordable and safe lighting like a solar lamp or electricity in their homes. This made him to start a boarding section of the Standard Seven and Eight from Mondays to Fridays. With these solar lamps, it will be easy for them to do night preps at their own homes during the weekends and the long school holidays as well. It also has a positive impact on their eyesight and safety in the homes."
Thanks all for the continuous support as we target to reach more schools in the last term of the year.