Project Report

| Oct 7, 2010
New Soccer Kits Delivered!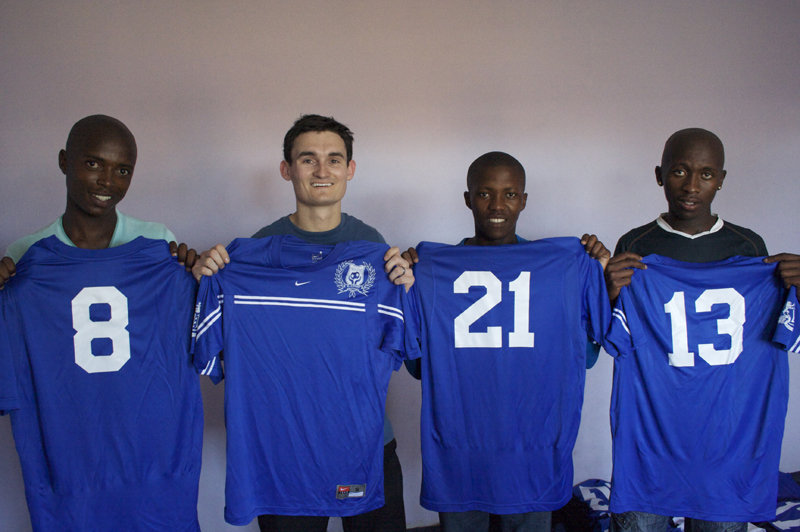 After meeting the JL Zwane Football Club in 2006, TNHF Director Justin Zoradi's first order of business was to honor Coach Eric's request: get the boys matching soccer uniforms. The need was obvious, as Justin had seen the boys sub off the soccer field to swap cleats. But this was far more than a material request; uniforms symbolize unity and togetherness.
"In the world of soccer there is a mantra: look good, feel good, play good," says Justin.
If the soccer team looks good, more township youth will want to join the team. This gives them alternatives to doing drugs or joining a gang. And the more youth that get involved with the team, the broader the pool of applicants TNHF has to draw its students from.
Uniforms serve as one small building block to leading kids out of poverty and into a better life.
Justin rallied his connections with Nike and made Coach Eric's request a reality.
"We spent a lot of time on the logo. We felt it was really important," says Justin.
The hands below the soccer ball represent the hands of service. Even before they had uniforms, JL Zwane was more that just a soccer team. It was created to inspire change in the community, and it was important the logo show that. But perhaps most meaningful aspect of the jersey lies just above the soccer ball.
The phrase 'You'll Never Walk Alone' is the tag line of the team. It may also be the slogan for European giant Liverpool, but it connects the boys in ways far bigger than English soccer. Quite literally, players would be scared to walk to practice certain times of the week. But on the team there is community, there is brotherhood, they have nothing to fear.