In the 4 months since the 4.8 magnitude earthquake struck Ban village on 16th October 2021, thanks to generous donations, 307 of the 363 families whose homes were destroyed are now living in their temporary bamboo A-frame homes that you have funded - but 56 families are still patiently waiting until we've raised more funds for their temporary homes. Please help!
Life for the people whose houses were destroyed by the Ban village earthquake became very difficult, especially for families who have babies and/or young children. The rainy season made life harder, especially for finding safe shelter and a place to sleep at night. Fortunately, all their neighbours whose houses are still safe enough allow them to squeeze in with them until the morning – or until the rain stops.
Progress, since the end of October 2021 when we started delivering the temporary A-frame shelter materials to our communities scattered over the steep and sandy Mount Agung and Mount Abang slopes has gone quite smoothly, considering that about 80% of the beneficiary families live quite far from the steep access roads. Using our sturdy four-wheel-drive pickups, delivering the bamboo poles, GoGreen corrugated roofing sheets, cement, etc., through heavy rain and steep slippery roads were not obstacles for the dedicated EBPP team, knowing they must keep going to speed up the completion of these buildings, which are desperately needed by the communities.
From the target of 363 temporary homes, we have provided 307 units so far according to the funds we have received from individual donors and organizations to date. We still need your help to build the remaining 56 bamboo A-frame shelters.
Those who have received their temporary homes, which will last at least 6 years, feel very happy, comfortable, and safe. In fact, some families have "redesigned" their homes to make them larger or build sturdy foundations and woven bamboo walls, covered by their GoGreen roof, or other creative ways to become their permanent family home, because (a) they know that bamboo structures are earthquake proof and/or (b) they don't know when the government will provide the money to build a new house.
We thank all donors who have helped our community; with this assistance, people feel comfortable and safe even though they live under the threat of disaster.
Please DONATE towards the remaining 56 shelters. Thank you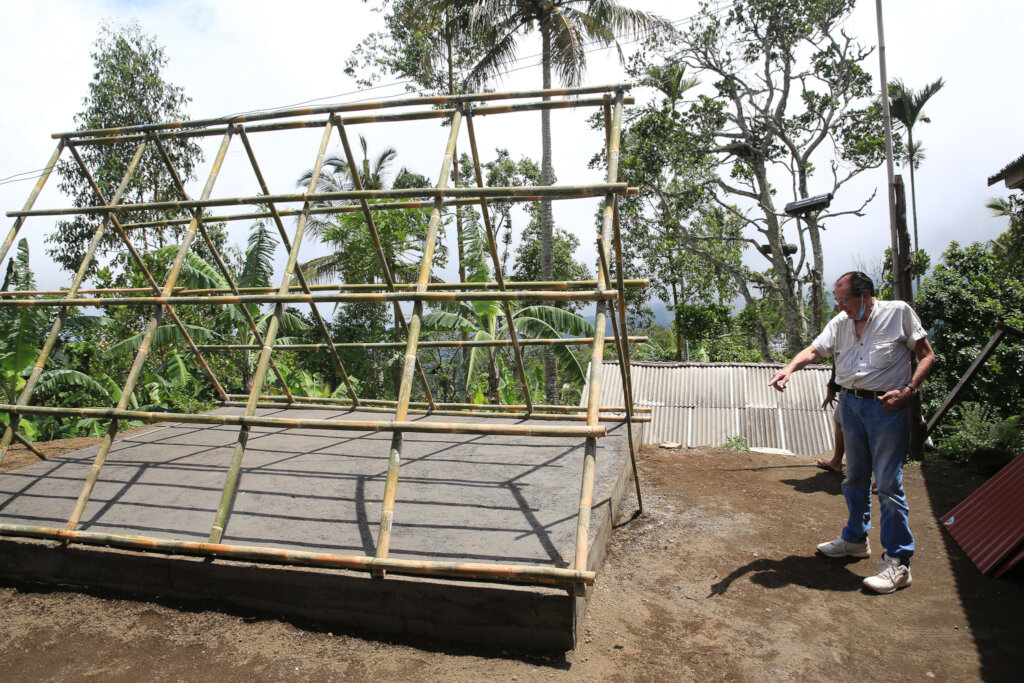 Links: