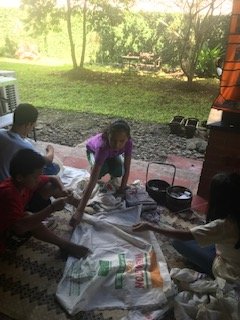 The FPVI students dedicated their semestral break in late October to preparing a unique Christmas program of festivities at the FPVI Center. First, they focused on the tailoring of their costumes for the Nativity Play, corresponding to their assigned roles. It was agreed at the outset that each one would make his/her own costume. They went online to get ideas and then let their imaginations run riot. Surprisingly, and drawing on past creativity classes, they all opted to do their sewing by hand instead of using the sewing machine.
FPVI had purchased a bulk supply of muslin flour sacks from a nearby bakery and after washing the sacks and cutting them into full square pieces, each student dyed the material in his/her preferred colors using natural dye and, once dry, proceeded with the cutting and sewing! As the tailoring began to reveal the whole panoply of nativity costumes, they conferred with one another about how the concept had caused them to consider what it was actually like for Mary and Joseph in a stable in Bethlehem. Were cast-off flour sacks really so far from the truth? Is Tunga, home of FPVI, not actually in some way like a Judean town?
And so, sandals emerged for Joseph and wings for the angels; crowns for the three kings along with their gifts and, yes, beards. And by the time the week ended, they had their costumes tucked, folded and stored---ready for FPVI's first full staging of the Christmas Story, with shepherds and angels in attendance, on December 21st.
"I searched the internet for an angel's costume. It was my first time to make my own costume and I was excited. It was fun, too, though there were times when my finger got pricked with the needle." --- Marky
"I was excited as it was my first time to make my own costume. It was not difficult for me because I learned to sew from Grade 7. In fact, it was fun and also nice getting help from the others." --- Lucky
"I was happy and proud to have made my own costume. My first time to do it. We all had a fun time and laughed a lot." --- Candy