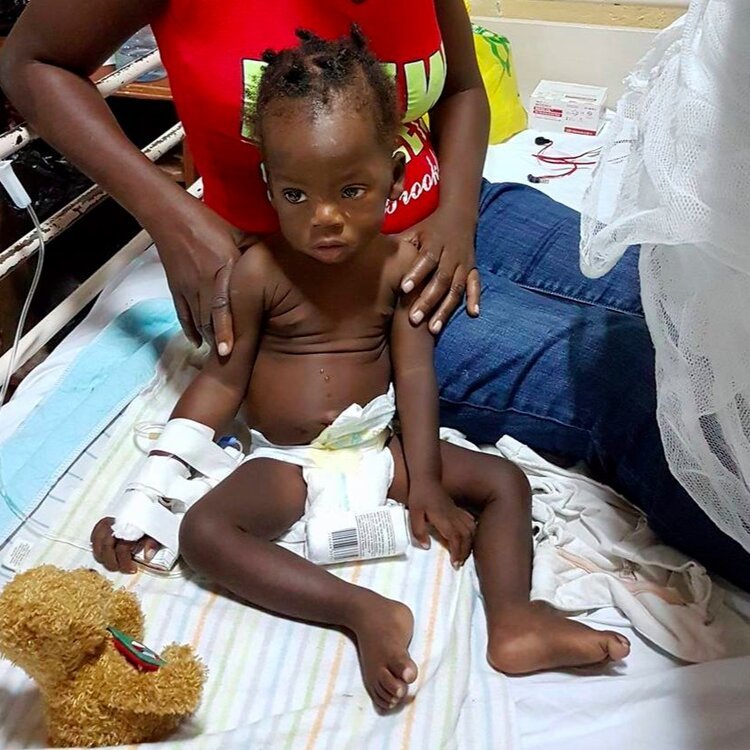 Hunger in Haiti
Haiti is in a state of overlapping crisis. The COVID-19 pandemic, political and economic instability, an increase in violence, and the effects of climate change has resulted in a dramatic increase in food insecurity. The number of children under the age of five who face acute malnutrition increased this year to 217,000. Another 86,000 children don't have enough food to live.
LFBS is working hard to adapt to these crises. We have increased our COVID-19 prevention activities and our agronomy and livestock programming, as well as expanded our focus to community health. We provide nutritional support when it is needed across all of our programming areas and initiatives, while also working to empower families and communities with the means to become self-sufficient and food secure on their own. As always, we are continuously working to reinforce and expand the capacity of social services and local authorities so that they are better equipped to react to those who are in the greatest need.
Success Stories
Since March, we've worked with over 350 beneficiaries! Here are just a few progress updates on the status of the children and youth we've been supporting and empowering through our programs.
MADELINE
Madeline* is a university student who LFBS has been supporting to attend medical school. We are very proud to share that not only did she pass her most recent exams – but she was the top student in her class! Out of around 100 students, she had the best grades on very gruelling exams. We have a doctor in the making!
EVERSON
Everson* is a former street child who spent quite a bit of time in the LFBS transitional safehouse before being reunited with his mother. Since he did not start attending school until a later age, Everson was a bit self conscious and lacked motivation when it came to studying. In March, we arranged for him to work with a private literacy tutor, and to stop by our safehouse for daily check-ins and meals before school. We bought him a bike so that he could bicycle to his tutoring lessons, our safehouse, and school with ease. After just a few weeks with the tutor, Everson was already starting to read & write on his own! His attendance at school has been impeccable and he is very motivated to continue with his studies.
ESTHER
During an outreach trip to facilitate family mediation, LFBS staff identified a young girl named Esther* with hydrocephalus and disabilities. They were eager to take her to a physical therapy clinic we often partner with to provide specialized physical therapy for children with disabilities, and moral as well as technical support for their parents. For several months, our staff have returned to visit this girl every single week to ensure that we take her and her mother to physical therapy sessions. Our staff are thrilled to share how much change they've noticed in the child's ability to walk and even in her language and interactions! We are happy to report that Esther is now in school!
LUIS & MIGUEL
During the aftermath of Hurricane Matthew in 2016, the LFBS team cared for several abandoned infants while IBESR sought long-term placements for them. One of those infants was a premature baby named Luis*, who was less than a month old. One of our housemothers was so concerned about his condition that she slept on the floor beside him every night, determined that he would become strong and healthy. Miguel* was another child who came into our care at the same time. As a toddler with disabilities, he had been abandoned at the local hospital. Our staff diligently cared for him while we waited for him to be placed in a permanent home.
Both Luis and Miguel ended up being placed in the same home – a child care centre approved by local authorities. After the children were placed, our staff continued to visit them regularly and support their nutrition and medical needs. Staff had the pleasure of visiting Luis (pictured left) and Miguel (pictured right) in the past few months and were thrilled to see how much they'd grown. Both little boys are healthy and doing well and are now in school! The attached pictures show both boys as babies, and now at 5 years old in their school uniforms!
ODYANNE & ADRINA
Many of you will recall Odyanne, a young woman supported by LFBS since 2011 after leaving an exploitative orphanage. Odyanne has become an advocate for vulnerable children and contributes to LFBS' work. In 2020, Odyanne participated in the Canadian government's Spur Change Youth Champion Program. She was the only participant from Haiti. Although the program's international conference was cancelled due to the pandemic, the program opened doors for Odyanne and her writing has since been published, including by the Northern Council for Global Cooperation.
This year, another LFBS youth has been accepted into the Spur Change Youth Champion Program! Adrina is a young woman who lived in the same exploitative orphanage that Odyanne did and has since been reunited with her family. Like Odyanne, Adrina is a leader and advocate for vulnerable children. Currently, she is tutoring one of the children in the girls' safehouse. Adrina will be participating in the Spur Change YLP this year – and Odyanne has agreed to help mentor her!
Thank you!
Thank you for being a part of our incredible community of supporters and donors. While the situation in Haiti remains complex, because of you, we are making real, impactful, and lasting changes in the lives of children, families, and communities. You are a partner in this work and we couldn't do it without you. Thank you for your interest, support, and caring, and for being a catalyst for change.
Thank you for your shared commitment to our vision that every child in Haiti grows up in a safe, loving, and self-sustaining family.
*Names have been changed to protect the privacy of our beneficiaries
Upcoming ways to support LFBS in July
July Bonus Day
On Wednesday, July 14, starting at 9:00 a.m. ET, GlobalGiving will match donations* of $100 USD and up while funds last using a tiered matching structure. The higher the donation, the higher the match!
The campaign is fast-paced and the match is available while funds last, so it is important donations are given as soon as the campaign begins at 9am ET on July 14. Donations must be made via GlobalGiving in order to be eligible.
*LFBS is eligible to receive a maximum of $3,000 USD in total Matching Funds.