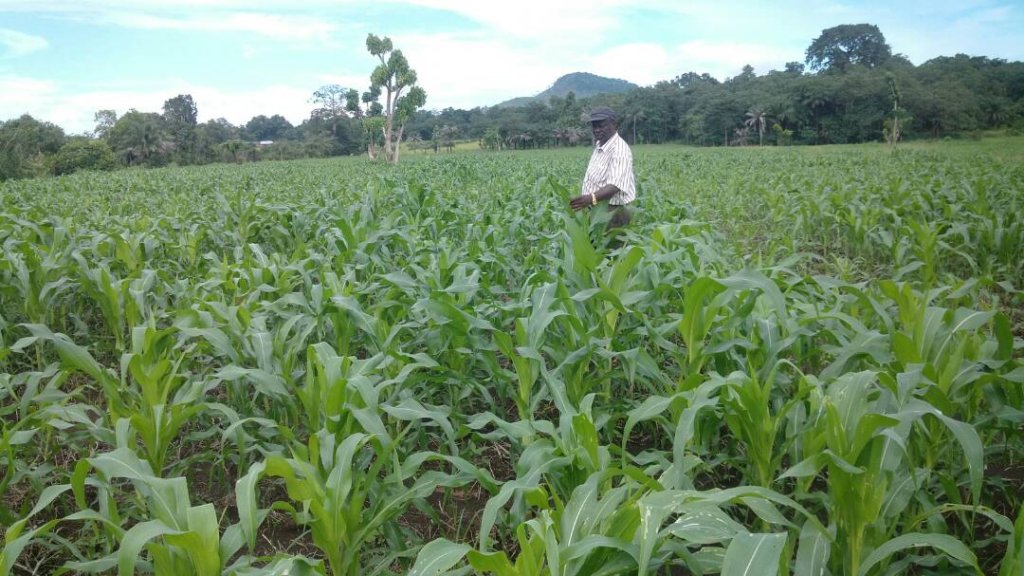 On our way to supporting 100 rural farmers in september 2017!
Thanks to your donations and support during the last 4 months, we have reached the milestone to duplicate the impact of our next maize cropping project again!
When the results of the harvest of the march-august cropping season will be satisfactory next few days, and all 50 farmers repay the loans, we will be able to expand the project to 100 farmers.
August 2017: Weather issues during rainy season in Sierra Leone
As you may have seen and heard on TV, Internet and other sources, Sierra Leone has suffered from heavy rains in august.
Near Freetown, the capital of Sierra Leone, a landslide has caused more than 600 casualties and many other people got injured or lost their homes.
Although less problematic than in Freetown, also in the Malal-Mara Chiefdom exceptional heavy rainfall has occurred, and has created problems during harvesting and drying. Due to the heavy rainfall, natural drying of maize on the wet rural grounds was not possible.
Therefore, we decided to adopt the proposal of our program manager mr. M.S. Kamara to rise the loans for this specific project and deliver Tarpauline plastics to the farmers. And supporting them with better drying and conservation conditions for the maize produce (see the Photos below). The Farmers will repay the tarpauline simultaneously with the Maize-loans.
A brief historic overview and the next steps...
We are committed to run this initiative, and are grateful that you and a growing group of people support us in different ways: by means of donations, promotional initiatives and all other kinds of support!
This assures, that our ambitious development plan to double the impact each 6 months is still on track! And we still believe we will achieve the goal of 500 farmers and their families by the year 2020, improving the livelihoods of 3000 rural inhabitants in Sierra Leone.
Here is a short wrap up of our history:
June 2016: establishment of Seeds for Growth Foundation
September 216: first maize project starts to support 20 farmers
January 2017: first maize project produces 60-80% more products than farmers were used to.
March 2017: second maize project starts supporting 50 farmers (first expansion)
And here we are now....the next steps:
September 2017: completing the 50 farmers maize project (march-september 2017)
September-october 2017: start the 100 farmers maize project (september 2017 - january 2018)
October 2017: Start preparations for the 4th project: expanding to 200 farmers by march 2018.
October 2017 - January 2018: Researching complementary projects for the communities: Solar power, Water supply, Transport-facilities.
October - December 2017: New funding campaign for supporting an additional group of 100 farmers by march 2018.
Finally
We hope to keep you informed by this report. If you might have other expectations, do not hesitate to mail us! we welcome your improvement ideas!
Thank you for supporting this initiative
Ben Bolland, Kapri Turay & Momodu Sheku Kamara.
e: ben.bolland@seedsforgrowth.nl
Sharing this email will be highly appreciated!