Project Report

| Dec 9, 2014
Child Club's Initiations: Mirge School - Dec 2014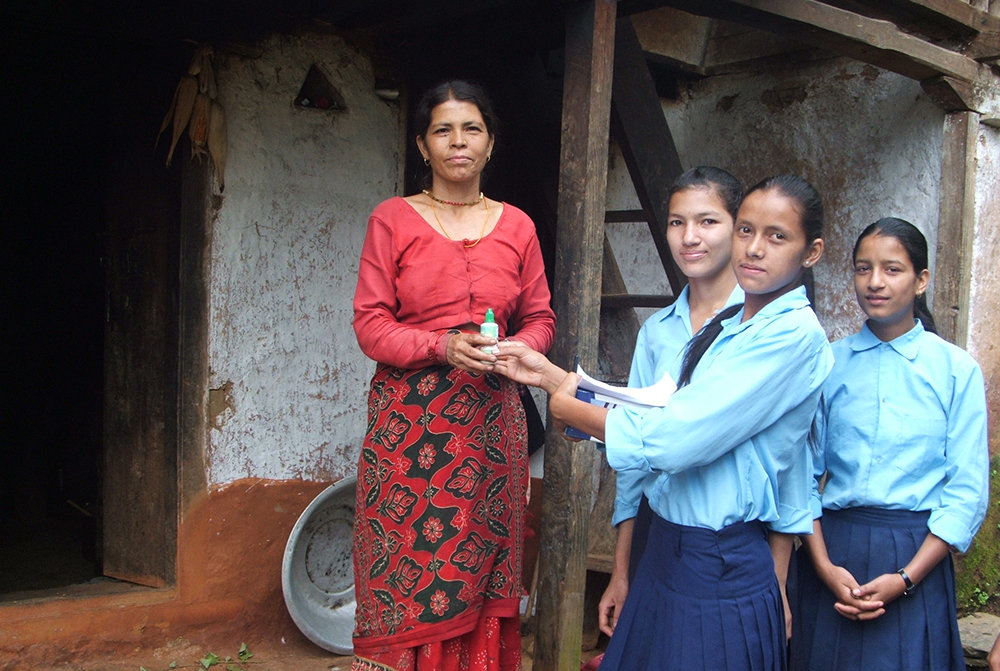 The month of September and October has been busy organizing programs related with safe drinking water and herbal garden in school and community by the nature club members of Kali Devi LSS, Kalidhunga HSS, Majhgau LSS and Laligurans Bright Future Boarding School. During this period, the students actively participated in training programs in school, door to door programs in community and activities related with herbal garden in school.
Mr. Bipin and Mr. Sobhit (both from ECCA office), facilitated two days training on Safe Drinking water for the nature club members of schools on 2nd & 3rd September. The program targeted the nature club members and teachers of respective school to use and produce chlorine solution in their daily life as well as strengthen the management of Nature Club activities in school and community. 48 participants including teachers and students benefited through the training program towards proper management and implementation of chlorine and the chlorination technology in their school and community. During the training program, all the students were actively involved towards the development of six month action plan focusing on uses of chlorine in drinking water and in school environment of school through strengthening activities in their school and communities.
As a part of several activities to be implemented within the six month planning, the participants came up with brilliant ideas like cultural program to conserve Nepali culture, herbal gardening to make the school environment green, school cleaning activities to make school environment neat, clean and free of diseases, wall magazine to increase the writing capacity of students, door to door activity to aware the locals about clean drinking water.
Since 2010, after the implementation of Mirge School Environment Improvement Program in various schools, we are feeling very proud that students on their own are now capable of initiating and implementing programs and activities on their own in their schools and community through nature club. Appointment of Ms. Manamaya as ECCA staff has also played a supportive role towards monitoring and guiding activities of child club at field level.
On various dates of October, the nature club members were busy organizing door to door activities in their community. Achieving the objectives to aware the community members on safe drinking water, the nature club members were also able to create a harmonious relationship between community members along with some income through selling WATASOL (chlorine solution) in the community.
Reviewing our involvement of our project in Mirge till date, we have found the nature club members are more active in schools, the teachers more responsible towards their activities in school and parents more supportive towards the schools initiation. We Thank You for all of this changes, achievements and accomplishment in the school and community. Without your support we would not have made any difference in the community.
We are also very happy and proud to share that ECCA has been awarded with "Nature Conservation Award" from National Academy of Science and Technology (NAST), Nepal.
We'd like to thank YOU for your continuous support to us. Updates on our activities are also regularly posted in our Facebook page, Blog Posts and twiter. Please subscribe and share our activities. We look forward towards your valuable suggestions on our activities. Please help us promoting our activities through your social networking sites as well.
Thanks & Regards,
Sr. Program Officer