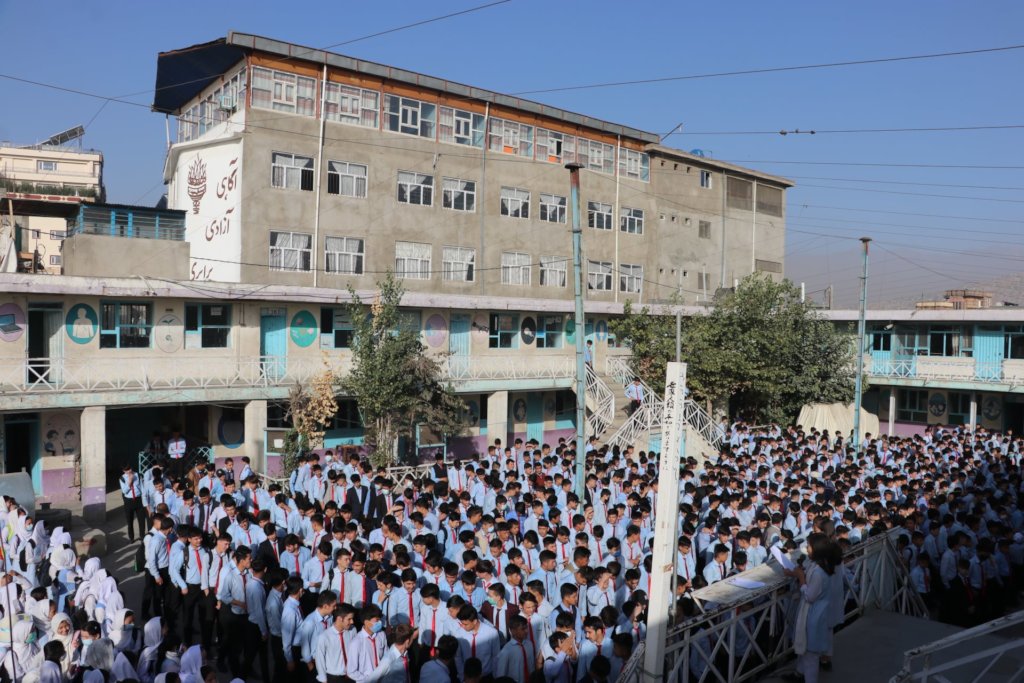 Dear Friends,
As you may all know, a lot has happened since our last report in June. Afghanistan is under Taliban control now, and the worst fear and concerns of Hazaras are being materialized unfortunately. Tens of thousands are fleeing their homes and many are becoming refugees in neighboring countries. However, many more do not have the resources to leave, and therefore, while we are working to provide assistance to the internally displaced and refugees, we are still working on avenues to provide assistance to our partner schools and communities in Afghanistan.
This academic year has been a difficult one. The schools were closed for a significant period time due to the pandemic. Within weeks of reopening, the Afghan government collapsed and Taliban took control. The schools closed again due to the upheaval and then reopened for only grades 1-6, followed by expanding it to boys of all ages. The schools are closed for girls above grade 6 at the moment. This is a huge setback for millions of Afghan girls who are being deprived of access to education.
Many of the prominent personalities in the education sector and students performing in musical bands, robotic teams and athletes have had to flee for their safety. Nonetheless, the schools are still operational and are adapting to function under the new regime. The schools have been instructed to make the following changes, mainly:
Segregated classes, time frames or separation between boys and girls;
Male teachers for boys and female teachers for girls; and
Changes to the curriculum (more hours towards religious studies).
School Updates:
We were in the final stages of providing 115 scholarships (110 girls and 5 boys) for the traumatized Sayed Ul-Shuhada students to enroll at Marefat and Pegah schools but the recent unravelling has put a halt to this effort. This was in addition to our 92 returning students at Marefat from the previous academic year. Prior to the unravelling, we provided scholarships for 104 students (61 girls & 43 boys) in Ghor and 30 students (17 boys and 13 girls) in Bamyan this academic year.
Marefat High School (Kabul):
The school is currently open to boys of all ages. According to the new administrators at the school, student attendance is gradually improving. By early August, Marefat introduced a plan to enroll 100 traumatized girls from the Sayed Ul-Shuhada school and designed a program that included preparatory classes to get them up to speed with standards at Marefat, thanks to the generosity of a family foundation. However, by mid-August the Afghan government collapsed and the program is on halt as girls cannot attend schools at the moment. Furthermore, the banking system in Afghanistan is on the verge of collapse and it is neither certain nor safe to transfer money at the moment. The funds we have raised for Marefat will stay earmarked, and we will transfer the funds as soon we receive updated information from the school and clarity on safe transfer of funds to Afghanistan.
Rahnaward-e-Noor High School (Ghor):
According to the school administrator, the attendance is improving following the recent school closure. Our students have performed well in the mid-term exam. The school provided the necessary requirements such as student information and grades in a timely manner, and we were fortunate to transfer the funds earlier in the academic year to support 104 students (61 girls & 43 boys). However, Rahnaward's other partners have stopped their support following the collapse of the Afghan government. The teachers are on reduced salary and voluntary basis, and the school is in a dire financial situation. We are in communication with the school, and with your help, we will remain an avenue of support for the students and teachers of Rahnaward.
Baba High School (Bamyan):
Following the fall of Bamyan in mid-August, the city was looted by Taliban. People, particularly prominent women rights activists, educators and civil society members, fled to remote districts and other provinces. Our partner school, Baba, was looted as well. Prior to the collapse, we provided the funds to support 30 students (17 boys and 13 girls). Our students performed well during their mid-term exam. The school has recently reopened under new leadership. The attendance is improving; however, the recent upheavals have affected the students psychologically. Baba school has found support from the Bamyan university professors to help teach and motivate the students.
Pegah High School (Kabul) and special focus on girl education:
Pegah has enrolled 15 students (10 girls and 5 boys) from Sayed Ul-Shuhada following the attack on the school in May. Pegah is providing preparatory classes to get the students up to speed with Pegah's standards. Similar to the other schools, Pegah is open to boys of all grades and girls up to grade 6. The educators in Afghanistan seem hopeless about the current rulers' intention about girls education. The school is introducing a remote/virtual learning program for girls based on their experiences in virtual teaching during the pandemic in spring and summer 2020 and spring 2021. Here is what we have received from Pegah:
"The process of virtual learning in Pegah High School is as following:
A special timetable (daily, monthly, whole semester) is prepared for each class.

Teachers deliver their lessons in a video clip (every clip is between 15 to 20 minutes long) and a PDF description.

Videos are shared through a Telegram group with the students of every class. Normally every year we have a Telegram group for each class. The student who don't have access to internet, they can receive clips by a memory card.

Students watch video clips and read the description as well as their books. If they didn't understand some parts of the lesson, they can ask their question through their Telegram group or come to school and ask directly from their teacher.

After watching video clips and reading the book and description, the student do their homework and send it for teachers. Sometimes teachers give practical activities for students too. The student take a video from the process of making or doing that activity and send it to her teacher; or show her work directly to the teacher.

After receiving homework or activity report, the teacher give a feedback to the student and record her progress.

Sometimes, if needed, the teacher asks the students in smaller groups to come to school. The teacher then reviews the lessons with them and solve the problems that are unsolved yet."
Please note that virtual learning is costly for the school, teachers, parents and students. Every student must have a computer, tablet, or at least a smartphone; besides, they have to have access to internet, otherwise they need to come to school and receive the materials in person. The school is in a difficult financial siutation due to reduced tuition fee, lower student turnouts following the collapse and the the families not being able to cover tuition.
The Foundation is committed to support Pegah High School in this endeavor. Some of our girl students are above grade 6 and they will be covered via the virtual program. We are committed to support girls access to education, and we believe Pegah's approach provides an avenue to support girls education in Kabul. With your support, we hope to increase our scholarships contributing to this program and cover more students during the next academic year.
Despite the recent setbacks and Afghanistan's descent into chaos, our Hazara communities across Afghanistan has shown incredible resilience during turbulent moments in Afghan history. Surviving the genocide of 1890s and mass displacements, enslavement and continuous state-supported discrimination to modern times. We believe that our local communities in Afghanistan will find the most optimal solutions to their need and with your help, we are here to support.
We thank you for your continuous support in these difficult times.
Timor Karimy + Bamyan Foundation Team