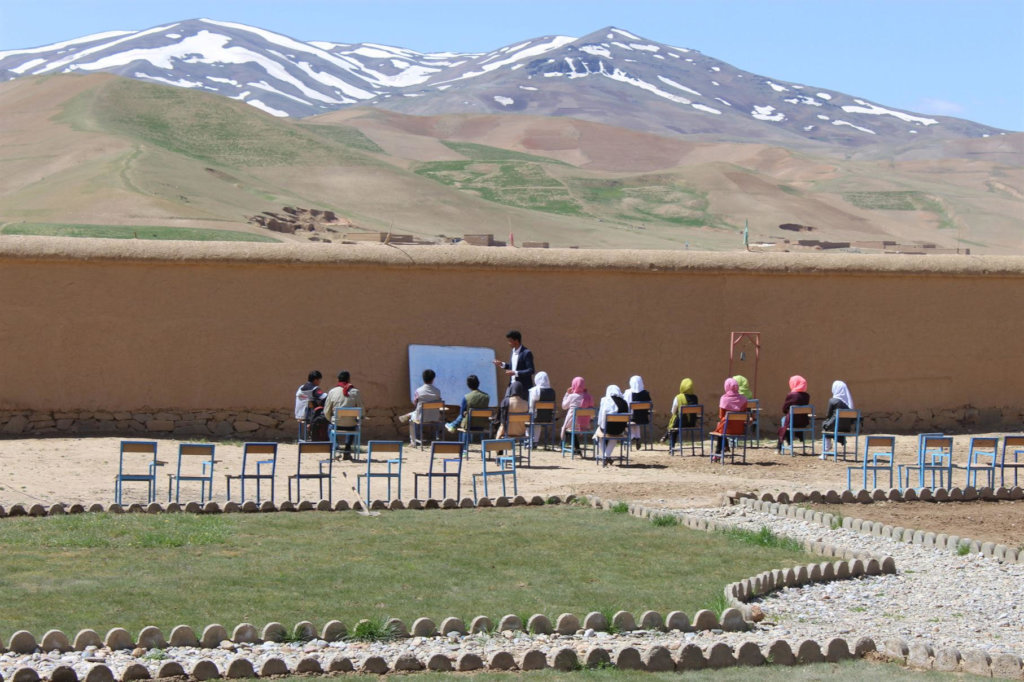 Dear Friends and Supporters,
Thank you for your ongoing support of Bamyan Foundation! Your generous donations have enabled us to expand our projects and continue our support to our partner schools during such critical times when they are struggling to survive due to closures in the midst of the COVID-19 pandemic. This report provides an update on the current status of our programs in partnership with Marefat High School, Rahnaward High School, Baba High Schooland ROYA Mentorship Program in Afghanistan.
Schools have been closed since March 2020 due to the pandemic. Earlier in June, the government of Afghanistan extended school closures for three more months or until end of August. While COVID-19 has affected people everywhere, private schools in Afghanistan and the communities they serve, particularly those relying on scholarships, are disproportionately affected.Their primary concern is that teachers rely on salaries that are then based on tuition fees.This means many teachers and staff at private schools are left with no income due to school closures, while public school teachers' salaries are paid by the government.
There are around twenty-five hundred private schools in Afghanistan to help the country's education system due to void left by public school system. These private schools provide education to approximately five hundred thousand students and employment opportunities to about five thousand faculty and staff. Unfortunately, due to a lack of financial resources caused by the pandemic and school closures, seventy-to-eighty percent of the private schools face imminent collapse as they are unable to pay salaries to faculty and staff and cover other costs. Afghanistan's Private Schools Association has sent its concerns to the country's Ministry of Education, and the Ministry has not yet provided a promising response, according to Afghan media reports.
So far this year, our immediate efforts have been focused on raising funds to keep our partner schools solvent. Our support will help pay a stipend of $65 to each faculty and staff member at Baba, Marefat and Rahnaward High Schools. We also helped provide a stipend of $45 to each family of the former child laborers through our partnership with ROYA Mentorship Program. Additionally, our support includes a small budget for each school to help with the hygiene requirements.
We hope that our continued support will relieve some of the burden our partner schools are facing during the closure by covering the most basic necessities so they do not lose teachers and staff until they reopen their doors to students - so that they can reopen their doors!
Student Scholarship Update
We have agreed with our partner schools that, upon their reopening, we will continue our scholarship support for the same number of students in academic year 2020 as we did in academic year 2019; Marefat (44), Rahnaward (88), and Baba (23). We have already covered the tuition costs for the nine former child laborers through our partnership with ROYA Mentorship Program. We are committed to continue supporting them when schools reopen.
We prefer providing consistent support to the same students year after year until they graduate. However, we have asked the schools that in cases where students have either dropped out, relocated or graduated to be replaced with new students.
The schools have been considering distance learning by making educational materials available online. However, due to students' lack of access to the internet and their financial inability to afford the costs associated with it, online learning is not an easy option for most of the students enrolled in our partner schools, particularly those who rely on scholarships for their tuition fees. Three of the schools have recently began to offer limited alternative avenues such as providing study materials through a USB drive and allowing a few students to come into the school facilities to study on their own while following certain guidelines and hygiene requirements.
We thank you again for your generosity and continued support of the Bamyan Foundaton. Our collective efforts undoubtedly help with making a lasting impact on the lives of many during this critical time. A lack of financial resources makes those already impoverished families and communities more vulnerable to the risk of COVID-19. We ask you to please share this update with others in your networks. Your assistance is greatly appreciated!
The Bamyan Foundation Team