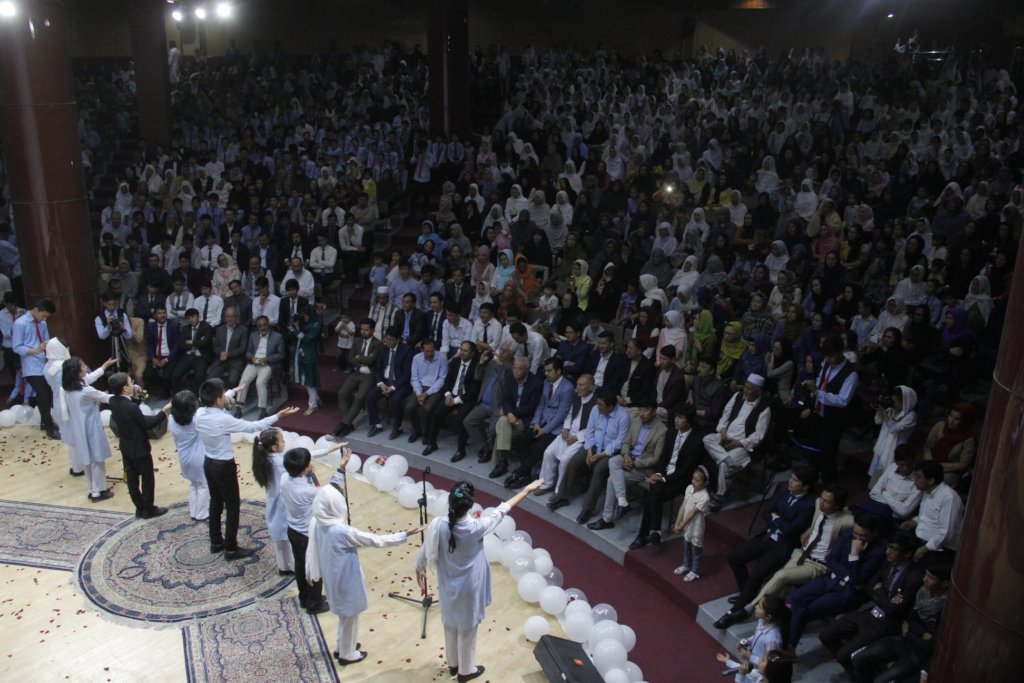 Dear Friends and Supporters,
We thank you for your ongoing support of Bamyan Foundation! On the eve of this holiday season, we are delighted to share with you the 3rd. Quarter progress reports that we have just received from all of our partner schools in Afghanistan. Reports show that, most of our students had perfect attendance during this past quarter. Majority of the students did well in the midterm exams, and some passed with the highest grades. Below are a few students' personal stories, their educational journeys, and future goals that we have received from each of the schools.
At Marefat: We would like to introduce you to a couple students: Hanifa who comes from a low-income family of seven. She is in 6th grade at Marefat and earned 6th place in her class in the midterm exams. She is passionate about sciences and aims to pursue a degree in economics after finishing high school. Hawa is another ambitious 10th grade student at Marefat. She enjoys biology and history. Coming from a financially poor family, her father works as a janitor at one of the schools in the area. Hawa's future goal is to become a doctor.
In the last quarter's report, we were informed about two students who had dropped out of classes. We followed up with Marefat to find out more about their whereabouts. It has been confirmed to us that both students, Razia and Zaki, moved to other schools. They did not participate in the midterm exams. We are in communication with the school to determine reallocation of funds that were given to these students.
From Rahnaward: Ruqia shared her and her twin sister's story. The twin sisters are 11 years old, but this is their first year in school. Due to their older age, the school has placed them in 3rd grade and help them outside of regular class times, so they can catch up with their peers. The twin sisters lost their father before they were even born and their mother had been unable to enroll them in school due to financial challenges. They learned about Bamyan Foundation's scholarship opportunity through their neighbor. Considering that they have just started school this year, we were informed that they are making significant progress in reading and writing. They walk to school an hour each way every day, and help their aging mother with house chores both before and after school. They are grateful for the opportunity to get an education and hope for a better future.
Mostafa, a 9th grade student at Rahnaward, has shared his heartbreaking story of losing his father and his own self-determination in the face of such loss that is inspiring at the same time. Mostafa has been attending Rahnaward since last year. His father was in the Afghan National Army's Special Forces Unit to serve his country and to support his family of six. Unfortunately, earlier this year, he lost his life in a roadside bomb explosion. Mostafa remembers his father consistently encouraging him to study hard, and his promise to him that he would. Since the loss of his father, Mostafa, in addition to attending school, has taken on the responsibility to support his family by working in a chicken shop. He hates war and hopes for peace. His future goal is to become a medical doctor and treat people, particularly veterans who served alongside his father, and those who continue to serve.
From Baba: We would like to share Fatema's, a 10 year old 4th grade student, story. Fatema joined Baba in the spring of 2016. Like most of these students, Fatema also comes from a financially poor family. She failed the exams in her first semester, but has since studied hard and earned high grades. She actively participates in student activities, and is a member of the morning singing group. In this past quarter, she has been one of the top students in her class. Her goal is to become a doctor in the future and support women and girls in rural communities.
Asad is another talented student at Baba supported by Bamyan Foundation. He lost his father at the age of five and lives with his mother and three siblings. His mother works as a cook for a family. He is one of the top students in his class. Beside his regular classes, Asad studies English as well to find a better educational opportunity in the future.
Arezo, a 11th year student at Baba, in the midterm exams earned one of the highest grades among her peers. She is a smart and creative girl, and a member of the school's Creative Youth Team. She also speaks English and is an active member of Baba's social and cultural committees. Arezo is a candidate to participate in a youth conference in Canada in 2020.
At ROYA: Nearly all of our child laborer students had perfect attendance during the third quarter. They have been making significant progress in their studies, and we are thrilled to share that they are enjoying their learning journey as well. Hamidullah, a 4th grade student at Royesh Private School, in spite of missing several days of school after breaking his leg in the first half of the year, has been a strong student with an average of 85% on his midyear exams. He was one of three students chosen by the Royesh School Director to be presented with the Rising Star Award at ROYA's 3rd anniversary celebration – honoring him for his hard work, determination, and remarkable progress.
We hope that these updates and stories inspire you as much as they inspire us. Once again, we express our gratitude for your generosity and continued kindness that enable us to extend Bamyan Foundation's support to those who are most vulnerable. With the support and encouragement of donors like yourselves, these children have been able to achieve milestones that were otherwise beyond their reach!
The Bamyan Foundation