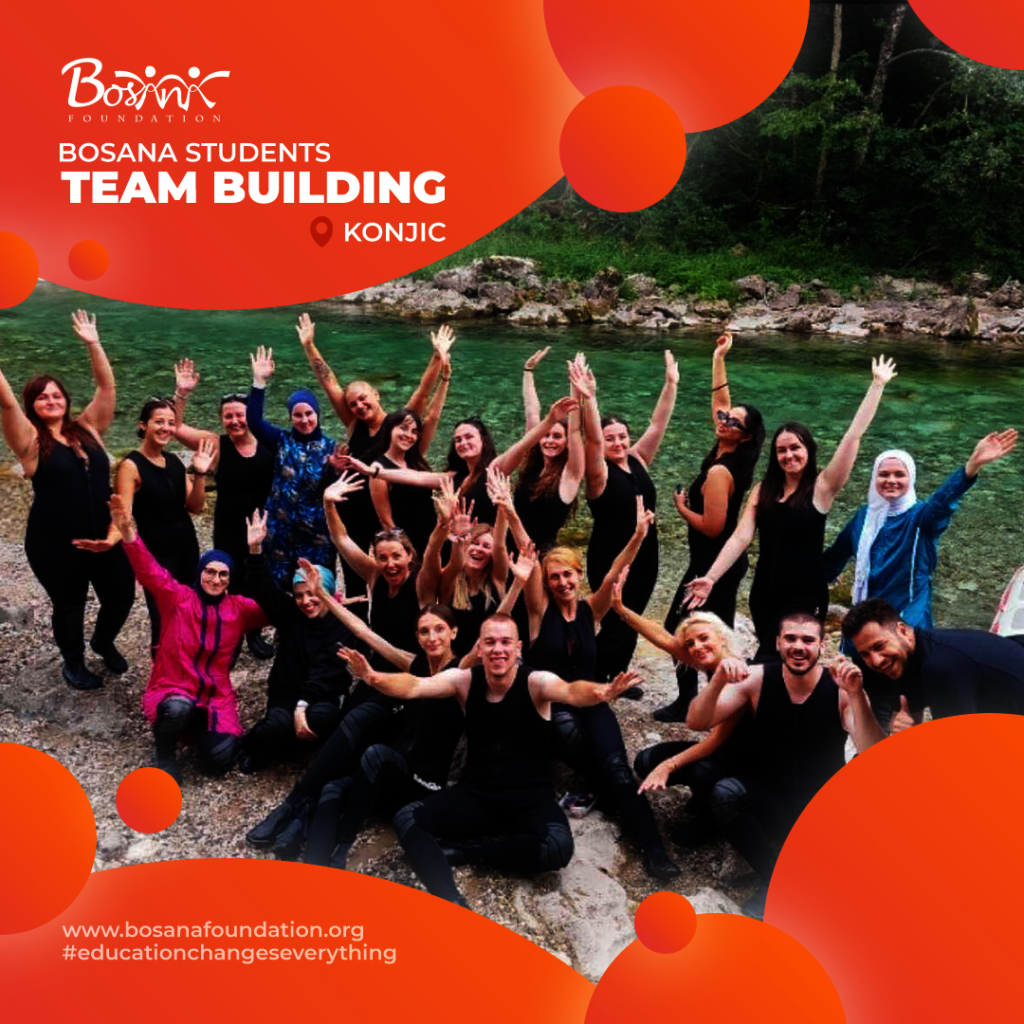 BOSANA FOUNDATION
Scholarship and Personal Development Program
Quarterly Report
July - September 2022
Executive Summary:
Welcome to our October issue! Third quarter of the year is the time of summer vacations as well as the beginning of a new academic year. Bosana students continued volunteering throughout the summer, some travelled, while some completed their internships. Bosana Team Building happened in August, which helped to energize our students and prepare them for the fall exam season. We are happy to share news about our new graduates and a group of new scholarship recipients.
Remember to check out our website and social media for any new developments.
Students and Program Update:
This is the beginning of a new academic year after summer vacation. Students are rested and ready for a new academic year and new successes. We have graduates, students who are starting their exchange programs, new interns and a group of new scholarship recipients.
This year Bosana welcomed eleven (11) new scholarship recipients from different parts of Bosnia and Herzegovina. We will share more details about the new group students in our next report.
Highlights of the quarter:
We are thrilled to share all these inspiring news about our students:
Suncica - Best Student of the Year Award! In an effort to promote student excellence, every year, the Bosana Foundation honors one student with our Best Student of the Year award. Students are awarded based on their academic performance, participation in workshops or events and any other volunteering activities. And this year, a big congratulations goes out to Suncica! Suncica obtained a degree at the School of Political Sciences, Department of Security and Peace Studies, University of Sarajevo. She is also a peer educator focused on sustainable peacebuilding within transitional and fragile states. Suncica has been working on projects focused on youth engagement in human rights and peace education processes.
"Based on a competitive selection process, I was chosen as one of six students to represent the University of Sarajevo on behalf of the Faculty of Political Science during the InPeace Intensive Course 'People, Communities, and Cities in Peacebuilding' at the University of Iceland in Reykjavik. Höfði Reykjavík Peace Center has organized this one-week intensive academic course in peace and conflict studies in cooperation with partner universities, Tampere University, UiT- The Arctic University of Norway, the University of Basque Country (UPV / EHU), and the University of Sarajevo, from the 30th of May until the 5th of July." Said Suncica, about her exchange in Island. Suncica also attended the BOLD Fellowship Academic Program, Nebraska, Omaha, Civic Engagement Center in August.
Bosana's student Sava graduated from the Medical School at the University of East Sarajevo. But being Sava that could not have been all! With a grade point average of 9.70, Sava is one of the best students of his generation, and he also became the youngest Doctor of Medicine in RS, B&H. "The Bosana Foundation left a big role in my education. From the very beginning, I had every kind of material and moral support, understanding and friendly cooperation. After finishing my studies, I got a job interview and will start working soon. I also had an opportunity to meet with the mayor, which was a great honor and pleasure for me," said Sava.
Aleksandra also completed her Bachelor studies at the University of Banja Luka, School of Mathematics and Informatics. "Another chapter of my life has ended and I am very proud and happy about that. My wish came true and after graduating I got a job at a software company, where I was welcomed by the wonderful team I work with. This is a job where I can improve and progress, and that was my goal. My Bosana family played a big role in this, who were there when needed, not only financially but also as moral support, someone who was always by my side. Thank you Bosana!" said Aleksandra.
The "Summer School of Resuscitation" was held in Tuzla under the auspices of the European Resuscitation Council. Our student Ilma was one of the participants and became a certified Basic Life Support (BLS) Provider.
In July, our scholarship recipient Sumeja went to Slovenia to participate in The International Pharmaceutical Summer Camp. IPSC is a six-day event organized by the Slovenian Pharmacy Students' Association. The camp took place in Libeliška Gora.
The Red Cross of the Federation of BiH organized a traditional "Guardians of Humanity" youth camp at Boracko Lake. The camp lasted six days, and this year, special attention was paid to crises and climate change, as a result of frequent natural disasters and the impact on the health of individuals and communities. As a volunteer of Red Cross New Sarajevo, our student Belma participated in this camp.
Mustafa graduated from the University of Sarajevo with a grade point average of 9.13. As one of the most successful students, Mustafa will receive a special award: the Silver Badge from the University of Sarajevo. Now as a Bachelor of Psychology, his next step will be Master's education.
Bosana Foundation proudly reports that our student and monthly donor Matea has completed her M.A. degree from the University Dzemal Bijedic in Mostar. She pursued a Master of Communication studies in 2017/2018, and since then has been employed in her vocation, as well as developed her business at the same time. You also had an opportunity to meet her at our Annual Benefit in Los Angeles back in 2020.
Fatima was part of the group of young people who spent their school break organizing a summer camp. This project brought together 50 young people ages 13-17 in Bosnia and Herzegovina. Project "M.R.E.Z.A. '22," where our student Fatima volunteers, created some amazing memories for the youth interested in history, survival, self-confidence and empowerment.
At the end of July, the XII International Scientific and Research Camp "NP Una 2022" was held by the Association of Biology Students in Bosnia and Herzegovina. The aim of the camp was to explore the biodiversity of the Una National Park. The camp brought together 60 participants, current and future young researchers with different social backgrounds. Participants of the seven-day camp carried out field research in the fields of botany, herpetology, chiropterology, ornithology, mycology and large carnivores. Through such research, students have had the opportunity, with the support of mentors, to use various biological tools, keys for the determination of species, manuals and to apply biological methods that will be used in a future scientific research career. Our student Jovana was a participant in the camp.
Dia graduated from the School of Philosophy, University of Sarajevo, and obtained her B.A. in Psychology. Dia was also accepte into ERASMUS exchange program for fall semester 2022/23.
Enesa has completed her Bachelor's studies at the University of Sarajevo, School of Electrical Engineering in September. She plans to continue her education and start her Master's program.
Lejla was selected for a 2022/23 Chevening scholarship of the "British Foreign and Commonwealth Office" in Great Britain. Lejla will spend the next year in Great Britain on a one-year master's course and study at the prestigious Nottingham University at the Department of Youth Work and Leadership. Chevening offers fully funded scholarships and fellowships to individuals with ideas to create positive change, funded by the Foreign, Commonwealth and Development Office (FCDO) and partner organizations.
Sreten, a second-year student at the School of Agriculture in East Sarajevo - Forestry study program, participated in the International Student Summit of Food, Agriculture and Environment. On the first day of the summit, he presented a paper on the topic: "Activity of Young People in Afforestation in Bosnia and Herzegovina," under the leadership of mentor Stefan Stejpanovic, Ph.D. The international summit was under the auspices of the University of Agriculture in Tokyo, and 59 students from 29 universities and 27 countries took part in it. The summit took place online and lasted for two days.
And last but not least, Bosana Team Building Konjic
Every year Bosana students cannot wait for the summer to meet their friends from different towns and cities. This year, we had a fantastic team building in the beautiful town of Konjic. We enjoyed a day of rafting on the Neretva River, hiking on a nearby mountain, boat ride on the Jablanicko lake and a fun evening in Konjic. The highlight of the trip was Tito's Nuclear Bunker. Most of the students never had a chance to visit this historic attraction. The bunker, named Ark, is located underground and it is one of the most preserved monuments from former Yugoslavia. One section of the bunker is reserved for an art gallery. It was exciting to find out that one of the art installations belongs to Bosana's former student Selma. Naturally, we all had to take a photo to remember this moment. It was amazing to see more than 20 of students and Bosana staff from all over Bosnia and Herzegovina. It was a successful team building event and we are very happy to share a few photos with you.
Exciting news about Bosana's former students:
Anela is a former scholarship recipient of the Bosana Foundation, who is known to the public as the person who opened the first center for genetic counseling in Bosnia and Herzegovina - Genetika.
This summer, at the organization, Genetic Counseling Center Genetika, as part of the "Days of BHAAAS in BiH" (Bosnian-Herzegovinian American Academy of Arts and Sciences), a symposium titled "Genetic testing" was held. During those days, precisely thanks to Anela, Sarajevo was a center of science, personalized medicine, and targeted therapy. They talked about the latest approaches and use of genetics and genetic testing.
For the past year, working together with colleagues, Anela has also participated in writing the first general guidelines for breast cancer management in Bosnia and Herzegovina. Those guidelines were published in BJBMS (The Bosnian Journal Of Basic Medical Sciences).
At the beginning of September, Anela was a lecturer for the "Genetics of Breast Cancer in Young Women".
Students for HUmanity project update:
"Students for Humanity" project has been active for six years now. Bosana students each month put aside 2KM that Bosana also matches. Current students and alumni students alike continue to contribute to this project so the impact is very significant.
In this quarter, students carried out three different humanitarian projects.
In August, students were helping one of their own to pay for firewood, since the apartment where she lives requires tenants to buy firewood. Heating costs have gone up in general, but it is even harder when you have to pay for the firewood for the entire winter.
The Request to cover the cost of the educational certificate and exam came from a young girl, who could not go to school but had to work to help her family. She realized that in her community there was no option for madeira therapy and
Students also used 500KM to cover food, hygiene products and school supplies for a young girl who was placed in a safe house with her mother and a sibling.